To stave off growth woes, DTC brands partner with others to create marketplaces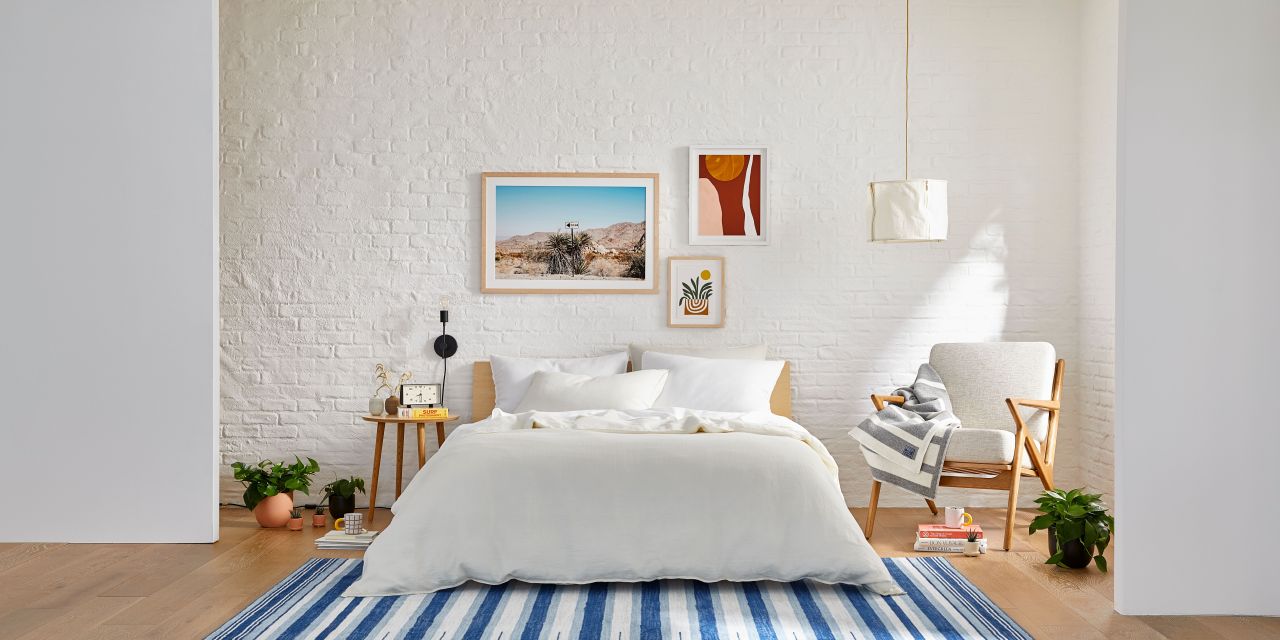 Digitally native consumer brands are trying to be known for more than their hero products as a way to maintain growth and momentum.
The latest example comes from the online bedding company Brooklinen, which just announced a new site called Spaces that lets users buy anything featured on the website. The brand features over a dozen other DTC companies' products — ranging from a Floyd bed frame to a vase from Bombabird Ceramics. For Brooklinen, it's an opportunity to expand selection without investing in research and design. For other brands, it provides the ability to partner with a popular and growing complementary business.
And as more DTCs hit a growth ceiling — while digital acquisition costs continue to soar — it's part of a burgeoning trend of brands partnering up and looking into lower-margin services to try and transcend their hero product.
Others doing the same include Glossier, which collaborated with Bark — as well as the laundry company Frey, which has partnered with Buffy. In extreme cases, it even leads to holding company approaches like at Resident, which owns a number of brands including Nectar Sleep, DreamCloud, Awara and Level Sleep, Wovenly and Bundle.
Brooklinen, which says it is profitable and on track to bring in $100 million of revenue in 2019, considered itself to be in a good position to test an experimental business collaboration. The program works via revenue share. "Where it's at all feasible we've bought into the inventory, and we will be sending it out in our own packaging," said CEO Rich Fulop. Other bigger items — like bed frames — will be drop-shipped from the partnered brands. All of the purchasing is done on the Brooklinen website. "It's a full checkout experience," he said.
Michael Cassidy, CEO of the commerce agency BVAccel, said that partnerships are one of the big things he's focusing on with clients in the coming year. "It makes a ton of sense," he said to Modern Retail. "We're seeing a lot of our clients get too ambitious and go wide instead of deep with their product assortment," he said. "Go very deep in what you're great at, and let's figure out how to go wider — more thoughtfully and creatively."
Cassidy, in fact, is beginning to offer services to more easily facilitate these partnerships. BVAccel, which works with Shopify Plus clients, is "starting to build out the APIs to figure out how we can foster more collaboration with brands," he said.
As Modern Retail reported last month, Glossier announced a product partnership with pet product company Bark. Similarly, the sleep products companies Eight Sleep and Gravity Product put together a joint sale. All these are examples of the slow but steady realization that DTC brands can't grow their businesses alone — especially if they are relying only on digital acquisition tools.
"You can grow to $30 million to $50 million in sales using Facebook," said Andrea Hippeau, principal at the VC fund Lerer Hippeau. "But to build a big, sustainable business, you have to diversify off of digital." For most companies that means establishing a more robust brick and mortar presence. But smaller brands are also trying to build incremental digital revenue by seeking out strategic partnerships.
Brooklinen's Fulop sees this as a part of a larger and necessary trend for DTC brands as they grow up. "It's impossible for us all to succeed," he said. "There will be consolidation with like-minded brands doing partnerships like this."
The Spaces collaboration presented a way to take in customer feedback and launch new verticals without too much investment. Using both its online reviews and in-person anecdata from its pop-up shops, Brooklinen was able to see a growing demand for products that were bedding-adjacent. "People kept saying 'I love this headboard' or 'this alarm," said Fulop. And so the idea developed that the brand's website could have a curated assortment of "like-minded brands."
There's also a strange irony to the situation, which is that so-called DTC brands are considered such because of their direct access to customers. They definitionally avoid retail channels, or so the story goes, so they can have a one-to-one experience with the consumer (and also have better first-party data). While Brooklinen's Spaces fits the overall aesthetic — and the brands have been hand-crafted to build the right persona — the entire model is an interesting way to stray from the model on which these businesses are supposedly built.
For Brooklinen, the aesthetic and personal connection is core to this new service. "The brand is very much the foundation," said Fulop. "The marketplace lives on top of the brand." Which is to say that in Brooklinen's quest to grow its business beyond being a mere bedding company, it wants customers to think of it as something more.
Of course, it's a risk for some businesses. "I think the big challenge for the companies themselves is the openness to having somebody else sell their goods or products or services," said Cassidy.
To Hippeau, however, more businesses looking to each other to help gin up new business neglects the bigger problem plaguing most of these startups. Yes, it's good to have product breadth, but that doesn't instantly present new customers to buy your goods. "What we see is more of an acquisition problem than a product problem," she said.