'Traditional retailers won't carry our assortment': Why plus-size brands are favoring the DTC model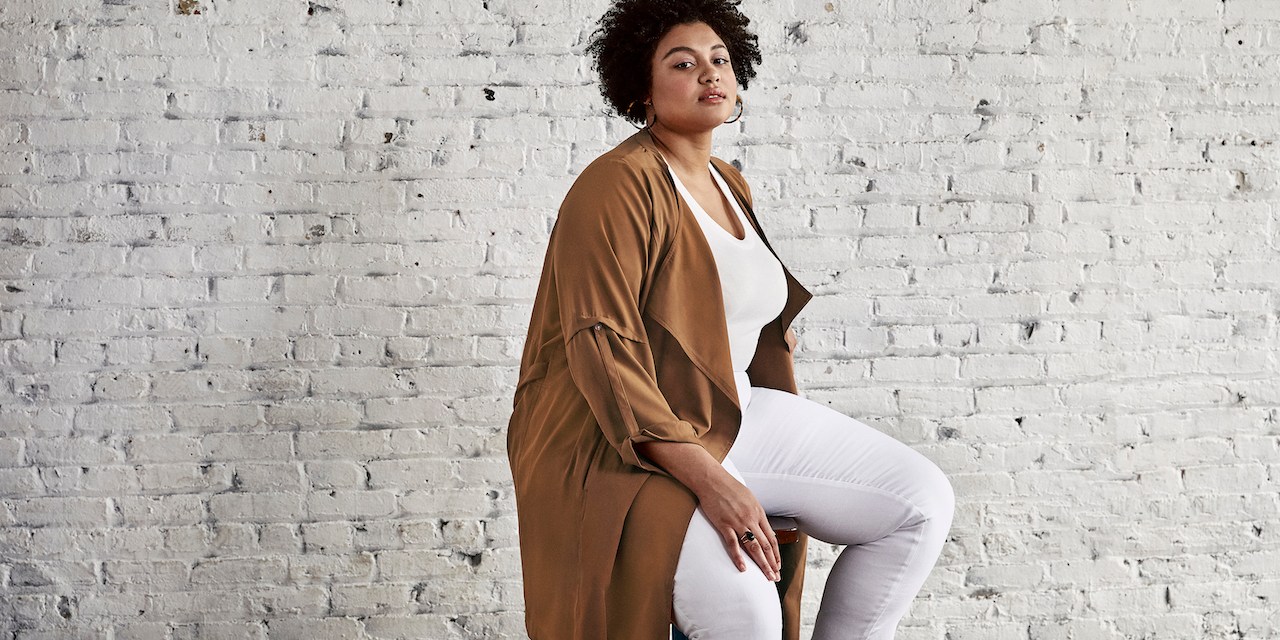 This story first appeared on Glossy, Modern Retail's sister publication covering fashion and beauty.
Plus-size and extended-size fashion brands are launching by the droves, no thanks to wholesale partners. Rather than retailers' buy-in, the direct-to-consumer model's proven success is giving brand founders the go-ahead.
While many major retailers have finally extended their plus-size offerings beyond size 14, the number of items offered in the category is consistently fewer than those in the standard range. Nordstrom's private label brands like Halogen and Caslon cover sizes up to 28, Macy's carries a selection of brands up to 24W, and Neiman Marcus caps out at a size 24 with small amount of formalwear extending to 26 and 28. But Macy's, for example, has over 6,000 tops in standard sizes and just over 2,000 for plus, which starts at size 12. And it has more than 1,000 denim styles for standard but just 352 in plus. The average U.S. women's dress size is now 14 to 16, per Statista.
As a result, more brands are launching to cater to women above a size 14, and are relying on the direct-to-consumer business model rather than wholesale to reach their customer.
On Tuesday, DTC plus-size fashion brand Hours launched, with a mission of providing elevated, sustainable clothing options to shoppers wearing size 14 to 28. The brand is filling a white space, said CEO and co-founder Harroop Gulati Kaur.
"Most options for women in this size range occupy lower-price tiers, or they're created as an afterthought, or they're in non-sophisticated silhouettes and designs," she said. For Hours, launching as a direct-to-consumer, digitally-native brand was the easiest way to get up and running — and the most affordable, considering wholesale markups.
Going DTC in plus-size fashion is also the best way to reach women where they're already shopping, said Gulati Kaur.
Other brands in the plus-size space are taking similar approaches, relying on a DTC model versus a wholesale approach to reach women buying clothes at or above a size 14. When Knix, a size-inclusive lingerie and swimwear company, launched in 2013, the brand started by selling through wholesale partners. Knix had roughly 800 retail partners across the U.S., but realized in 2016 that partnering with retailers wasn't the best decision for an extended-sizing brand.
"A lot of the traditional retailers wouldn't carry our size assortment. Our customer would see all this inclusive marketing, and they would see our store list and drive to two or three of our retail locations. But the retailers would only carry a size small or medium," said Joanna Griffiths, founder and CEO at Knix.
The dismissal from retailers to take on diverse ranges has spanned across categories, as well, including beauty. Consumers have demanded more inclusive products, and brands like Fenty Beauty (which launched with 40 shades of foundation) and Pur have responded. But only select retailers are carrying inclusive lines' full assortment.
"[Diverse offerings] are a big movement happening now, but when we would go to retailers to pitch a wider rage of shades, they would only take certain colors," said an executive with 17 years working in cosmetics for prestige brands, at the Glossy Beauty & Wellness Summit in November. "We'd go in there with 20, and they would say, 'OK, we'll take these eight.' They didn't have the space to merchandise all of them, so they took the shades that were sure to sell."
Retailers are taking steps toward size inclusivity, even beyond adding more sizes online and in stores. Nordstrom, in particular, has made thoughtful progress on the size inclusive front: When the retailer partnered with Good American to launch the brand in 2016, Nordstrom carried every single size, from 00 to 24, in the collection. The company also said it was working toward only carrying women's apparel brands that covered the 00 to 24 size range.
Rebecca Lanam, creative director at high-end contemporary fashion brand Shayne, had a similar experience when the brand launched in April 2018. At first, the brand sold sizes 0 though 18, but it quickly figured out there was more excitement and need for sizes 8 and above. Lanam found in her research, talking to women who shop plus-size brands, that many avoided shopping department stores altogether. Those women felt judged and looked at as "too big to shop there," Lanam said.
And when Lanam approached boutiques about carrying the collection, most declined, stating sizes 14 and above were always the last to sell.
"Women in that size range don't want to go to a boutique because boutiques don't have their sizes. And then boutiques don't buy the sizes because the women in those size ranges don't go to the boutiques. It's this not-very-productive circle of neither feeling like they fit together," she said. "So a lot of women wearing size 14, 16, 18 shop online — more so, I think, than women in the straight size category. For us, it just made sense to have like an online presence."
—
Sign up for the Modern Retail Briefing to get retail news, analysis and insight delivered to your inbox every morning.