U.K. juggernaut Next's third-party marketplace is driving its growth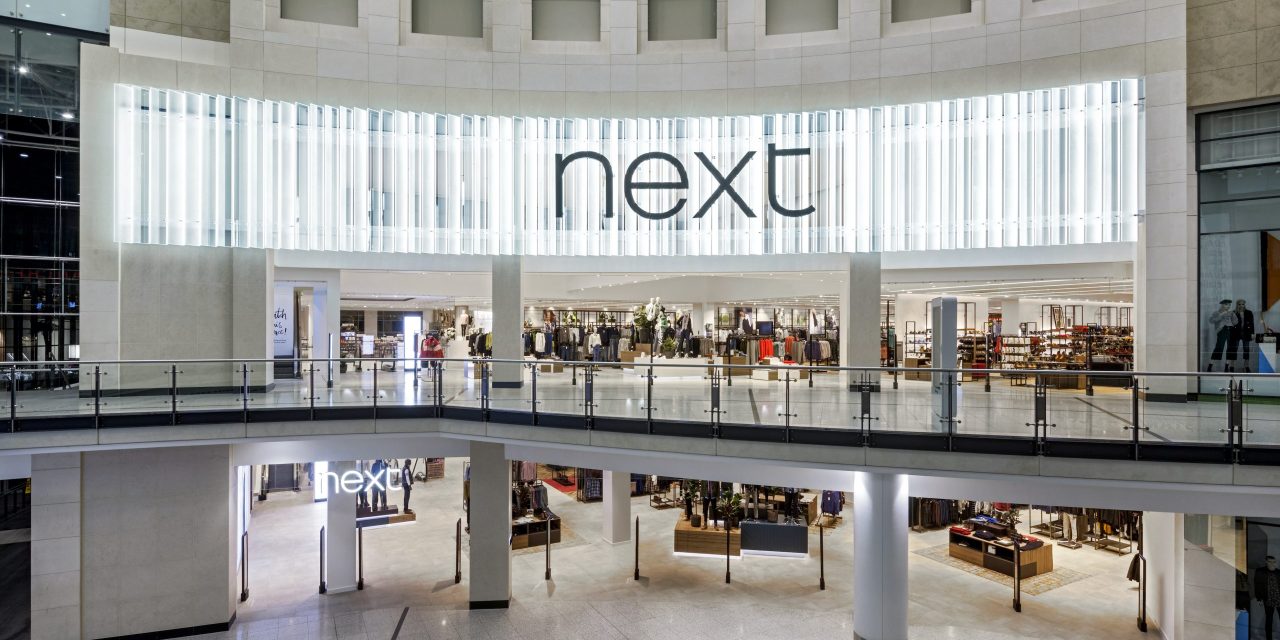 Next
U.K. apparel giant Next is generating substantial growth from its online marketplace for third-party brands. 
The segment — which consists of sales from over 1,000 companies including Nike, Levi's, Clinique and Ralph Lauren — grew 85% in the two months to December 25. Demand for party and formalwear over Christmas boosted total sales by 20% compared to 2019, an increase of £70 million from the company's previous guidance. The company is now plotting its expansion into an infrastructure provider for companies that want to sell online through the development of its "Total Platform."
Next, which owns about 500 stores in the U.K. and Ireland and 190 franchised stores in 36 countries, reported on Thursday that it increased its full year profit guidance before tax by £22 million to £822 million, up 9.8% versus two years ago. Its online overseas business also grew sales by 36% during the two-month period compared to 2019.
Next's marketplace growth "speaks to its ability to fulfill orders in a way that customers appreciate — as well as their success in selecting and working with their partners," said Matt Moorut, senior principal analyst at Gartner for Marketers.
The company has expanded from its modern roots as a brick and mortar and catalog operation in the '80s into an online juggernaut. In 2006, Next kickstarted its marketplace, known as Next Label, as an experiment in selling third-party sportswear, but it has gradually evolved into its fastest growing segment. The move pre-dated the recent shift toward third-party marketplaces in North America led by retailers as disparate as Urban Outfitters, Kroger and Anthropologie. 
But, the pace of partnerships has picked up more recently alongside the growth of Next's broader e-commerce business. In roughly three years, Next has doubled the amount of third-party brands on its site from 500 to 1,000. Next Label posted £464 million of revenue in the year to January 2021. By the halfway stage of last year, Next's total online segment contributed 55% of its $2.2 billion in sales, up from roughly 42% in 2017.
Experts believe Next's strengths in e-commerce and logistics could be crucial to attracting more brands to its own website. They could also play a key role in its slight pivot into an end-to-end online infrastructure provider through its Total Platform, which is currently in development for a handful of clients including Victoria's Secrets, Gap and Reiss. Next owns nine warehouse and distribution depots across the U.K. and two international fulfillment centers.
"A casual observer might think that third-party brands are its competitors, but Next has taken the view that it can deal with competition and make that a benefit by allowing companies to piggyback on its e-commerce and logistics infrastructure," said Richard Hyman, a partner at U.K.-based Thought Provoking Consulting. "It's a virtuous cycle; everyone's a winner."
Hyman credits the company's third-party marketplace as the "single biggest contributing factor to its outstanding" fourth-quarter results. It has quietly turned the business into the success story it is today, he added. Before its trial launch, Next's revenue was begging to lag: The company reported fiscal year sales growth of 9% to £3.1 billion in 2005, a drop from growth of 13% the year prior.
"Next is a conservatively run business," Hyman said. "It built out [its marketplace] gradually in a slow trade, test and move forward way. It's currently making a bigger deal of it because it is more certain about its future and potential."
Building out an ecosystem
The British chain is now hoping to do the same for its Total Platform, a full service for companies that want to sell online, with Next handling both front- and back-end operations. Next said in the summer that it would offer retailers "the benefits of our technology, warehousing, logistics and other infrastructure." As a result, the venture has drawn comparisons to the white label infrastructure service offered by U.K. online grocer Ocado, which provides clients with a front-end web store, customer fulfillment centers built on its smart grid for robots and delivery navigation software.
Launched in 2020, the Total Platform currently has five clients including lingerie brand Victoria's Secret, premium childrenswear brand Childsplay Clothing, legacy British retailer Laura Ashley, formalwear brand Reiss and Gap. The latter two are expected to be added to the platform this year.
Next's Total Platform partnerships differ slightly based on the client. For instance, Next has been contracted to handle Reiss's websites and online operations, both in the U.K .and overseas. It will also provide warehousing and distribution services for the company's retail, franchise, wholesale and concession businesses, all of which will continue to be operated by Reiss. Next acquired a 25% stake in Reiss in March. While Next formed a form a joint venture with Gap after it shuttered its stores in the U.K. last year. The partnership will see it operate Gap's e-commerce business across the Next Total Platform, host Gap-branded Shop-in-Shops at select stores and offer click-and-collect for online customers.
"It's a longer term bet," said Moorut. "Services like Total Platform will be a big revenue stream for successful multi-brand retailers in the near future. The question is how well Next can sell their solution to brands, which takes a different skillset to the traditional retailer profile." 
According to Hyman, the mixture of its marketplace and Total Platform bolsters Next's e-commerce aggregation and licensing business. The two ventures give third-parties more choice as to how much of their online business they want Next to effectively manage. As such, it could be an appealing proposition for smaller and legacy retailers trying to gain a foothold in e-commerce, he said.
"You can partner with Next at the lowest level by offering some products on its website or, on the other end, you can sub-contract the entire process to them," Hyman noted.