Unpacked: Why retailers are finally embracing RFID to manage inventory and combat theft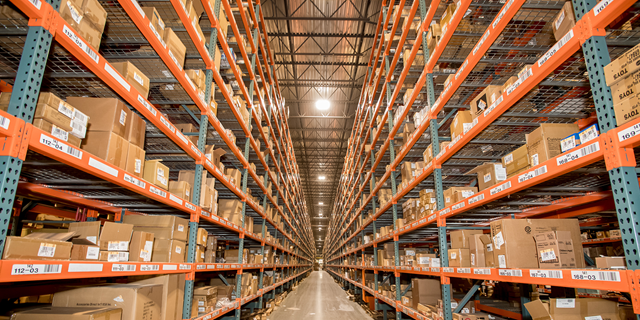 Target
Amid the rise of omnichannel shopping and organized retail thefts, retailers are looking at an old solution to solve new problems.
Radio-frequency identification, otherwise known as RFID, provides retailers with more accurate information to track products, where they are and how they are being sold. Through RFID, retailers can also get a better understanding of exactly which products are stolen and where to add more security in stores.
Though the technology has been around for decades, retailers have increasingly embraced RFID as it has become more cost-effective. Walmart in January said its suppliers in some departments are required to include RFID tags on all merchandise by September this year — not the first time it has attempted such an initiative. Nordstrom also issued a similar mandate to suppliers just a few weeks ago. Meanwhile, Macy's has increasingly been utilizing the technology as high-profile thefts hit retailers across the U.S.
The rise of omnichannel shopping growing alongside retail thefts have made the use of RFID increasingly important. A report from McKinsey in May said that the average cost of an RFID tag has dropped 80% over the last decade to around four cents, which experts say has boosted adoption rates.
"What's occurring now is relative to what we've gone through the last two years with our health crisis, which began to change operations for retailers," Nell Alverson, senior director of channel marketing at ScanSource said. Online shopping behaviors and the supply chain crisis played a huge role in making it more urgent for retailers to improve visibility on supply and demand, she added. "RFID technology and the solutions around that are going to be, and are, a huge part of how they're going to solve those challenges today."
Why is RFID getting a second look?
Recent research from McKinsey indicates that RFID improves inventory accuracy by over 25%. Before RFID, store workers used to manually count items or use a barcode, Alverson said. RFID scanners, on the other hand, can scan several tags at once and can read tags at a greater distance than barcodes.
But RFID was ahead of its time. Its roots can be traced back to World War II as military use technology, Tony D'onofrio, CEO of consulting firm Prosegur Global Retail said. Walmart in the early 2000s initially pushed its suppliers and vendors to use the technology. But eventually, the initiative fizzled out for a variety of reasons, partly because the tech was still in its infancy stage and there wasn't any broad industry standard for adoption.
"It takes a while for some of these technologies to actually evolve to where we're at, and the challenge that RFID has, in some ways, was competing with a barcode," D'onofrio said. He added that barcodes were a much cheaper solution earlier on, but it was time-consuming as workers needed to properly angle scanners and count thousands of items. 
"With RFID you can [check your inventory] much more quickly and know exactly what things are selling," he said. When Outdoor Voices began using RFID in 2018, the company said at the time that it took a worker less than an hour to complete a full inventory count. Before using the technology, it took multiple store employees hours to do the same work.
Now, Walmart is ready to give RFID another go, and with this, experts expect industry-wide adoption to continue. Nordstrom said it wants to implement RFID to anticipate and address its customer's expectations. Zara has been using the technology to track products across various countries and replenish clothing racks faster. 
D'onofrio said RFID can help retailers lift their revenue because by having a more accurate count of inventory, it allows them to sell their products down to the very last item. Macy's, which decided to have all of its items RFID-tagged by 2017, has a program dubbed Pick to the Last Unit (P2LU). The program, through the use of RFID, allows Macy's to list a product up for sale even though there is only one item left. Prior to RFID, Macy's inventory count was not accurate enough to make sure that every unit was in-stock, experts said.
Then there's the rise of organized retail theft, which according to the National Retail Federation, cost businesses an average of $700,000 per $1 billion in sales. Retailers like Victoria's Secret have recently said they are also testing RFID tags to prevent shoplifting. 
Sandeep Unni, senior research director for the retail industry practice at Gartner, said having an inventory equipped with RFID doesn't necessarily prevent those thefts from happening, but it provides detailed information on the colors or sizes of the stolen items. 
"That allows you to now provide much more granular details of items that are stolen that could in turn be handed over to law enforcement," Unni said. "You can look at store level analytics to see if there are any specific trends of items that are getting more susceptible to theft." 
What's stopping RFID from taking off?
Apart from inventory management, RFID can also be used for smart carts or fitting room technology. For instance, Zara in 2018 unveiled its updated flagship store, which features an RFID smart mirror in its fitting room. The mirrors can detect what garments a customer is trying on and show shoppers what the complete outfit will look like. 
However, Unni said retailers have yet to take full advantage of RFID's potential. "I think that there is still sort of a fair lack of broad awareness," he said. "Because it's not been a new technology I don't think retailers recognize how the markets evolved."
Additionally, RFID cannot be used around certain products that have liquid or metal. Applying it to liquids or metals detunes the technology, which is part of the reason why retailers often use RFID tags on apparel.
Though the cost of RFID has significantly gone down as the market matured, retailers still need to deal with the price of deploying RFID across their supply chain, which can be a hard lift.  Experts caution that retailers might not see a return on investment until years later.
"I don't think today's cost would be singularly a barrier, although it is an obstacle to broad stream adoption depending on the size and scale of the retailer and the scale of the deployment they're looking at," Unni said.