Untuckit is incubating a startup swimsuit brand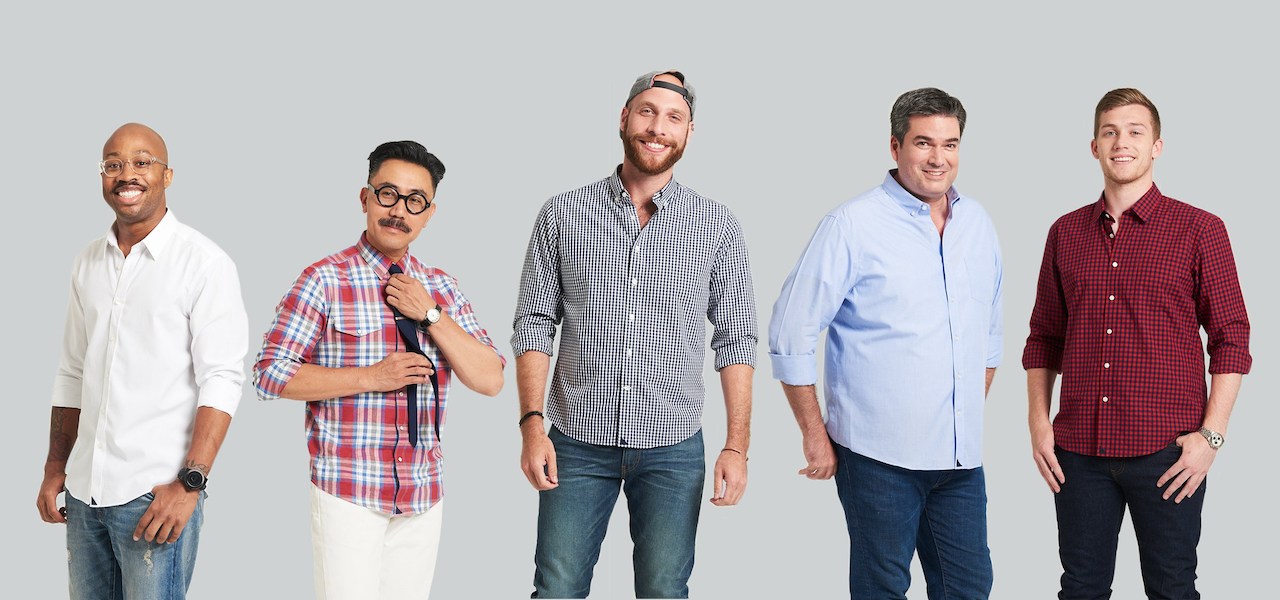 DTC brands are cozying up to each other. The latest to team up: menswear brand Untuckit and sustainable swimsuit brand Fair Harbor.
Their collaboration is starting with a co-branded line of swim shorts, which they started developing in August. Launching today, the collab has mutual benefits: Untuckit could test a new apparel category, as well as its hand at manufacturing sustainable products. Fair Harbor, which first started in 2012 when co-founders Jake and Caroline Denehy were still in college, creates swimsuits out of recycled plastic bottles.
But while the product was being developed, Untuckit CEO Aaron Sanandres realized there was more to be done.
By January, Fair Harbor's team began working out of Untuckit's offices in Manhattan. It's the first brand to be incubated by Untuckit, which launched in 2010, is doing around $150 million in annual sales, is profitable and reached a $600 million valuation in December. Fair Harbor, meanwhile, is doing under $10 million in annual sales.
"We realized there was a lot we could help with, and landmines they don't have to step on, because we've been there," said Sanandres, who is offering up office space, mentoring and essentially testing what a potential future formal incubator could look like.
Untuckit isn't the first brand to realize there's power in numbers. DTC holding companies are on the rise, clumping together startup brands that could succeed together, but may fail to get past a $50 million sales hump on their own. Before joining Walmart to lead its e-commerce brands arm, Andy Dunn incubated the women's brand AYR at Bonobos. Mark Lynn and Corey Epstein, the founders of DSTLD Denim, have launched Digital Brands Group to bring like-minded startup businesses to scale.
The common thread running through these models is the mindset that starting a new business is hard, most people fail, but maybe if they have help, they wouldn't have to.
Sanandres and his co-founder Chris Riccobono now work with Fair Harbor's team to answer questions around customer acquisition, e-commerce best practices, physical retail and inventory management. Other Untuckit team members can volunteer to help, but it's not required. Specifically, what Fair Harbor struggled with was paid social. It had a network of brand ambassadors driving word-of-mouth customer acquisition, and hired an agency to run its paid social on channels like Facebook and Instagram. But Denehy called it a "disconnect": The company was spending a lot of money, not earning it back, and couldn't understand why.
"You're taught you have to [work with an agency] because they have expertise and you don't have a lot of resources. Our experience is you should own that knowledge in house," said Sanandres.
Untuckit doesn't have a minority stake or investment in Fair Harbor, but Sanandres said as the partnership progresses, that conversation will happen. He's planning to use Fair Harbor to see if the model works; so far, it's been a two-way street. The brand has shared sustainability practices with Untuckit and infused it with the energy of a brand on its way to its first $10 million in sales.
"It's lonely being an entrepreneur; people are shy with data. No one wants to give away the secret sauce," Sanandres said. "There absolutely is a playbook, but they usually have to figure it out on their own. I'd like there to be more collaboration among the digitally native companies." — Hilary Milnes
Bombas' new T-shirt took two years to develop
Bombas is the latest single-product DTC brand to expand into new categories, refashioning the brand's positioning to accommodate more products. Bombas is no longer a sock brand, it's a "comfort" brand, according to the brand.
Development for the company's first post-socks product, men's and women's T-shirts, started in 2017, at the same time Bombas hit 10 million pairs of socks sold and made close to $50 million in revenue. Founders Randy Goldberg and David Heath began wondering what else customers would want to buy from a brand like Bombas, and it sent out surveys. T-shirts were a clear favorite; underwear, probably the most natural pairing to socks, was another.
According to Goldberg, the T-shirts took two years to develop — the same timeframe it took to launch its first pair of socks — despite this time having a product development team in house. To develop the T-shirt, the company first found the fabric it wanted to use, Peruvian Pima cotton, and found manufacturers in Peru who could get the features right, like the standard fit, tag-free neckline, soft seams and natural cooling fabric.
"It took us two years to create the shirt, which would drive some people nuts. But for us, it works for the products we sell," said Goldberg. "We want to make sure when we say 'we're selling your new favorite T-shirt,' that we can stand by that." — Anna Hensel
GoT shopping stats
From a recent Viant survey analyzing the consumption habits of Game of Thrones fans: "In 2017, GOT fans were 3.5% more likely to shop at Nordstrom, Kohl's, Macy's, Walmart and Amazon than non fans. Now in 2019, they're 15.5% more likely. Kohl's especially has seen more fans flock to the store with viewers 22% more lily to shop there (a 23 percentage point increase from 2017). Fans are now 18% more likely so shop at Amazon, up 10% from 2017."
Small store, big city
Today, Ikea's opening a "small-format store" in New York City, the first of more than a dozen downsized stores that it plans to open in cities across the U.S. The furniture display areas in these stores will be designed to more closely mimic to adhere to how much space a shopper might have in their apartment in that city. They'll also offer all of the services that today's urban shoppers have come to expect — assembly and apartment design services, buy online pickup in store, and delivery.
Ikea's not the only retailer shrinking its urban stores — Target, for example, has started opening smaller stores in both cities and in college towns. Target's small-format stores are typically 40,000 square feet, while its full-size stores take up 130,000 square feet.
Smaller stores are cheaper, of course, but they also can be more efficient. Target COO John Mulligan said that at the company's small format stores in New York City, it relies on its New Jersey stores to fulfill a lot of the backroom operations, and maximizes every inch of its smaller format stores for sales.
What we've covered
Walmart is making moves: The company is investing in store revamps as part of a larger strategic push.
Mass CBD: Retailers like Rite Aid and CVS are moving CBD into the mass market, and other retailers will be paying attention.
Between Bezos's lines: What to know from Amazon's shareholders letter.
—
Sign up for the Modern Retail Briefing to get retail news, analysis and insight delivered to your inbox every morning.