'Very few businesses should be DTC only': Grocery startup brands are finding the traditional retail model easier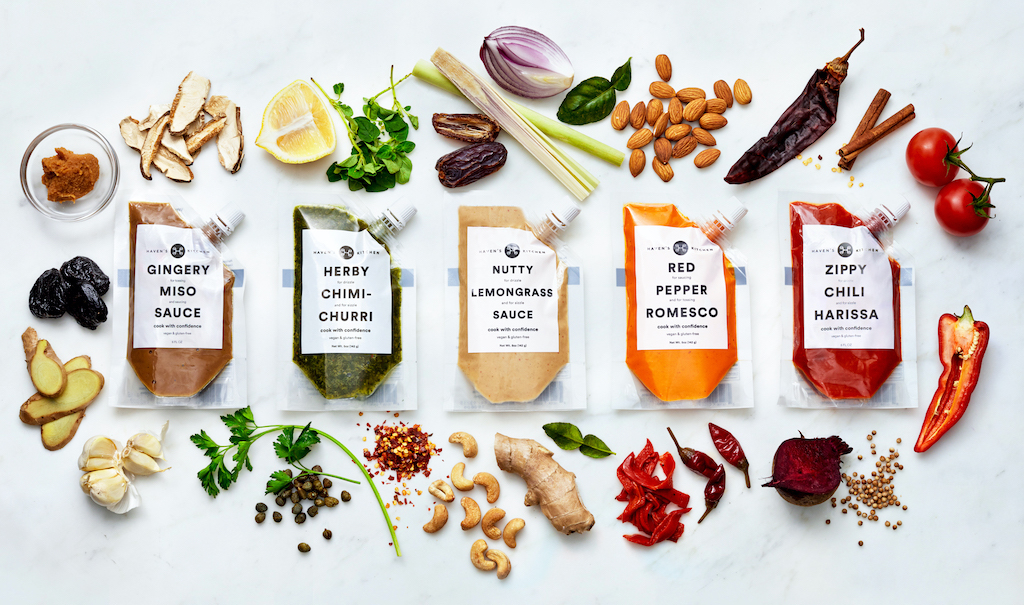 Some food startups are forgoing trendy playbooks in lieu of more traditional retail models.
An increased demand for both fresh groceries and consumer packaged goods is creating an avenue for newer, smaller brands to scale nationally. While a number of recent food startups — including DTC cereal Magic Spoon — grew by focusing on online sales, other newcomers are finding it easier to gain traction in national retail locations. These upstarts typically find themselves at home at health food stores or local Whole Foods Market locations. Brands like Haven's Kitchen sauce, Evergreen waffles, nuggets brand Simulate and ready-to-bake bread Brazi Bites are proving that while DTC is important, there is a current opportunity to scale into brick and mortar faster than ever.
One example is frozen baked goods maker Brazi Bites, who's going after wide distribution across natural and conventional retail channels, according to the company. The Portland-based brand, which has experienced a 60% increase in annual retail sales this year, launched at Walmart and on Amazon in September.
Meanwhile, Alison Cayne, founder of Haven's Kitchen, just expanded her sauces to 800 national Target and Kroger locations. For context, by 2018, Haven's Kitchen was in 14 Whole Foods across the Northeast. This past April, the brand expanded to 490 locations, which helped it experience a 600% increase in month over month sales.
A DTC play alone isn't enough to sell food
Right now, e-commerce is a good marketing channel that creates awareness, "even if it's not converting consumers on the spot," said Ben Pasternak founder of the alternative meat company Simulate. "We consider the DTC site an R&D and marketing expense, the real volume comes from in-store sales." 
For the plant-based nuggets brand, which launches at Whole Foods this month, recent increased demand for frozen food has helped accelerate its growth this year. Simulate, which debuted in summer 2019, has experienced 20x year over year growth this year. Their initial expansion was into smaller health food stores, which Pasternak said resulted in encouraging feedback.
These initial debuts, Pasternak said, created a domino effect for further presence. The company's initial store launches set them up to add more retailers later this year. Compared to the gradual growth he initially expected by launching online and testing out a few stores, the retail interest has given the company a signal to keep expanding. "We're hearing from our advisors and investors that with CPG, you either 'hit it' or you don't on the first try."
A digital strategy that complements — not replaces — retail presence
Since launching in March, Chicago-based Evergreen — a clean-eating geared frozen waffle brand — has added 45 Whole Foods locations across the Midwest and is in the process of branching out to other regions.
Prior to founding Evergreen this year, Groden served as general counsel for Nick Kokonas, owner of The Alinea Group and founder of reservation platform Tock. However, she explained that the CPG grocery space has been a completely different beast that requires knowledge of distribution and what buyers are looking for.
"It's not enough to create the recipes and package the product," Groden said. For her, retention is key. With that, while selling DTC has been a great starting point, she agreed that relying on finicky e-commerce shipping doesn't bode well for sustainability. 
"I'm happy to ship people products, and have even replaced packages that arrived with melted ice," Groden explained. But to grow beyond a kitchen-based company and into a national CPG brand, the goal is to get into retail. While getting into more retailers still requires the leg work of getting the product into buyers' hands, Groden is hopeful the business can capitalize on its initial momentum outside its home market.
"Very few businesses should be a long-term DTC only brand," Pasternak said. He also noted that there are supply chain concerns when it comes to shipping frozen or refrigerated foods, such as the current dry ice shortage. 
Sticking to online-only has been a touted advantage by brands that want to maintain control of the customer experience. However, eventually every CPG startup wants its products to be easily accessible via wide distribution. The current conditions are showing that national retailers may be taking more chances on smaller startups.
Barb Renner, vice chairman and U.S. consumer products leader at Deloitte, told Modern Retail that one reason for increased startup interest from national retailers is that more consumers are seeking out premium items. "These shoppers tend to be younger, wealthier and more diverse urban dwellers," Renner said. She pointed to Deloitte's latest report as an indicator for demand that consumers have. Since the pandemic, nearly two-thirds (65%) of consumers said they were unable to buy the fresh food they wanted because it was out of stock. These incidents then drove 40% of them to purchase an alternative fresh food item, "or leave the category entirely to buy a frozen or processed replacement (28%)."
That gives startups a chance to fill these voids on retail shelfs.  "You need to give customers a reason to buy you again," Cayne said. At the same time, brands can't be on shelves while doing nothing online.
"E-commerce is a great tool, but it can't be the be-all and end-all strategy," she said.