Wayfair defines its offline strategy as it pushes into permanent retail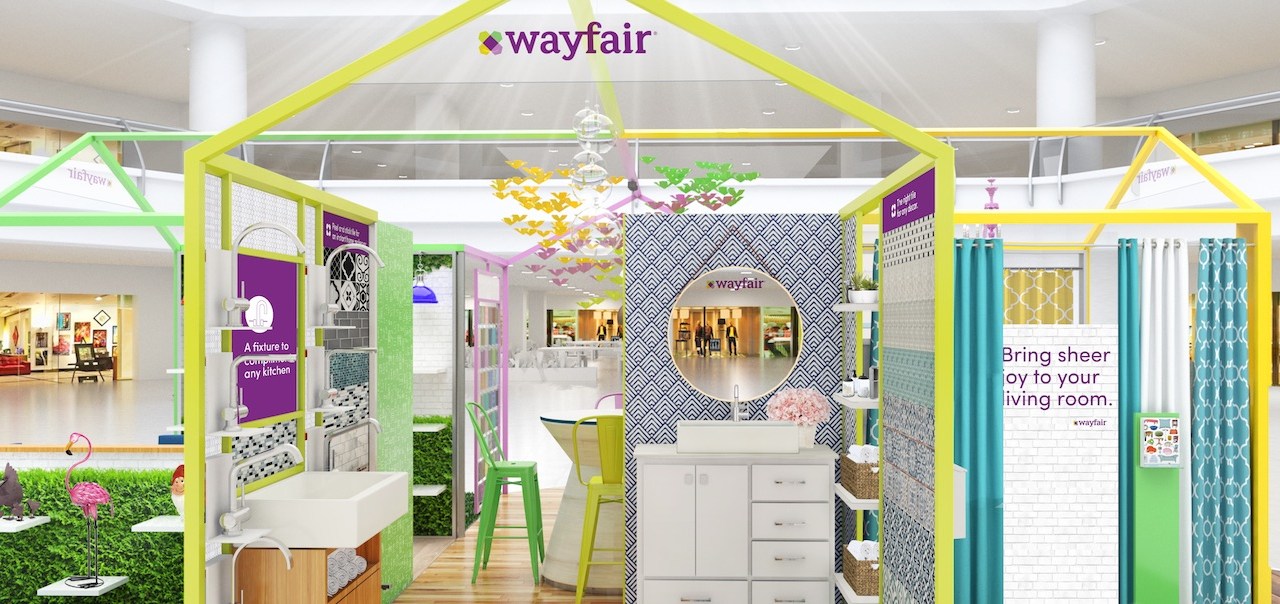 Wayfair is moving beyond pop-ups into permanent retail stores, joining the likes of online-first brands like Casper, Warby Parker and Everlane that built physical stores to amplify their online presence. For Wayfair, the move is part of a bigger strategy to test the waters of physical retail, assess offline customer traffic and habits, and ultimately drive additional traffic to its online store.
A Wayfair spokesperson told Digiday that the store launch in Boston's Natick Mall this fall fits alongside Wayfair's other experiential marketing efforts, including forays into television, direct mail and print catalogs. The physical store is a way to bring the brand to life in a new format, and more closely resembles a traditional mall store where customers buy and return products inside stores, along with a delivery-to-home option. The store will showcase a wide variety of products spanning decorative accents, decor and housewares, as well as furniture for bedroom and living room, but the company declined to comment on how it will choose physical store inventory.
The Natick Mall store isn't the first physical store launch for Wayfair. It set up pop-up shops in the Natick Mall and Westfield Garden State Plaza Mall in New Jersey during the 2018 holiday season, and earlier this year, opened an outlet store connected to its Florence, Kentucky warehouse. The company plans to continue its pop-up locations, with four locations slated to open this summer (it didn't say where). Its emphasis, according to the company, will be on curated items that include decorative accents, wall décor, and seasonal pieces.
A permanent store adds a new element to its physical strategy, featuring its products in spaces in which customers can browse, and can help build word-of-mouth brand recognition at a time when the digital marketing channels, particularly for furniture is becoming more competitive. Wayfair, with $6.8 billion in revenue last year and nearly 15 million active users who spend an average of $440 per year, has shown that it can scale as an online-only e-commerce business. Stores, however, represent untapped growth. Wayfair is taking a double-sided approach to offline retail to maximize that growth: using stores as marketing channels, like the Natick store and the pop-ups, as well as an inventory tool. Instead of a marketing play, the outlet store takes the burden off online returns.
"The home [category] is exceptionally competitive online — there are more than 2,000 retailers appearing in shopping ads against home keywords," said Gartner L2 senior principal Bill Duffy. "Opening stores is a valuable way to gain organic visibility."
Physical retail helps offset the impact of digital advertising costs for the online-first brand. According to Gartner L2 data, Wayfair is still the top home retailer that appears against furniture keywords searched appearing against 80 percent of search terms in the category last year. Amazon, however, isn't too far behind, with its offerings appearing against 60 percent of furniture keywords searched during the same period. As a result, a physical retail store could help offset the impact of digital advertising costs for the online-first brand.
Physical stores also have an impact on driving traffic to online stores: According to a 2018 International Council of Shopping Centers study, for emerging brands, physical stores help increase online traffic by an average of 45 percent within a given market. Since Wayfair offers a range of brands' products, alongside other online retailers with similar products, a physical store amplifies Wayfair's brand proposition to the customer, wrapping up a physical "showrooming" experience with personalized service.
"When you're seeing brands incubated online and moving to the real world, they're beginning to compete on customer value, and moving away from price and convenience," said Ben Weiss, director of retail platform strategy at digital agency SocialCode.
Wayfair would not comment on whether future permanent store openings are planned, and whether it plans to add additional features like online order pickup or in-store fulfillment hubs. While the impact of one permanent store will be difficult to assess, it can be seen as part of the brand's bigger experiment to test how physical locations impact customer behavior and growth.
"Whether it becomes a bigger part of the company's revenue mix still remains to be seen," said Forrester principal analyst Sucharita Kodali. "Many of the 'pureplays' [online-only retailers] have opened stores here and there in high-traffic locations to test ideas and drive some brand awareness. Most retail, especially in the furniture and home space is still offline, so it's not surprising."
—
Sign up for the Modern Retail Briefing to get retail news, analysis and insight delivered to your inbox every morning.