'We actually have brands that make money': How DTC showrooms are reinventing themselves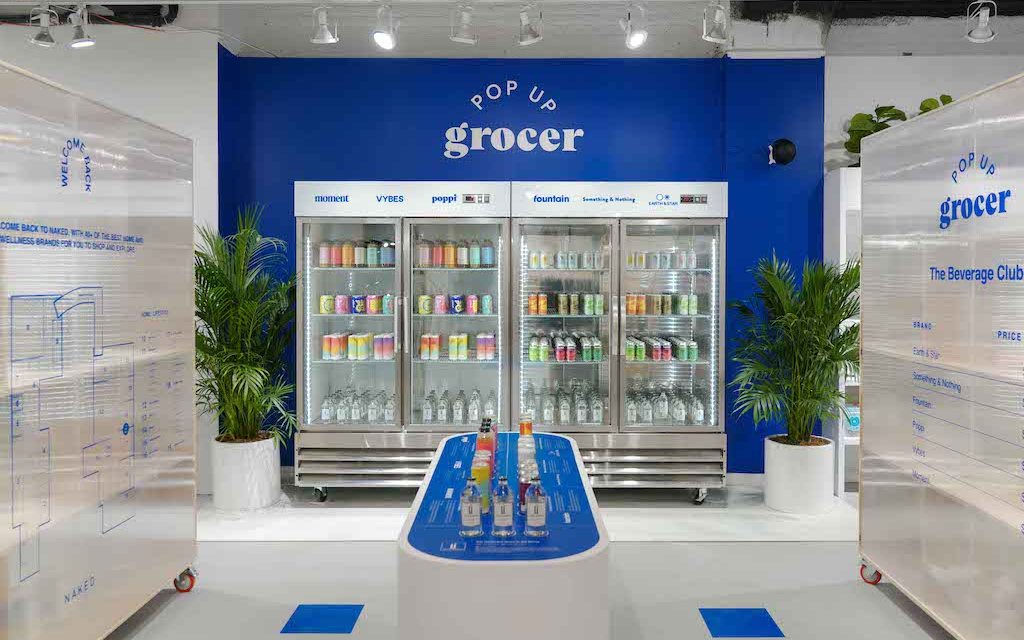 DTC showrooms are still around, but they're changing.
Before, these spaces showcased up and coming brands in highly trafficked areas — and were often considered as much a marketing campaign as they were sales engines. Then, in March, they all had to close and figure out how to keep things afloat.
Now, DTC curators like Naked Retail and Showfields have reopened their doors with a new approach. For one, they are aiming to create actual sales, both in store and online, for the brands they showcase. They're also focusing more on getting bigger brands that will drive more conversions. What's more, e-commerce is a much bigger part of the equation.
How these stores reopen sets the stage for individual online brands too. Other individual startups are reopening with similar emphases. The future of physical retail is unknown, but a scaled back, more conservative approach to storefronts is beginning to materialize.
Rethinking the cash-burning experimental route
When the pandemic hit in March, Naked Retail closed its Soho doors and laid off staff in hopes of returning soon. But as the months came and went, president Justin Kerzner began to rethink the space's needs and used the time to move and redesign. "We waited to have enough merchandise to open with," he said of the early October reopening. The previous location's associates were brought back to work the new store's sales floor, as well as limited run activations and popups. During the closure period, he also devised ways to improve the customer experience, hoping it would boost flagship's margins.
For this new version, Kerzner wanted the space to be more calming, "since everything feels sterile right now." In overhauling the entire design, Naked Retail's new location boasts air purifying plants and high tech hand sanitizer dispensers. He also wanted to wait to have an abundance of relevant brands before reopening doors, Kerzner explained. 
He also stressed that pouring cash into stores that merely act as billboards is no longer an option. "We actually have brands that make money, so it's not just a marketing tactic," he said. Instead of showcasing mostly newcomers, Naked Retail now aims to feature a larger mix of well known and scaling brands. He cited Bala Bangles, which make wearable weights, as a successful coronavirus-era brand that Naked sought out.
Kerzner sees this as the real selling point for all brands. Why invest in a risky flagship in uncertain times when you can pay Naked Retail a fee to test the waters? "I've never understood why brands think you need a million dollar 1,500 square foot store," he said.
While bringing on more brands that drive conversions is a big emphasis for Kerzner, that's not to say that the new walk-through format doesn't have room for exposure-seeking brands. Fitness startups like Tonal and Bala are making use of the space for activations, taking advantage of customers looking for at-home workout solutions. Bala, for example, used Naked Retail's space to film a virtual workout featuring Maria Sharapova. "Their need to demo the products is still hard to mimic online," Kerzner said. 
Furthermore, in order to execute filmed virtual events and personal shopping appointments, Naked doesn't open the store for customers on Tuesday. Beyond weekly necessities, the day also used to host a "founders day" and upcoming small popups.
E-commerce is another new area of growth. Before, the company lacked a full service DTC site pre-pandemic. It now has opted for an "editorially driven" marketplace. This means less emphasis on individual product listings, and more storytelling and content on each featured brand's Naked page.
In his estimation, the new plan is showing signs of life. Traffic is down about 20% to 25% below baseline. He described the current conversion rate as "healthy," and has relatively improved on the old store's sales given the foot traffic capacity. He said he expects the week-over-week sales to improve as the neighborhood's holiday shopping ramps up.
New shopping habits
Tal Zvi Nathanel , co-founder of the DTC brand showroom Showfields, which has a flagship store in New York Soho, said that while the pandemic marks a historical low point for retail, "brands are still looking for physical retail solutions." With that, he said that Showfields' original strategy to provide brands with flexible popups at its Manhattan flagship is still intact. The company's outdoor Miami Showfields is still on schedule to open in November, where "traffic is recovering nicely," he said. The outdoor-focused store, which was announced at the beginning of the year, will focus on featuring high end designers that cater to the local demographic.
After being closed between March and June, Showfields is now seeing a "steady growth week over week increase," Nathanel said, with 70% of the baseline of 2019's walk-by traffic. "However, conversion rate has doubled because there is more intent to buy," Nathaniel said. He also noted that there are fewer tourists and more locals visiting. "We're seeing double the growth in the brands we're working with, and also the sizes of brands," he said. For Showfields, which was previously focused on emerging brand discovery, there is an opportunity to go after bigger, exclusive brand collaborations, such as Dr. Jarts and Magic Spoon.
Much of Showfields' new plan has focused on digital. Since reopening in July, Showfields' e-commerce strategy has been to create a site that caters to customers who can't visit the store physically. This includes tools to patch customers in to chat with associates working the brand stations. Nathanel said that the company's e-commerce platform has seen newfound growth. Showfields also launched its Magic Wand app, a code-scanning augmented reality tool that guides visitors around the store's multiple floors and facilitates contactless checkout.
Nathanel noted that, more than ever, curated shops like Showfields have an advantage over the single-brand showrooms. For one, customers likely feel safer venturing from their home to check out several brands in one location. They're also positioned to offer more flexible rent terms to brands that aren't ready to commit to a permanent popup or store.
Other digital brands are thinking about their retail spaces similarly. Dallas-based The Citizenry, a home decor brand that curates global artisan-based goods, opened its Soho, New York flagship this week. This is the company's first foray into physical retail. While a risky move, it felt like an important step to keep with people's habits. Customers are increasingly looking for ways to see items before they buy them, Emily Robinson, The Citizenry's brand marketing director, told Modern Retail. "There's always a risk about whether the item is going to be the right scale, color or pattern," she said. "We still see a need to create a physical space for inspiration and connection, and our goal in opening the flagship store in the midst of a pandemic is just that."
Meanwhile, DTC Showrooms aren't the only spaces rethinking their stores' designs. Undergarment brand Lively, with locations in New York, Austin, Los Angeles and Chicago, is also rethinking the locations' roles moving forward. "We're shifting our perspective to thinking of retail as both a store and a warehouse," founder and CEO Michelle Cordeiro Grant told Modern Retail. 
Robinson said that The Citizenry's new New York location will also serve as a necessarily fulfillment hub, aiding customers' ability to return items. It will also be seen as something more than a space to move product. "Whether it be suggestions for new styles, designs or simply learning more about their homes and lifestyles," she explained. "We believe these insights are invaluable to honing our product development and marketing."
A new-ish playbook
According to Jean-Emmanuel Biondi, retail, wholesale & distribution analyst at Deloitte, more brands are rethinking the role of their stores and are better integrating their digital experiences into physical ones. "Consumers miss the idea of social interactions during shopping," he said.  
Currently, businesses are faced with a conundrum about whether to reopen spaces or continue to wait. Biondi said that more businesses will likely begin turning their lights back on. Even from a branding perspective, whether it's a big retailer or a DTC brand, he said, "an out-of-service store tends to have a negative public perception."
But the metrics of success are changing, The question for each of these retailers now revolves around keeping close tabs on myriad metrics, such as profitability and potential future traffic patterns, Biondi continued. Before, retail stores fit into four different archetypes: traditional, fulfillment, experiential showrooms and community-based popups. Now, these concepts are becoming much more fluid. Fulfillment, for example, is now integrated into even so-called experiential shops. Curbside or in-store pickup tools are expected at nearly every stores, and physical store reps are increasingly taking on the roles of digital customer experience employees. Biondi emphasized that DTC startups' storefronts need to facilitate one, some or all of these pillars to make the investment worthwhile.
As retailers grapple with what is and isn't enticing for local shoppers, there is a need to offer flexibility. All of these startups are trying to figure out why and how people are shopping and adapt quickly. "It's going to take more to get people out of their house," Nathanel said. 
Still, Biondi predicted that online retailers will continue to open stores. "It may not be at the anticipated rate, and the lines between physical and digital will be blurrier," he said. "But they know they still need the presence."