'We don't want to be a coffee-of-the-month club': How subscription coffee service Trade is planning for post-pandemic retention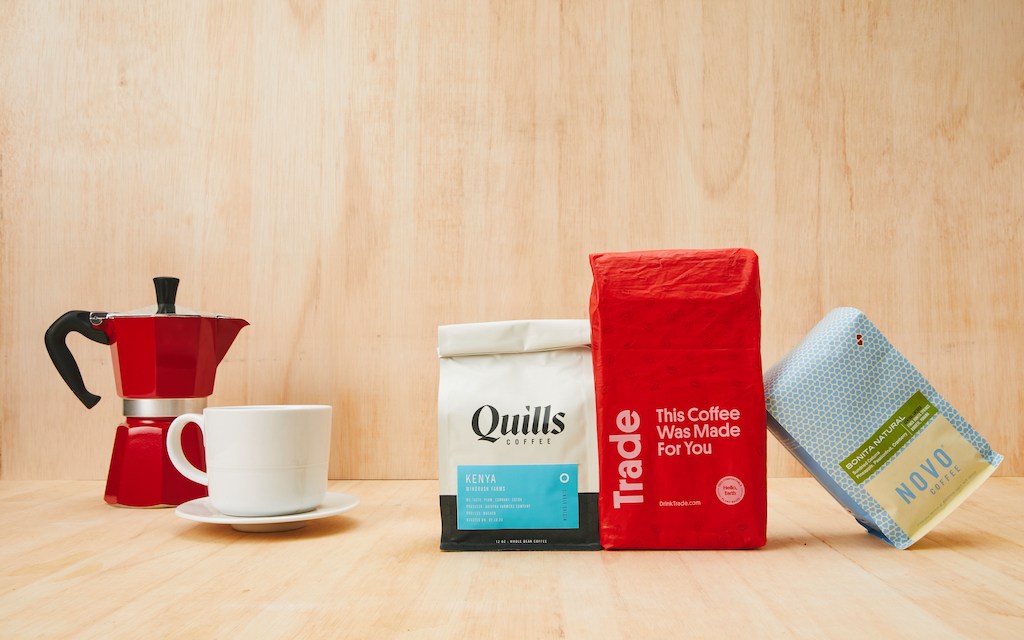 Image via Trade
When the pandemic first hit, more people started drinking their coffee at home and order beans online. Now, digital coffee companies are trying to keep these customers. 
Trade Coffee, which sells customers hundreds of roasts from 55 roasters, saw its subscription business increase tenfold in March 2020. Since then, according to the company, sales have remained steady; Trade's sales grew by more than 2x since the start of 2020, with new customer signups jumping 44% between the third and fourth quarters of 2020. While this growth helped digital coffee sellers scale exponentially, sustaining long term customer loyalty isn't easy.
Trade's growth follows industry-wide consumption pattern shifts. As of April 2021, 85% of coffee drinkers reported having at least one cup at home, an 8% jump compared to January 2020, according to a National Coffee Association (NCA) survey. 
The big question looming is how long this will last. Online coffee marketplaces like Trade have come to count on these sales to gain market share. Yet as more coffee shops go back to normal and consumer habits shift, retention will be key. Melissa Spencer Barnes, chief marketing officer at Trade, told Modern Retail that the company is combating churn by turning its attention to recommendation tools and focusing on its partnerships with small roasters.
A focus on recommendations
With this new cohort of customers, Trade is looking to retain them via "thoughtful" offerings, Spencer Barnes said. "Most users don't want to try random new things, so we need to address this by building specific tools to minimize dissatisfaction." 
In the coming months, Trade is rolling out new taste profiles for account holders — broken down by coffees that fall under, say, citrus or floral taste profiles. Each customer's homepages will also be streamlined to feature personalized recommendations based on past purchases and reviews, pointing to relevant roasting "collections," said Spencer Barnes.
From there, users can customize order frequency and grind settings. The company is also exploring delivery options from local roasters to speed up fulfillment.
"We don't want to just be a 'coffee of the month' club," Spencer Barnes said. So to address different replenishment schedules — many customers are running through beans quicker at home — Trade recently launched 10-day interval re-orders. "This makes sure those customers don't run out of product at any time.
Trade has also been looking to add more seasonal offerings, like cold brew kits — which pair beans with brewing bags for easy use and cleanup — in order to get existing customers to buy more. Additionally, the company has been emphasizing gifting more, creating personalized gift suggestions for subscribers during holidays like Christmas and Valentine's Day.
Carly Sutherland, a CPG consultant who's worked with General Mills and Pepsi, said that overall, coffee — more than most products — creates a strong emotional connection that can be parlayed into lifetime loyalty.
"CPG brands can continuously drive these positive associations through their subscription and loyalty programs," Sutherland said. And for a marketplace like Trade, which offers variety based on seasonality and taste, the opportunity is even bigger. "This ranges from iced coffee to signal the excitement of summer, or meme-ready pumpkin spice latte," Sutherland said. 
For Trade, ensuring that customers have access to a wide variety of products depends on getting more roasters to sell through its platform. Trade CEO Mike Lackman said that when partnering with roasters, the company looks for ones with varied inventory — the key is to provide enough SKUS that cater to the personalized tastes of hundreds of thousands of different customers.
"Having a variety of rosters with unique stories from all across the country is equally important," added Lackman.
Upheavals in the food and beverage space over the past year have made roasters more willing to sell through a platform like Trade. Will Shurtz, co-founder of Greenville, South Carolina-based Methodical Coffee, said that pre-Covid, 90% of the company's roasting business was geared towards bulk orders for cafes and restaurants. 
Last year, when stay-at-home orders were first issued, Methodical adapted by marketing its bagged beans directly to its existing coffee shops' customers to brew at home. Since joining the platform last month, Trade orders now make up about 30% of Methodical roasted coffee, Shurtz said.
Now that Methodical has found a new cohort of online customers, its pandemic-driven partnership with Trade has part of a longterm sales strategy. "Covid has not just impacted us, but completely changed our business," Shurtz said.