Q&A
// December 14, 2020 ■ 3 min read
'We have an opportunity to pivot back': eBay's vp of buyer experience Bradford Shellhammer on the company's path forward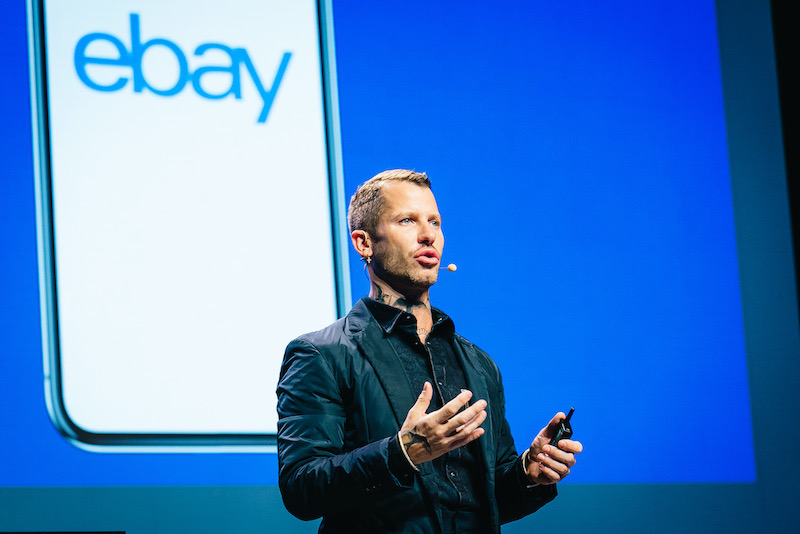 As one of the oldest e-commerce platforms around, eBay is getting back to its roots.
There is no doubt the pandemic helped revitalize the company, which had been falling behind competitors like Amazon in recent years. The renewed interest helped bump its revenue and global user base. Last quarter, the gross value of goods sold on eBay's U.S. marketplace grew by 33.4% to $9.79 billion, up from up from $7.33 billion in the third quarter of 2019.
"An opportunity has fallen into eBay's lap," said Bradford Shellhammer, who heads up buyer experience at eBay. "At the core, it's been a transformative year for the company," he continued. To capitalize on the newfound lifeline, the company is in the process to improve its shopping platform with features like personalized shopping algorithms and vertical shopping experiences, among others. The goal is to get the website and app up to date to attract today's modern merchants and shoppers.
Shellhammer spoke to Modern Retail about eBay's latest plans and the mission to retain the renewed interest in its marketplace. This interview has been edited for length and clarity.
Thanks to the big e-commerce boost, this year seemed to throw eBay a lifeline.
It's been really great to see because we're 25-years-old, and many people are either returning to us or discovering eBay for the first time — oftentimes out of necessity. This time also helped us realize the need to return to our core mission, which is to provide sales opportunities for merchants all over the world. We got to experience and see interesting micro-trends that highlighted the "feel good" aspects of the platform, especially from small businesses and consumer sellers who stepped in to fulfill demand early on.
What will this new merchant-focused mission consist of?
Our new CEO Jamie Iannone is an old school-eBayer, so the idea is to go back to basics. This means re-investing in technology and storefront strategy. For a while, we were trying to be like the other guys by competing on operations and logistics.
One mistake in recent years was that we didn't lean into interesting inventory that eBay is known for, like secondhand and collectibles. We now have an opportunity to pivot back to elevating these verticals by creating better-branded experiences.
What tech features will you focus on going forward to achieve this?
We have an influx of new sellers telling us it's not that easy to sell on eBay. We hear that loud and clear. We want to build tools for them that make for easier listing flows, and toggle between the web and app experience. We're also detangling from PayPal and building out our own payments system.
Another more obvious user component is the improvements to the iOS and Android apps — which launched dark mode, something many customers were asking for.
What categories will you be focusing on?
Our strategy is to move away from "in season" fresh inventory and place emphasis on refurbished items. The resale, vintage and collectible space is huge right now — and people are sitting in homes filled with stuff. One thing we're doing is paying more attention to high-end watch sneaker customers, which make up a large chunk of our revenue.
There is fierce competition from others, but secondhand started on eBay. So we want to take advantage of having the global audience for it. The launch of third-party authentication for luxury products was the key. 
In the next year, we're looking to build out more features like this to help merchants scale their business. It's been a challenge as an older company, where some of these startups have been nipping at us with growth. So the goal is to get to a place where we're more nimble.