Q&A
// November 8, 2021 ■ 5 min read
'We've built this infrastructure of giving': Bombas' Co-Founder Randy Goldberg on expanding into new regions and categories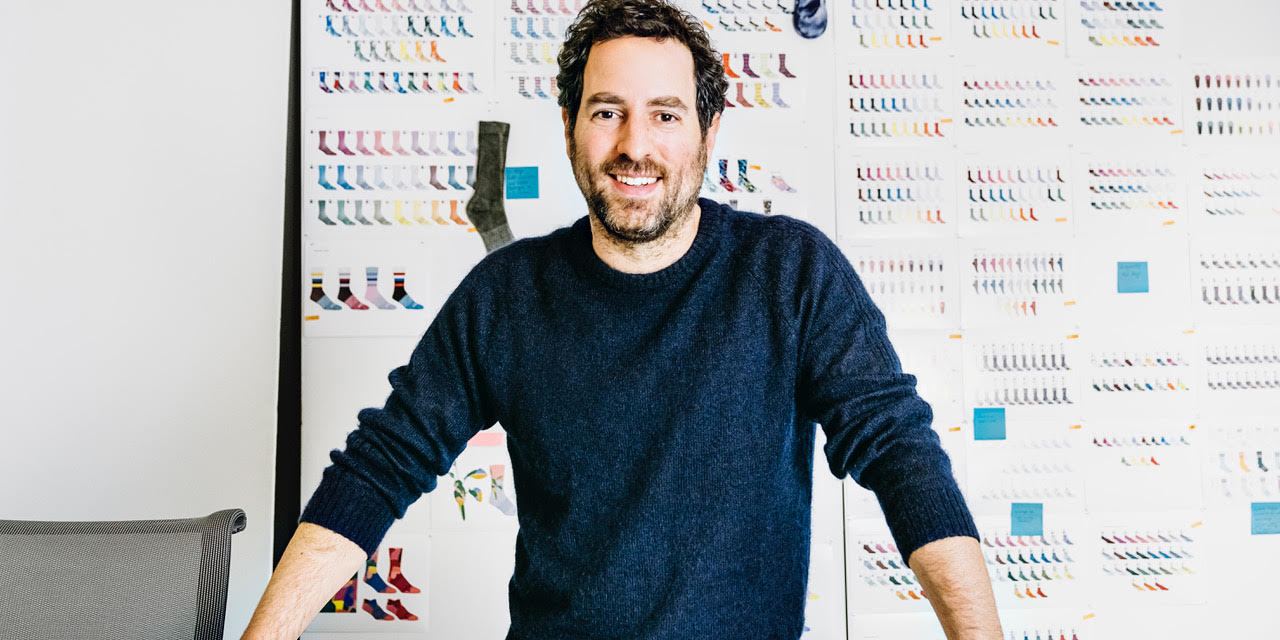 Bombas
Sock company Bombas is embracing new categories, regions and partnerships in its quest for apparel dominance.
Bombas was founded in 2013 as a buy-one-give-one sock company, when co-founders Randy Goldberg and David Heath learned that socks were the most requested clothing item for homeless shelters. In 2019, the brand moved into t-shirts and, in 2021, into underwear and slippers. Over the past few weeks, the brand has consecutively announced its sixth product partnership with Sesame Street, its first product partnership with Disney and its first international expansion to the U.K.
The brand is considered one of TV show Shark Tank's biggest successes: Bombas grew its revenue 40% between 2019 and 2020 and has donated (and thus sold) over 45 million items to date. The brand announced that it was profitable by its third year of business.
Co-founder and chief brand officer, Goldberg, talked to Modern Retail about elevating the apparel base layer, expanding to the U.K. and navigating supply issues with a buy-one-give one model. This interview has been edited for length and clarity.
Over the past three years you've expanded into t-shirts, underwear and slippers. Can you talk to me a bit about moving from a sock focus into multi-category business?
I think there's sort of two sides to it.  The first aspect is what we hear from our giving partners. We donate a product for every product we sell and we've been doing that from the beginning. We started this company [with socks] because socks are the most requested clothing item in homeless shelters. It still remains the driving force and the heart of our company… What are [shelters] asking for?
While socks remain the number one most requested clothing item in homeless shelters, underwear is number two and t-shirts are number three. So in terms of product roadmap, [we focus on] where can we continue to have an impact in products that are hard for consumers to donate because of shelters not accepting a lot of those products [used] for hygiene reasons… We want to be able to step in and donate products that are specifically engineered to meet the needs of people experiencing homelessness.
The other half is customer demand. We have a very vocal list of customers and, thankfully, we're in constant conversation with them… [They want] the same level of comfort, the same level of support, the same innovation and just thoughtfulness around underwear and t-shirts [as socks]. And I think we saw a huge opportunity to improve on products that were constantly considered afterthoughts in the marketplace. We'd see even the companies who were making socks [view them] as an afterthought. There was not a level of intention. But it's a product that really has a big impact on how you feel all day and it's the same with underwear and with t-shirts. These are the things that you put on first in the morning, the things that you wear closest to your body. And I think there's a responsibility for that, that we have to make these things really comfortable and we have to make them supportive. We want people to be craving [these base layers], to want to do laundry to wear them.
You recently announced that you were expanding internationally for the first time to the U.K. Why was the market the right fit for you and why was now the right time to expand?
We've been thinking about this for a while… and we felt like the time was right now as we've always been excited about the U.K. We think we can build something foundational in the U.K. the way that we did in the U.S. I think the idea that people want comfortable products and that they care about the community where they work and live is a pretty transferable idea. And for us, the U.K. seems like a good place to test this idea. We've done a lot of research on the U.K. consumer and it seems like a lot of our ideas and the things that we care about — comfort, support, inclusivity — really resonate there as well. So, it's an exciting moment for us to be opening in our first international market.
You follow a buy-one-give-one model and I'd love to hear your thoughts on how you continue the policy through these various expansions your brand has gone through and, more broadly, through a global supply chain crunch.
Over the last eight years, we've spent a lot of time building out our network of giving partners. So we started with one giving partner when we launched the business… and we ended up working with a group in Ohio called Hannah's Socks… We now have over 3,500 giving partners across all 50 states and it's a powerful network of people who are committed to helping out with issues around homelessness. [We've] built this infrastructure of giving. We harness our logistics and operations teams to help out with this and we are pretty efficient at getting product from our manufacturers through our warehouse to organizations and shelters in a timely fashion, servicing giving partners as if they were customers.
Now we have to add in the complexity of new products that have different sizing, and shelters have different needs, but all of our work in this area is based on requests. So if you're a small mom-and-pop shelter, and you say 'I want one box of socks and it's better at this time of year,' we can facilitate that. If you're in a large organization, and you can handle donating a million pairs of socks, we can handle that as well.
With a geographic expansion, we wanted to launch the same way we did in the U.S. and find one really good giving partner, St. Mungo's, to start. We want to be sensitive to local issues around homelessness and rough sleeping in the U.K. and make sure that we are donating the right products at the right time. We're learning in these early stages… We want to build a really strong operational base in the U.K. the way we've done here in the U.S. So, same approach, but trying to make sure that it's tailored to the needs of the new market.
We're spending as much time trying to figure out the logistics and operations in the supply chain world for our giving partners as we are for our customers. It's really like running two simultaneous operations.