What to know about Coupang, the South Korean Amazon that is about to go public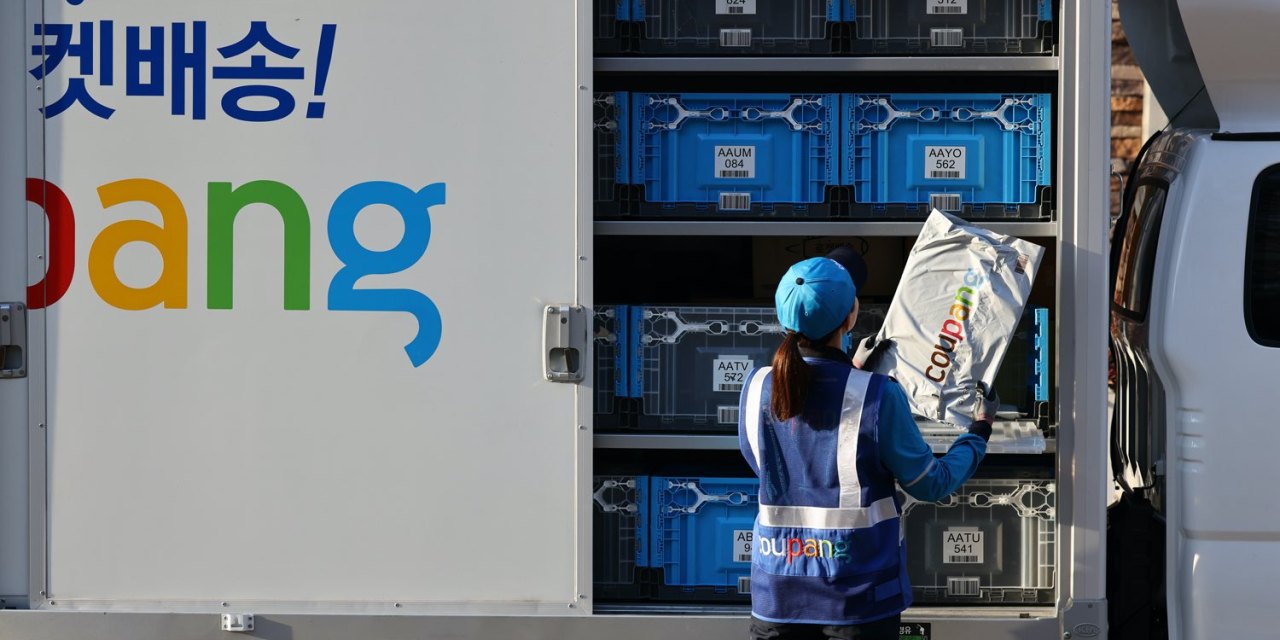 via Coupang
Coupang, the so-called Amazon of South Korea, is going public on the U.S. stock exchange — and it's seeking a $50 billion valuation when it does. That's coming off a much longer winning streak for the company, which saw revenues nearly double in 2020 — a 91% jump — to around $12 billion.
Since its founding in 2010, Coupang has become a dominant force in South Korean commerce, largely thanks to its lightning-fast delivery speeds. Its founder, Bom Kim, was at launch deeply concerned with mastering delivery efficiency, and he has spoken of the e-commerce race as "a fight of minutes and seconds." Thanks to the speed of Coupang, "the expectation in logistics began to change" among consumers, said Philip Lee, who researches the South Korean tech world for his website Pickool.
The company is extremely young compared to Amazon, and it has not yet turned a profit, losing nearly half a billion dollars last year. But in some ways, it has taken the Amazon model of efficiency-at-all-costs and heightened the stakes, often offering shipping speeds to its Korean consumers that Amazon hasn't yet managed.
What is Coupang?
In its short life, Coupang — which started as a kind of Groupon for South Korea before expanding to an e-commerce marketplace within its first three years — upended competition in the country. The company quickly raised $300 million in 2014, largely from U.S. investors, followed by $3 billion in 2015 and 2018 from SoftBank. Those investments allowed Coupang to balloon into a 50,000-employee business in 11 years.
A central component of its pitch to customers is its speed. Its warehouses are so ubiquitous that the company claims 70% of all Koreans live within seven miles of its "over 100" fulfillment centers, according to the company's S-1. It also says that 99.3% of its orders are delivered within 24 hours of purchase. In 2019, the company introduced Dawn Delivery, where customers who order before midnight would be guaranteed a delivery by 7 a.m. that morning — a speed that even Amazon has not matched. All of that efficiency has taken its toll on workers. A report in Rest of World last fall said that the company promoted "a business ethic that prioritizes rapid delivery over employee safety," and workers complained of long, grueling hours on the job.
According to its most recent filing, Coupang claims around 15 million active customers, making it much smaller than Amazon. It says that at least 200,000 third-party sellers are signed up to sell on the platform. And while it's the dominant e-commerce company in Korea, capturing 24.6% of the e-commerce market when numbers were last reported in April 2020, the company does not yet have the same market saturation as Amazon. Coupang noted in the S-1 that its "total net revenue remains a very small percentage of the total retail, grocery, consumer foodservice, and travel spend in the Korean market."
How else does Coupang compare to Amazon?
Like Amazon, Coupang has come to rely heavily on its membership system. Thirty-two percent of customers currently pay for the Coupang Wow Rocket Membership, the company's equivalent of Amazon Prime. And recently, the company has expanded its private-label lines in the apparel, beauty and electronics space. Because of its low cost of delivery, its overall margins on most goods tend to be thin, but Coupang is making a bet similar to Amazon's on the value of first-party products: "They make someone addicted to Coupang, and they try to get the margins from their private labeling," Lee said.
But Coupang isn't exactly an Amazon lookalike. Unlike Amazon, it doesn't have any physical stores yet. And the sheer speed of its deliveries, paired with the pervasiveness of its warehouses, has helped the company break into online grocery much faster than Amazon. Coupang didn't provide specific stats about its grocery segment, but in its S-1, it claimed to be the biggest online grocer in Korea, noting that online grocery is a much bigger business in Korea than in other countries.
The comparison to Amazon also isn't a one-to-one ratio. For instance, part of the reason that Coupang has become such an effective e-commerce player is that South Korea is uniquely receptive to e-commerce companies: It's one of the most densely populated countries in the world, with a high rate of mobile and internet adaption. Eighty percent of Koreans live in cities, and 95% own smartphones (well above the U.S. proportion of 80%).
Where is Coupang headed next?
In just the last year, Coupang has expanded to become much more than an e-commerce business. In December, Coupang launched a video-streaming service called Coupang Play, the company's equivalent of Prime Video. The company has also honed plans to build out a livestream shopping business.
More recently, in January, the company rolled out Coupang Logistics, which is bringing its vast fulfillment network in-house. While Coupang previously relied on a coalition of subcontractors to ship and deliver orders, it now handles the deliveries. And some reports have indicated that Coupang has ambitions to deliver for companies unaffiliated with the e-commerce giant, the way a traditional carrier would — an escalation that Amazon has not yet committed to matching.
Coupang is rapidly investing in other industries, too. Lee pointed to the company's creation of the Coupang Media Group, an in-house advertising platform that mirrors Amazon's and Walmart's growing retail ads businesses. Coupang is also working in the fintech space through its in-development Coupang Pay and has a food delivery service called Coupang Eats.
"I think [Coupang] will evolve into every industry, even travel and car rental," said Lee. He pointed out that the company recently registered a brand name dedicated to selling used cars, and in its application, "they mentioned that they are considering expanding their business to car rental," he said.
However, what Coupang hasn't done yet is grow much internationally. The company made reference in its S-1 to the fact that it wants to expand abroad, and Lee has found some evidence that Coupang is working on building a presence in China.
But for now, "my personal view is they will focus on domestic," he said.