While Blue Apron stumbles, semi-prepped meal kits are seeing growth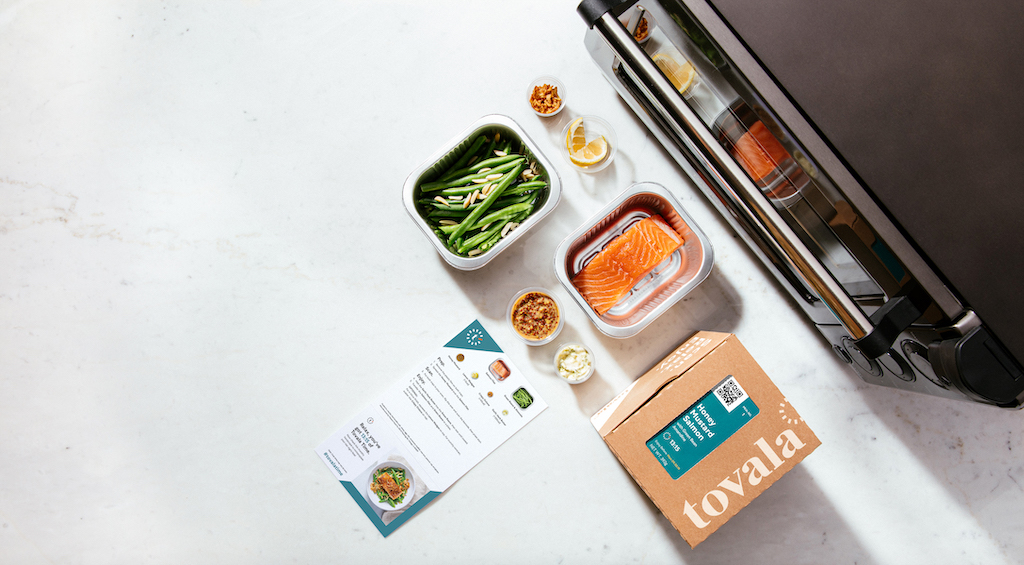 Delivery meal kits are meeting home cooks halfway, and it's paying off.
Since bursting onto the scene, Blue Apron and its competitors became infamous for high customer acquisition costs and unsustainable business models. And while the pandemic's food supply shortage gave the category a much-needed boost, some services are betting the secret sauce to customer retention may be in offering "half cooked" options.
Startups like Tovala, Sun Basket and Home Chef are offering ready-to-cook meals that take the prep work out of meal kits. In turn, they say they're seeing increased longterm customer loyalty without the need to burn cash to constantly acquire new ones. Instead, these services are offering a different approach from the older guard by providing hardware, exclusive ingredients and keeping a 30 minutes or less cook time promise.
Many of these startups market themselves as semi-prepared meal providers, aiming to bridge the gap for the millions of quarantined Americans who are still hesitant to go out. According to the latest McKinsey survey on the burgeoning "homebody economy," consumers are in "quarantine mode," especially in states — such as California and Texas — experience a second wave of coronavirus cases. The July findings show that more than 65% of consumers plan to continue with newly-formed home habits such as cooking, entertainment streaming and virtual workouts. And despite attempts at hospitality reopenings, more than one-third of respondents plan to leave home only for essential shopping in the coming weeks.
David Rabie, founder and CEO of meal subscription startup Tovala — which requires customers to buy a proprietary oven — said recent gains are due to the novelty of dinner assembling wearing off. "People are still pretty busy — or even busier than before," Rabie said, while citing the ongoing concerns for going out. Meanwhile, restaurant delivery isn't a sustainable option for daily meals.
He stressed that despite the initial investment in the oven, customers aren't "locked into our system, and we want people to use the oven for their own food." The device is priced at $299 (or $199 with a six-order commitment) and offers five different functions: steam, bake, broil, toast and reheat. Meals, meanwhile, cost $11.99. The oven is the customers' to keep even after canceling the meal subscription.
Rabie described the hardware as a way to weed out subscribers who like to take advantage of free trials. "They wouldn't be a good long term customer." The company, which closed a $20 million Series B funding in June, has retention that's on average "five times greater than other subscription meal delivery services," he said. Tovala's base, he explained, includes a group of empty nesters and solo diners.
"People do stick around, and we've seen 40% growth as of March" after the business started to take off a year ago, Rabie confirmed. While there wasn't a dramatic increase due to the pandemic, a drop in cost of acquisition helped improve margins
The key, moving forward, is to deliver on the promise of home cooked meals, but take the mundane parts of cooking out of the equation, Rabie said. This means Tovala's business model also includes the revenue from the hardware itself, not just the weekly meal plan. 
As previously reported, Gobble is another pandemic era meal kit winner. Last year the company was burning $1 million a month in digital marketing on customer acquisition, and is now recording the same amount in monthly profit. One way Gobble achieved this is by moving away from the classic Blue Apron meal prep model, and instead focused on offering its existing customers exclusive offers like pre-made proprietary sauces. Gobble also markets the kits as ready to eat in 15 minutes or less, unlike many kits' 30- to 60-minute preparation times.
Similarly, meal kit service Sun Basket also recently introduced "no prep" options that can be ready in 15 to 40 minutes, as well as another line of dishes meant to be heated within six minutes. The company has seen a lot of interest from existing customers since debuting the pre-prepared menu, Sun Basket's senior vp of growth Vanessa Meyers told Modern Retail. "Many are adding multiple Fresh & Ready [its no prep option] meals to their weekly baskets," Meyers explained, adding that the ready-to-cook line was introduced due to customer demand for quicker options. "We see this as a growing part of our business," she said.
The trend has been sometime in the making. By the end of 2019, Kroger-owned Home Chef began offering two new semi-prepared lines: the "Oven-Ready," consisting of pre-portioned ingredients in ready-to-bake trays and the pre-cooked "Heat & Eat" dishes.
Tamara Charm, lead of global sentiment survey efforts at McKinsey, said the semi-prepared meal trend makes sense according to the consulting firm's observations of the homebody economy. "There is a significant shift towards a 'Homebody Economy' as many consumers are hesitant to leave home and go about their normal routine," Charm told Modern Retail, citing data showing that around half of U.S. consumers are still very concerned about in-person restaurant dining. "We see [these services] filling in this gap with home cooking, including meal kits." 
These new offers could prove to have a better market fit. And despite the bad rap meal kits got in the past, these tweaks may have helped companies like HelloFresh and Sun Basket become profitable. 
"We also have the benefit of having learned from other companies' mistakes," Rabie said.