Why Amazon is taking cues from social media platforms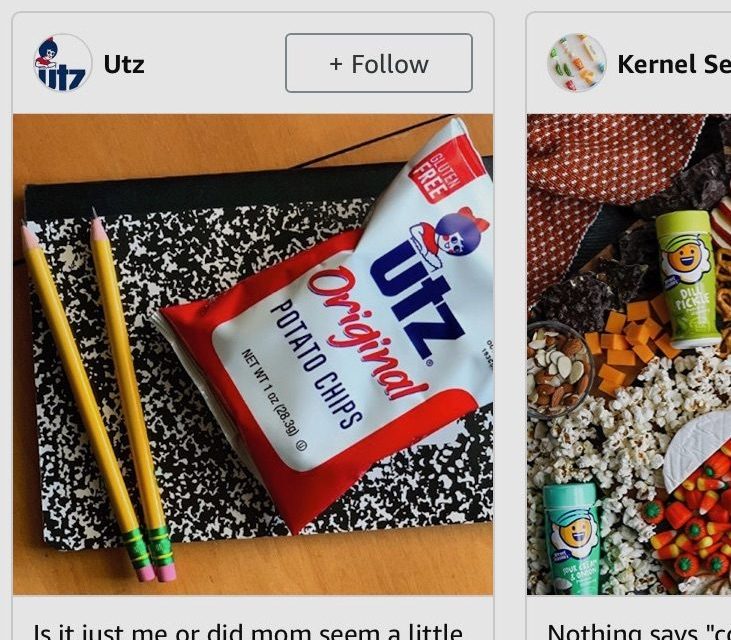 Screenshot of Amazon
Brands are increasingly trying out Amazon's Instagram-like features.
In the latest move, the company has been increasingly pushing a program called Amazon Posts, launched in late 2019, which lets brands curate a social feed of photos that are displayed at the bottom of a product page. Many of those photos look like Instagram posts, but the slots are becoming more and more coveted, according to e-commerce experts.
Posts is building off of a long history of Amazon trying to bring more social cues to its platform. Over the last few years Amazon has tested — as well as sunset — a number of services that let brands look more social media-like on the platform. While most didn't resonate with customers, more brands are testing out Posts. The results so far have been mixed, but some sellers are seeing traction; by some estimates, the highest-performing Post images have netted the same number of impressions as Instagram posts from major brand accounts.
Amazon's social commerce tests
In 2017, Amazon debuted Amazon Spark, a photo-based social feed on which only Prime users could comment. The launch was complete with a rewards feature that paid people for posting engaging content. But, as Digiday reported at the time, few media buyers took any interest, and influencers who tried Spark said they witnessed minimal returns on investment. Spark has since been revamped as #FoundItOnAmazon, a fashion-focused reincarnation where influencers direct users to their storefronts. Amazon also added a Pinterest-like feature called Scout, which gave users an option to thumbs up or thumbs down product photos in order to serve them more targeted recommendations. (Scout has been repackaged as Discover Your Style, and takes a particular furniture-oriented focus.)
Yet Amazon, despite a rocky start, is only accelerating its plans to give its platform the aesthetics of social media. For one thing, the company is increasingly breathing life into Amazon Live, a livestream shopping platform. And Amazon Posts, despite garnering relatively little attention so far, represents another big step toward achieving that goal.
For Amazon, these efforts are coming as social-media-driven commerce — long hyped to be the future of shopping — now seems inevitable. Not only are Instagram checkout options available nationwide, but Facebook, WhatsApp and most recently TikTok are all either testing or rolling out in-app store features. Given that so much of Amazon's pitch to customers is premised on ease and efficiency, commerce features on TikTok or Instagram could pose a threat to its business.
"The concept of bringing some social media cues into retail is something we've been watching," Rachel Dalton, an e-commerce analyst at Kantar, who noted that Amazon is looking at new ways to keep people on the platform. "It's more related to making it interesting to stay on the site," she said.
How Posts is mimicking Instagram
For now, Amazon Posts looks a lot like Instagram. Many Amazon Posts feature products against a "beautiful background," according to Clark Kleinman, a senior brand partner at the e-commerce agency Pattern. A post from Barcel, maker of the snack Takis, for instance, shows a set of the company's crunchy rolled tortilla chips wrapped in bacon.
Posts is largely available inside the Amazon app, though some social posts also appear in browsers. Mostly, they appear at the bottom of a product page, under a category called "Related Posts," where users can swipe through posts made by both the seller of that product as well as their competitors. (Though Posts can also show up on brand pages or in product category feeds, it appears to happen less often, according to Kleinman.) Amazon includes an option to follow a brand's Posts, although it isn't immediately clear what following a brand on Posts does. Kleinman said that Amazon claims people who follow a company on Posts are more likely to see its products, although he hasn't seen clear evidence for that yet.
The early returns for brands using Posts remain mixed. Kleinman said that there is a wide variability in product impressions. A brand might upload a photo on one day and get 100 views, and another day make a similar post and net 10,000. Because almost all impressions come from that "Related Posts" category on a product details page, that variability is attributable to how Amazon surfaces a given Post, but "it's not entirely clear what the differences are between those two posts that causes one to be successful when the other doesn't really take off," he said.
Still, he noted that the Amazon Posts metrics tend to be good enough that brands are increasingly interested in the feature. Major companies like Utz have been using Posts, and as have smaller brands, like the vegetable chip brand Wicked Crisps. Kleinman pointed to a CPG client of his that has 150k followers on Instagram. "They see similar impressions on top posts on Amazon versus on their social media," he said.
Brian McGlynn, head of e-commerce at software company Coveo, said he expected that metrics like conversion rate are influencing which Posts get seen under the "Related Posts" tab. And McGlynn said he's seen evidence that Posts has increased conversion rates for his clients overall. He couldn't put a number on the percentage bump, but said, "it's definitely noticeable."
Is Posts a flash in the pan?
It's too soon to tell where Amazon Posts will be going, said McGlynn, but he imagines that it will one day integrate with Amazon's larger advertising arm. (Right now, Posts is categorized as a subset of Amazon Advertising.) For now, it's free for brands to publish Posts and potentially earn a slot on a product page. But down the line, he said, "it could very clearly be advertising driven." The benefit of Posts as an ad vehicle, potentially, is that it doesn't feel like a typical ad: "You're breaking out from people's natural noise filters," he said. If a Post is surfaced as an ad, it looks different enough that "it sort of disarms a user," he said.
While the actual mechanics of Posts remain opaque even to the agencies that use it on a regular basis, Kleinman said that he's seen evidence that Amazon is making the feature into a bigger play. In the last few months, Amazon has added new kinds of metrics to the seller dashboard, for instance. "It's clear that they are still building this out and improving it," he said, and he expected more of that to come. "I don't think it's a core part of their strategy, but it's something they're focusing on."