Why BNPL provider Splitit launched a white-label service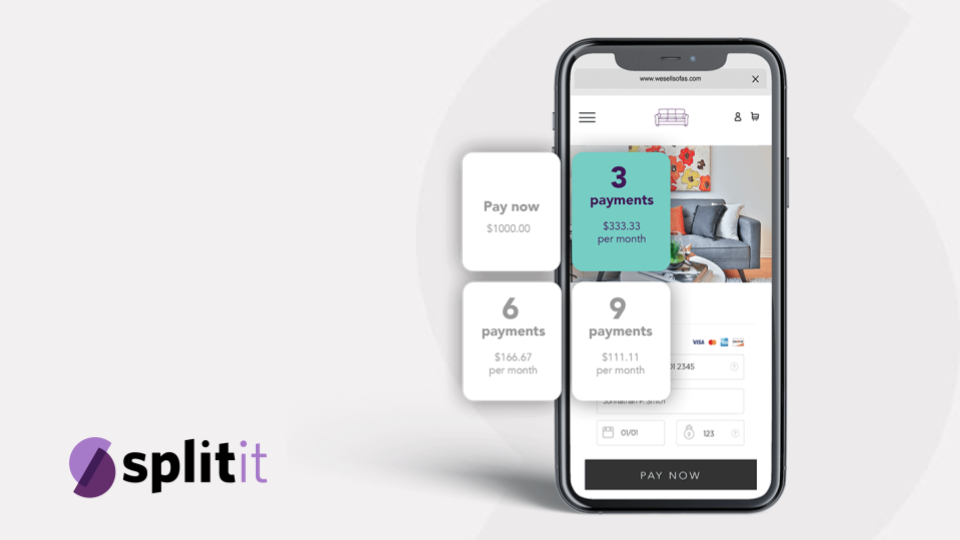 Splitit
Buy now, pay later platform Splitit is hoping to stand out among the crowd via specialized white-label services.
As competition heats up in the space, more BNPL providers are looking to gain an edge by offering new services that other BNPL providers don't. Sezzle, for instance, is betting on credit cards geared at retail purchases. Meanwhile, last year Affirm acquired returns platform Returnly as its latest retail service. Others, like Klarna and Afterpay, have bet on providing a BNPL checkout for physical retailers. 
This week, New York-based Splitit, which first launched in 2012, began rolling out what it's calling installments-as-a-service. Splitit's existing retail clients include apparel brand Quiksilver, fitness startup Echelon and furniture brand Sundays, among others. The technology allows online merchants to offer buy now, pay later checkout under their own branded banner. It also uses customers' existing credit cards, as opposed to opening a new credit line, to borrow from. 
Splitit will continue to offer its own branded BNPL service, but the white-label program will complement its existing consumer-facing service.
Splitit CEO Nandan Sheth, who joined the company at the beginning of this year, told Modern Retail that the company is betting on white label as a way to become profitable. Essentially, the company is betting that by offering a white-label service, it can spend less on marketing by betting on the brand cache of its retail partners. 
Sheth said that last year, Splitit tried to move into retail "but we quickly realized that we don't need to acquire consumers for our BNPL model to be successful." Last July, Splitit began offering its BNPL service in stores, via an integration with Apple Pay and Google Pay. Splitit has since scaled back its physical retail presence. Instead of chasing new customers, Sheth said the company pivoted to becoming an infrastructure platform for retailers to build BNPL checkouts on. 
"We think we have a path to profitability because we're not spending on marketing to acquire new customers," he said. Another advantage is not being charged loan fees, which BNPL providers usually pay bank providers on behalf of users. "As opposed to just going after the millennial and Gen Z segments that our competitors are courting, this is aimed at people with credit who want short-term borrowing," Sheth said. "We feel this is the most responsible way to do BNPL, because customers get to use their own unsecured debt to do installment payments."  
Sheth said Splitit has created a plug-in that easily integrates with checks out carts, "so there is no underwriting or registrations for shoppers to go through," Sheth explained. In the past year, the company launched shopping cart plugins for platforms like Shopify and WooCommerce. The new service gives retailers the choice to use either "Powered by Splitit or a pure white label look," said Sheth.
The first named retailer using the Splitit white label service is OCM, an e-commerce retailer used by over 900 colleges to sell campus-related merchandise. "We'll be announcing other brand partnerships soon," Sheth said.
"We're getting a lot of interest from large retailers, payment processors and marketplaces that already work with multiple BNPLs," Sheth said. He noted that the white label service is meant to be complementary to other options, like Klarna and Affirm.
The Splitit service also arrives amid the Consumer Financial Protection Bureau's investigation into BNPL services and their contribution to consumer debt. In particular, installment payment apps have been blamed for driving young customers into debt while they shopped for fashion and beauty products over the past few years. The new service also debuts as some of Splitit's competitors look to streamline operations and cut costs. Klarna, for instance, laid off 10% of its corporate workforce this week.
Sheth said that the white-label installments could help create a sense of trust among customers, "because they're dealing directly with the retailer they're shopping from" as opposed to a BNPL app. 
LendingTree chief credit analyst Matt Schulz said Splitit's white-label offering "is an interesting way to do things because the BNPL phenomenon exploded, at least in part, because it was an alternative to credit cards." Schulz pointed to a new Federal Reserve report that showed that 53% of BNPL users said they used the option because they did not want to use a credit card.
Sheth said that as the BNPL industry faces more scrutiny, providers like Splitit will have to focus on customer education and brand trust.
"With inflation hitting record highs, consumers are wary about taking out new loans and the BNPL industry is being negatively impacted by those concerns," said Sheth. At the same time, he added that "investor confidence is wavering because consumer default rates are rising and the BNPL space faces the likelihood of increased regulation."
"Ultimately, this is still about making it as easy as possible for people to buy more things in the ways they want to," Schulz explained. "Shoppers love BNPL because it is often interest-free and easier to understand than a credit card. Retailers love BNPL because people spend more when they use it."