Why Boxed is doubling down on its private label program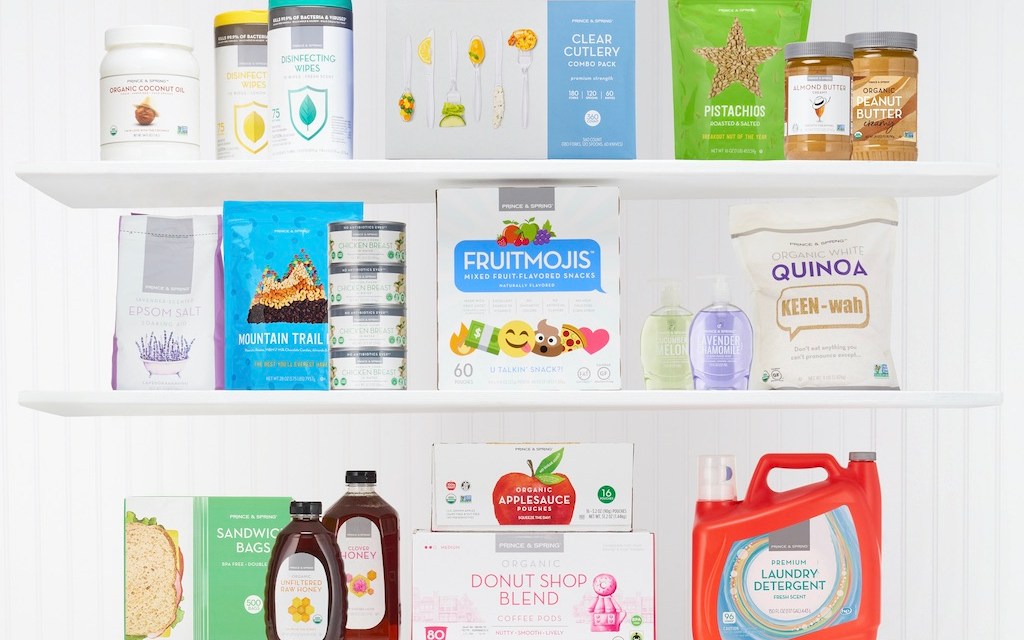 Boxed
After seeing a coronavirus customer surge, Boxed is hoping to keep more customers via its private label offering.
Boxed, which ships bulk-sized home essentials and other packaged goods, like snacks and coffee, has seen substantial growth since March. Like many delivery services, the spike coincided with many shoppers stocking up necessities for the pandemic's lockdown during the early spring. And like national retailers with beloved (and growing) private label offerings, the grocery startup is pinning customer retention and brand loyalty on its in-house label, Prince & Spring. 
CEO Chieh Huang recently told Fox Business that over the last 90 to 120 days Boxed has receive its "stickiest customers yet," with those who shopped during the time frame coming back twice as often as previous new customers. Now the company is pushing to parlay the momentum into customer retention, partly by growing its private label offerings. It plans to add dozens of more SKUs, covering areas such as seasonal snacks, baked goods, beauty and grooming. 
"We think it's [Prince & Spring] on par with national brands," said Ankit Patel, Boxed vp of merchandising, of the brand's premium quality and packaging. He went on to liken the label's growing appeal to competitor Costco's popular Kirkland line and Trader Joe's branded products. "They've managed to stand out and gain their own big following." 
Prince & Spring currently accounts for almost 20% of sales, and at points during the pandemic it got closer to 30%, the company confirmed. The brand's presence has grown over the past year; Boxed currently has 130 active P&S items compared to 100 of the 1,800 SKUs a year ago.
Items in the pipeline for P&S include additional single-serve snacks like jerky, along with more seasonally-focused items like baking mixes, of which Patel said "people are less brand loyal around." The rollout was prompted by a detected surge in search for certain items, many of which are holiday oriented. With that, some of first to drop include flavored pumpkin spice coffee pods and maple pecan bread mixes. Furthermore, Boxed is looking into exploring cleaning and personal care in the coming months, which is proving to be a hot category.
Boxed's focus right now is on retaining customers and growing basket size. Part of its strategy has been around user experience and a curated assortment. "We put a lot of emphasis on the customer journey," he said of the curated assortment, which differs from Amazon's vast offerings. "We do a lot of the shopping for them, which leads to added products along the way." The platform's search-based suggestions algorithm capabilities, which Boxed says drove bigger basket sizes, has seen interest from chains like Kroger in the past. The company is also reportedly exploring a potential sale of its technology, according to Pymnts.
The company, which does not require an annual membership like brick and mortar competitors Costco and BJ's, has an average cart size of around eight to ten items, totaling about $100. Looking at recent customer data, the company has noticed a growing preference for P&S' version of products, according to Patel.
Private labels — which have traditionally been a way to ease margins for large retailers — are increasingly becoming a tactic to accrue repeat customers, said Christopher Durham, a private brand consultant and president of Folio28. Nurturing a label's cult following, both for its price point and unique branding, is quickly becoming part of retailers' playbook, explained Durham. It's a trend that's been well proven by the likes of Whole Foods' 365 line and Target's various private labels, including their popular home decor collection Project 62.
"At the end of the day, it doesn't matter what they're selling," Durham concluded. "Retailers just want their shoppers to keep coming back."