Why former Everlane employees have banded together to speak out about the company's culture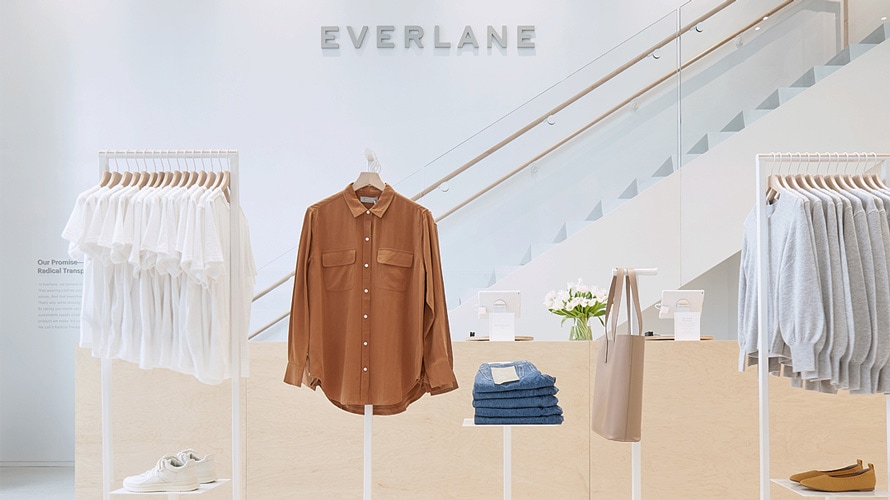 This week, a cohort of former Everlane employees, who go by the Everlane Ex-Wives Club, released a four-part statement highlighting the company's allegedly toxic workplace. This follows a unionization effort from employees earlier this year. 
The group, said to be made up of "Black, people of color, white allies, QPOC and queer Black folks," and demands the brand live up to its proposed values. Some of the allegations published on the club's official Instagram feed include instances of racism, exclusionary behavior, bullying, and intimidation, among other micro-aggressions, during members' various tenures at the company.
Like many brands, Everlane's social media channels have echoed support for the Black Lives Matter movement, which the Ex-Wives claim to be a disconnect from its internal practices. The claims are especially significant given Everlane's longstanding value-driven marketing. The direct-to-consumer brand found success selling its basics to the masses while touting transparent material sourcing and ethically-run factories. The collective, made up of past corporate and retail employees, recently reconnected amid the Black Lives Matter protests and decided to speak out about the experience. They're one of many recent social media movements putting pressure on leading brands for past iniquities. 
In an interview with Modern Retail, one member who worked on retail initiatives "in a marketing and CX capacity" from 2012 to 2013, said some version of the club has been around since 2016. Speaking on condition of anonymity, he stressed they're not aiming to take down the company, but to get Everlane to actually "do better."
"We're speaking up in solidarity of the union, but also to honor the work we put into this company," the former employee, who identifies as a queer person of color, said. "We know that people who are still working there are facing these issues." He added that while the former employees all left at different times, "coming out on the other side made us realize we had the same trauma and microaggressions from working there."
In the seven-page Instagram post, the collective includes a list of requests for the company's leadership to actually live their decade-old "Radical Transparency" slogan. "Everlane must step up to their decade old slogan, which no longer holds up," the section said. The closing statement, titled "Your Actions Matter," points out to "ego" the biggest cost to the company, along with an invitation to begin holding leadership accountable.
In a statement to Modern Retail, an Everlane spokesperson said: "This is the first we've heard of many of these allegations. We've taken them at face value and know how serious they are. We are committed to building a diverse, inclusive, and equitable workplace where all employees are valued and heard. We have failed to ensure this was a reality for all and we apologize."
The early iteration of the Everlane Ex-Wives Club consisted of the "core group" of alumni meeting casually for dinners. Over the years, it's evolved into an organized collective that helps "connect the dots" and expose patterns of all the members' various experiences. When the recent protests began, prompting companies to speak out against racism, the group decided it was time to call out their former employer for the aforementioned incidents.
This follows an onslaught of other brands being forced to reckon with an alleged toxic environment and mistreatment. In the past month, examples of employees using social media to share stories have included media companies like Condé Nast, Complex and Refinery29. Retail brands, like Reformation and Anthropologie, are also facing similar accusations. Not to mention, the recent surfacing reports of pay discrepancies between white and Black influencers contracted by many beauty and fashion brands.
Other brands in the space, like Away, have also recently come under fire for similar accusations, such as a hostile work environment. For the Everlane Ex-Wives Club, it was about telling real stories publicly they haven't been able to say before. The former employee described to Modern Retail a toxic culture that bled across all internal operations. He described a battle being heard while facilitating consumer-facing events.
Everlane had yet to open a store, but this former employee helped facilitate in-person events. At the time, "they didn't want to do brick and mortar, and I spent a lot of my time and labor having to educate our team about what customers want when they walk in the door," he said of the early popups and activations. One big issue was the lack of diversity of the facilitators of these events, he said; "customers would walk in and see white employees representing the brand."
Over the years, the San Francisco-based brand has faced mounting criticism: from not living up to the touted sustainability effort, to an ongoing lack of offering styles in extended sizes. The pandemic ushered in the latest critique of Everlane, when the company laid off and furloughed 290 retail and customer service employees, some of which were attempting to unionize. The company denied the decision was an attempt to prevent unionization, telling Modern Retail in a statement that "Covid-19 has dramatically impacted the entire world, and Everlane is no exception." Instead, the company cited the "indefinitely" shuttered stores and revenue projections being off "by 25%" for the decision.
Reiterating the public apology published on Instagram, Everlane stated it is committed to the idea that "through transparency comes accountability," and that "in order to enact change we need to better understand the problem." This includes hiring outside counsel to conduct an independent investigation that looks into the entire organization's practices.
"No matter the result, we know that as a brand and company we have work to do," the statement said. "We are committed to holding ourselves accountable. We know we must do better."
These shortcomings aren't just being felt at Everlane, but signal a bigger blindspot for industry as a whole, according to the cohort.
"We want the company to acknowledge the problems and actually be about radical transparency," the former employee said.