Why greeting card startup Lovepop is opening more stores in 2022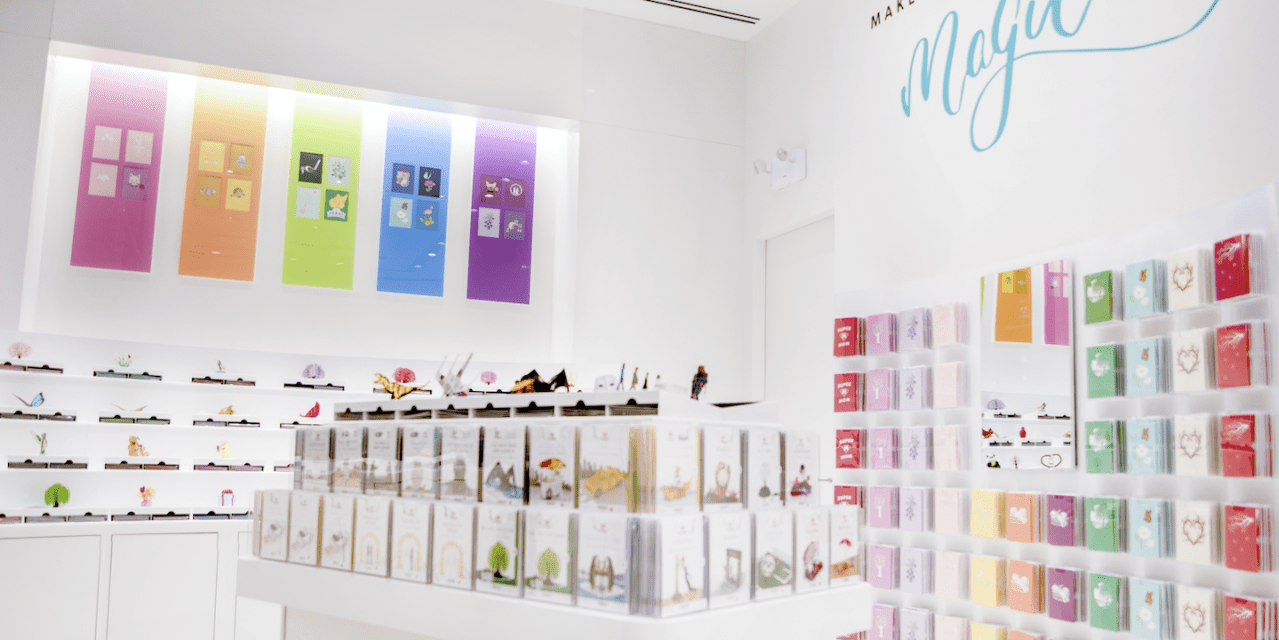 Lovepop
Greeting card company Lovepop is focused on owned brick and mortar sales for growth in 2022, with plans to open three new stores in the year starting first with a location in New York's Grand Central terminal.
Over the last two years, Lovepop has opened six other stores in Boston, California and Florida, and predicts it will increased its owned brick-and-mortar revenue in 2022. Lovepop's expansion comes as other greeting card companies like Paper Source and Papyrus have declared bankruptcy and shuttered stores, respectively, amid what Global Industry Analysts, Inc. predicts is a shrinking global greeting card market.
To get ahead, Lovepop focuses on store locations with diverse foot traffic and keeps merchandise curated rather than cluttered. While Lovepop co-founder and CEO Wombi Rose believes the company's direct-to-consumer website is "always going to be our biggest channel," owned brick and mortar is the brand's fastest-growing channel.
Lovepop was founded in 2014 by naval architects Rose and John Wise, who use laser cutting techniques to create the brand's elaborate 3D designs. A stint on Shark Tank and two VC funding rounds — a Series A for $12.5 million in 2018 and a follow-on round of $10.1 million in 2019 — have allowed the company to invest aggressively in brick-and-mortar during a time when many peers were closing doors.
"We try to make sure that we have both the right location in terms of visibility, as well as the right location in terms of sizing," said Rose. "At the right moment, we're always ready to move, and move quickly."
Lovepop looks to open retail stores in high traffic areas with a mix of both tourists and locals. Lovepop has two stores located in Disney properties; one at the Downtown Disney District in Anaheim, California, and one at Disney Springs in Florida, which opened in 2020. Lovepop also has a store in Boston's Harvard Square, that used to be home to competitor Papyrus.
"We've seen a lot of success in locations where there's a combination of transit, shopping, commercial activity and tourism," said Rose. "We tried to find places where we actually have a broad exposure to a number of different customer types."
Lovepop's stores display open, popped-up versions of select card styles rather than the closed format of traditional card isles or stores. In turn, their shelves often have less product — say, 10 cards on a shelf compared to 50 that might be found in a traditional greeting card aisle. Seemingly taking the cues of an Apple store over a Hallmark store, Lovepop's merchandising displays are painted white, with the only color "pops" primarily coming from the cards themselves. Cards are displayed on stands, rather than aisles to keep the store feeling open.
Lovepop's cards aren't cheap: the brand's most basic model is $13 and more elaborate paper bouquets go up to $39 dollars. But Rose said the team views its assortment as both cards and gifts, with products at different price points to tap into a wide variety of consumers.
In this, Lovepop is well-positioned in a new segment of consumers shaking up the greeting card industry. According to the Greeting Card Association, millennials began outpacing baby boomers in greeting card consumption in 2015. While boomers still purchase more total units, millennials spend more total dollars, preferring bespoke, handmade cards.
"I don't think that price is the primary thing that — in greeting cards — a person looks at," said Dave Phipps, PR committee chair of the Greeting Card Association. "You get into this situation where the more beautiful and intricate a card is, it doesn't matter what the cost is."
Lovepop got its start as a direct-to-consumer site, and that channel is still the brand's biggest sales driver. In total, Lovepop's revenue grew 44% year-over-year in 2020. This digital focus helps Lovepop stand out compared to other greeting card companies.
However, brick-and-mortar can be an important channel for greeting cards, particularly those with a pop-up or tactile component.
"[Retail] is huge… the one-two punch of seeing that card cover and then opening it," said Phipps. "A lot of other categories are just sort of a chore and you're working through your list, but the greeting card is fun to shop."
Lovepop supplements its owned retail locations with partnerships with hundreds of retailers and thousands of locations. Some of the brand's biggest partners include Walmart, Kohl's and Barnes and Noble. However, Lovepop also partners with local gift shops and pharmacies. For last-minute shoppers — about 50% of Lovepop's customers — these locations are particularly important.
"The customer is going to want to shop Lovepop, when and where it suits them," said Rose. "I really believe in the brick and mortar strategy both in our own locations, as well as with partners, to be a foundational component of the Lovepop customer experience."
Correction: This story has been updated to note that Lovepop has stores at two Disney properties, and to correct what year the Floriday location opened in.