Why grocery stores are testing drive-thru lanes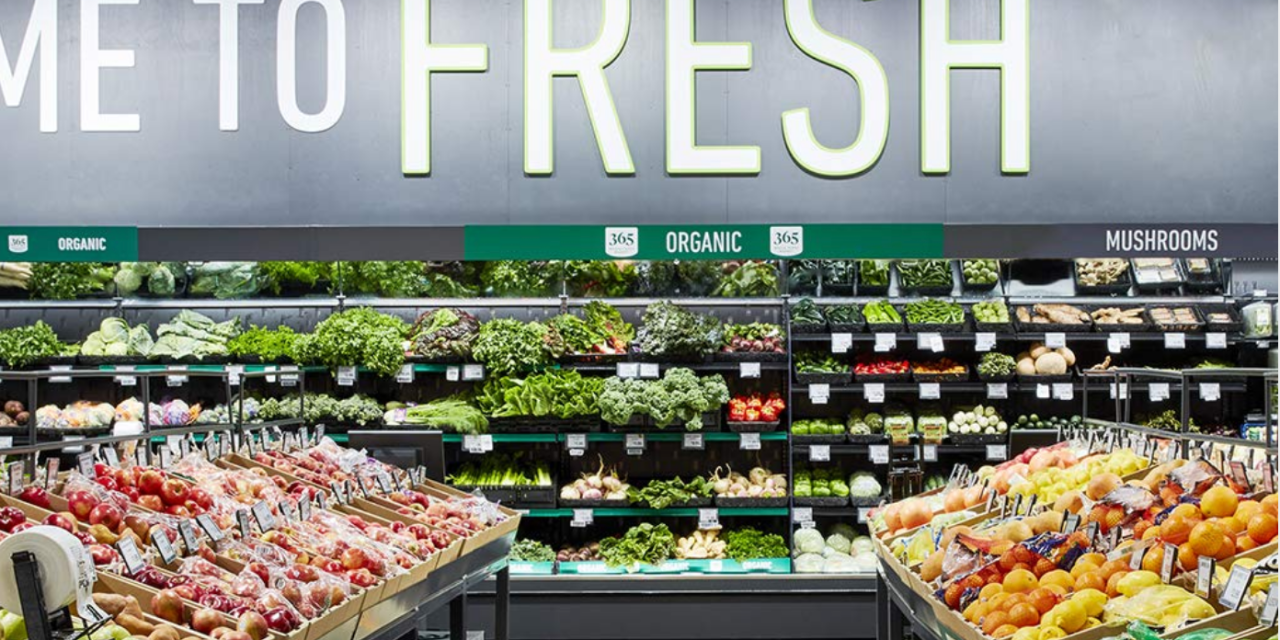 Amazon Fresh
As curbside pickup matures, grocery stores are set to experiment with adding drive-thru lanes to speed up the process.
According to a Progressive Grocer report last week, Amazon is adding a drive-thru lane to one of its under-construction Amazon Fresh locations in Florida. Yet Amazon Fresh isn't the only grocery chain to eye drive-thru as a possible way to speed up grocery pickup orders.
Earlier this year, Midwest grocery chain Hy-Vee announced its intention to open drive-thru lanes previously reserved for pharmaceuticals to grocery orders. Starting last year, as lockdowns kicked in, Walgreens also opened up some of its pharmacy drive-thru lanes to allow for grocery orders — a way to keep people coming to Walgreens for groceries without them needing to step inside a store. And some small chains, like the franchise Farm Stores, have for years been pushing a grocery store concept centered around drive-thru. (Tesco in the U.K. also tested this a decade ago.)
Few of these approaches have exited the testing phase, and it's possible that drive-thru lanes could fail to catch on aside from a few one-off trials at stores like Amazon and Hy-Vee. But there are reasons to think that drive-thru options at grocery stores could see more widespread adoption. Since last March, grocery pickup has surged in popularity. At the start of 2020, only 6.6% of the top 1,000 retailers offered curbside pickup, but now more than 50% of them do. Yet the customer experience of pickup still leaves a lot to be desired in many cases, and retailers are eager to test new ways to improve the process.
"During the pandemic, every retailer in America figured out how to do curbside," said Jason Goldberg, chief commerce strategy officer at Publicis. Now, "the magic question is, okay, cool, what's the best, most convenient way to do that?" He added, "I think retailers are right to be thinking outside the box and trying things."
Right now, the predominant form of grocery pickup usually involves a designated parking area: drivers pull into a set of spaces specifically set aside for grocery pickup, text a number or speak to an employee to say they've arrived and then wait for their grocery order to come out.
Yet that model of curbside pickup, despite its newfound popularity, has its challenges. For customers, the waits can be long. At Walmart, which operates one of the largest curbside grocery pickup services, customers wait an average of 7 minutes and 3 seconds for their orders after arriving — far longer than the average wait for pickup orders at quick-serve restaurants (2 minutes and 29 seconds). For retailers, pickup also eats up some of their most important parking spaces — and, during busy periods, could therefore cause issues for other customers trying to shop. Many retailers already don't have a lot of parking spaces of their own in the first place.
A drive-thru lane, of course, won't necessarily solve all customer complaints, and could introduce new problems. For instance, if a customer places an order to pick up at a drive-thru, the retailer has to be certain that the order is ready right away, or else the drive-thru line will stall. "In the drive-thru, the groceries have to be there waiting for you," said Goldberg. By contrast, when a customer is parked outside, the retailer has a few minutes of leeway to resolve any potential timing issues.
Simon Mayhew, head of online retail insight at the U.K.-based food research firm IGD, also said in an email that drive-thru lanes are dependent on geography. "This solution only works with stores that have enough space and are located in less densely populated areas," he said. "In these areas, customers may find it more difficult to get delivery slots and can easily get to the store without hitting traffic."
While drive-thrus could plausibly offer a way for customers to grab large grocery orders they ordered online, Bill Bishop, an industry analyst who founded the research firm Brick Meets Click, said that they might be better equipped to handle smaller, fill-in orders — essentially the pared-down purchases that people make between big grocery trips to pick up items they forgot. "A majority of grocery shopping trips are fill-in trips," he said, but "fill-in is something that people want quick and in and out."  
If a grocery store could handle these orders efficiently, then it might reduce congestion. But Bishop said it really comes down to whether grocery stores, if they do pursue a small-order strategy, could figure out the set of items that customers most often buy and keep them in stock by the drive-thru window. "I think it's more than plausible that this is worth testing specifically if you could really identify with high confidence the 90% of the items that are going to appear in those fill-in orders," he said.
As customers embrace pickup, grocery stores are looking at new ways to fine-tune the process — and whether or not the trials are ultimately deemed successful, both Bishop and Goldberg said they wouldn't be surprised if more grocers test drive-thru lanes in the near future. When it comes to curbside pickup, "I do think customers went from thrilled you can have it at all to dissatisfaction with the speed and convenience of service," said Goldberg. That means, for retailers, "this feels like the time to experiment."