Why Heyday is pivoting to franchises to expand nationally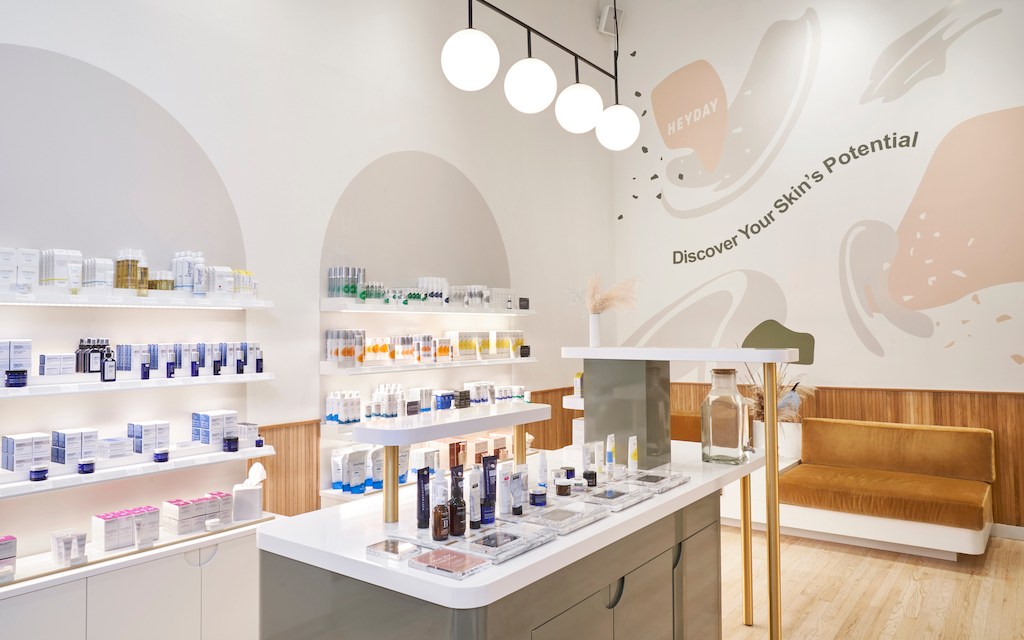 Heyday
After a tumultuous year, Heyday has a big plan to recuperate losses.
Like many service-based businesses, facial shop Heyday furloughed its hundreds of estheticians, which the company said was to allow them qualify for unemployment benefits. The chain reopened its New York locations in September 2020, with other cities following suit.
This week, Heyday announced a $20 million Series B funding round —  led by Level 5 Capital Partners (L5), along with existing investors Lerer Hippeau and Fifth Wall Ventures. The funding will go toward Heyday's physical store expansion through a new franchise system, along with a digitization of skincare consultations and advice via its website. 
Through franchising, Heyday plans to open "hundreds" of locations over the next five years. It's a big move after a difficult year; Heyday closed all its locations last spring and allowed customers to pause subscription memberships. With that, the company effectively lost all in-person appointment revenue, and relied solely on e-commerce product sales until re-openings. Now, the company said that franchises present an opportunity to expand the brand's footprint as businesses reopen and gain a new cohort of clients.
Like the fitness space, the spa industry has been greatly affected by the pandemic. According to a study by the International Spa Association (ISPA), 52% of owners and operators reported business has been significantly impacted by coronavirus, with 38% percent reporting a "detrimental impact."
The company, which was founded in 2015, currently has 10 stores across New York, California and Pennsylvania (which will remain company-owned). Heyday co-founder Adam Ross told Modern Retail that the pausing of the shops has created what he described as a silver lining path for the brand's path to growth. "Three years ago, we would've said no to franchising," Ross said. "But there is an opportunity to scale quicker nationally and grow thoughtfully," he said. To open a Heyday franchise, an initial investment ranging between $590,000 and $900,000 is needed.
Heyday recently hired former Rent The Runway president and chief operating officer, Maureen Sullivan, as president to lead Heyday's new expansion. Meanwhile, the franchising operation will be headed by Heyday's new chief development officer, Sean Bock, who previously oversaw all franchise-led growth at Drybar. Furthermore, real estate investor L5 will also be an anchor franchisee, with a commitment to invest in 40 locations over the next five years. 
The company is banking on pent up demand by the second half of the year, citing returning events and gatherings, such as weddings. "We expect to return to pre-Covid levels in 2022," Ross said. The company's current locations — currently operating at a limited capacity four-day a week schedule — have already begun to see a bump in new clients. According to Heyday, 20% of current customers are new to the brand, vs. 30% prior to coronavirus. With that, Ross hopes to entice a group of entrepreneurs to enter the spa space. "At the same time, we want to vet the potential owners to assure they have expertise on the topic," he said.
For Heyday, franchising physical stores is a way to expand the brand's reach outside of urban areas. Erin Schmidt, beauty industry analyst at Coresight Research, said that franchises can lend credibility and efficiency to scale a chain nationally. Like other past examples, such as European Wax and Massage Envy, the model makes recurring services accessible to more visitors, Schmidt said. "Customers also know what general standards to expect, which can help the company grow more rapidly," she explained. 
Schmidt also pointed to the way beauty service providers have had to adapt in the past year, with many using virtual events and consultations to stay afloat. While coronavirus took a toll on the service side of the industry, adding digital components like customized hair color tutorials, personalized consultations and live streaming can help businesses like Heyday recover quicker, Schmidt said. She pointed to other skincare brands, like La Mer, which recently added capabilities for consumers to book virtual consultations. "Heyday is focusing on skincare expertise to provide consumers more structure around routines," she said. 
Indeed, digital programs are part of Heyday's expansion plan. The company's revamped online offerings intend to improve the consultation experience via data and technology. "It will help better replicate the store experience for the audience who can't make it in," Ross said. The soon-to-launch virtual platform component, which will highlight recommendations from Heyday's online shop, builds on product sale growth. Heyday estheticians use partner products from brands like Image Skincare and Supergoop, which are also sold at the shops. Pollak confirmed the company has had a "major uptick in product sales" in recent months — a 60% year-over-year increase in revenue. And when shops were closed last spring through summer, Heyday's year-over-year online sales grew by 724%.
Put together, Heyday is trying to jumpstart its growth. Franchising — combined with other growth-focused products like loyalty and referral programs — is an efficient way for industry players to expand, said Schmidt.