Why hydration brand Waterdrop is using mall kiosks to expand internationally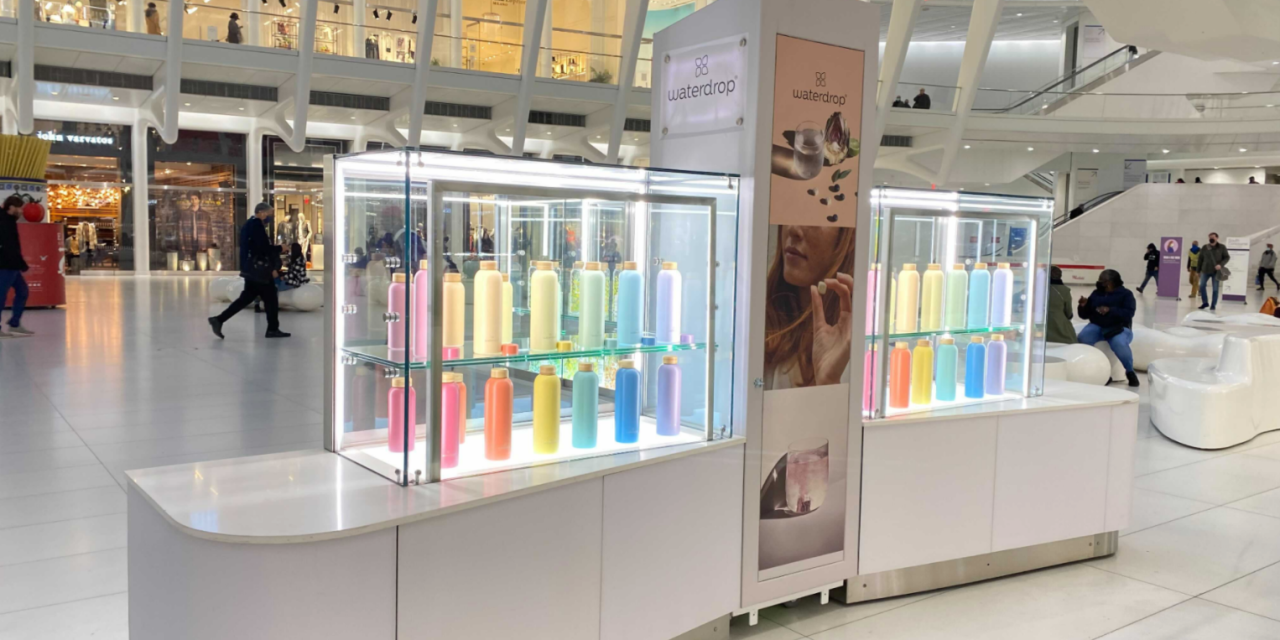 Image via Waterdrop
Vienna-based Waterdrop brought in $100 million in sales since launching in 2017, and it's now looking to the U.S. as its country to expand to. 
Waterdrop currently sells in 10 European markets, including the U.K., Germany and France, and operates 18 of its own stores. The brand has a line of water bottles, and releases designs via influencer and artist collaborations. However, nearly 80% of its company's sales come from Waterdrop's patented microdrinks, which are dissolvable cubes that flavor water.
Having launched its U.S. website in 2021, the brand is testing out different U.S. markets by opening mall-based kiosks for roughly six months to a year in New York City and Miami. The company has implemented a brick-and-mortar retail approach that begins with kiosks across its other markets, and is rolling out the strategy in the U.S. According to Waterdrop, kiosks are a cheaper way to gauge customer interest and create buzz, before opening stores.
"Our strategy is the same for every market," Martin Murray, co-founder and CEO of Waterdrop, told Modern Retail. "We begin with digital sales through our online store," which, he said, is grown via "digital marketing, customer service and building a local community." Once that first phase is complete, the next step is to establish physical points of sales to test the market further, Murray explained. "We have two models for this, initially our kiosks, which are usually in shopping malls, and later on, through our own stores," he said.
This model is currently being rolled out in New York with a kiosk on the ground floor of the Westfield World Trade Center mall. The location is acting as a trial store before Waterdrop launches a New York flagship store next year. Simultaneously, the company also operates a kiosk in Northern Miami's Aventura Mall. The kiosk opened at the beginning of 2021, before Waterdrop added a flagship store in Miami Beach in June 2021.
Waterdrop's World Trade Center location was originally conceived as a pop-up to test the New York market, according to Murray; The kiosk launched in November 2021 and was originally set to end on February 1 of this year, but its run has been extended until the end of 2022.
Murray said the company extended the New York City kiosk lease for a number of reasons. "It's been performing well, and the numbers have steadily increased over the last few months — showing that the interest for our product there is high," he said. Since opening the Miami and New York kiosks last year, the brand's brick-and-mortar sales have increased 200% month-over-month. Murray said the WTC kiosk has also been a good way to draw both tourists and local shoppers.
"We have a considerable amount of returning customers that eagerly pass by on a regular basis," Murray said. He also noted that the on-the-ground retail teams — Waterdrop typically has one or two employees running the kiosk each shift — have been important to creating awareness around Waterdrop's hydration-focused brand, especially as it tries establishing itself in the U.S. "They are our greatest strength at our locations, and will be the key drivers in creating real buzz once we open our flagship store," he said.
Aside from exclusive water bottles Waterdrop designs for each city it has a retail presence in, the brand also offers tastings at kiosks where customers can try a selection of its beverage flavors before purchasing. "For each retail launch, our team is dedicated to creating in-store specials," Murray explained. These include pop-up events and activations, such as exclusive giveaways. "We always want our locations to capture interest, so people feel intrigued and want to learn more." 
To determine new locations for kiosks, Waterdrop's retail team uses online sales as a guide.
"Once we see considerable traction in a given location, we go in with our retail stores to build the brand on the ground," Murray said. "This also allows us to get to know local customers, build a strong community and grow overall interest in the brand." Eventually, Waterdrop follows this with wholesale partnerships as demand increases across each market. 
While kiosks have become an important way to test out certain markets, they're not its only U.S. retail presence. Waterdrop is also currently available at the DTC brand showroom Showfields NYC. The pop-up opened last October for the winter season, and will wrap up at the end of March as the company continues to focus on its branded U.S. stores and retail partnerships. Meanwhile, Waterdrop's products launched at Erewhon at the beginning of March, and are available at all of the grocery chain's Southern California locations.
Jeremy Gershonowicz, vp and director of retail, Sachse Construction, which works with DTC brands on building new physical stores, said mobile kiosks can be cost-effective way to test new markets before opening permanent stores.
Usually, a startup brand has to put down a large amount of capital to build a full-size brick and mortar store, Gershonowicz explained. This is especially true in prime mall locations or major retail hubs. Between construction costs, architectural and permitting fees, along with training and maintaining a large staff, "it can be a heavy lift," he said.
By contrast, brands can run mall kiosks for just a few months, rather than committing to a years-long lease, and don't have to spend any money on construction or buildouts. However, Gershonowicz said the cost of a mall kiosk can vary widely depending on size or location. "Opening a mall kiosk or cart with a smaller capital investment is often a smart way for direct-to-consumer retailers to test new markets, locations and products in their target demographic," Gershonowicz said.
So far, the kiosk approach is working for U.S. newcomer Waterdrop — and will continue to be as it heads west. 
"In the next year we're hoping to open three to five more locations across the country," Murray said. Over the next few months, Waterdrop plans to open kiosks in a few more major U.S. cities, such as Austin and Los Angeles.