Why Kroger's advertising program remains a nascent opportunity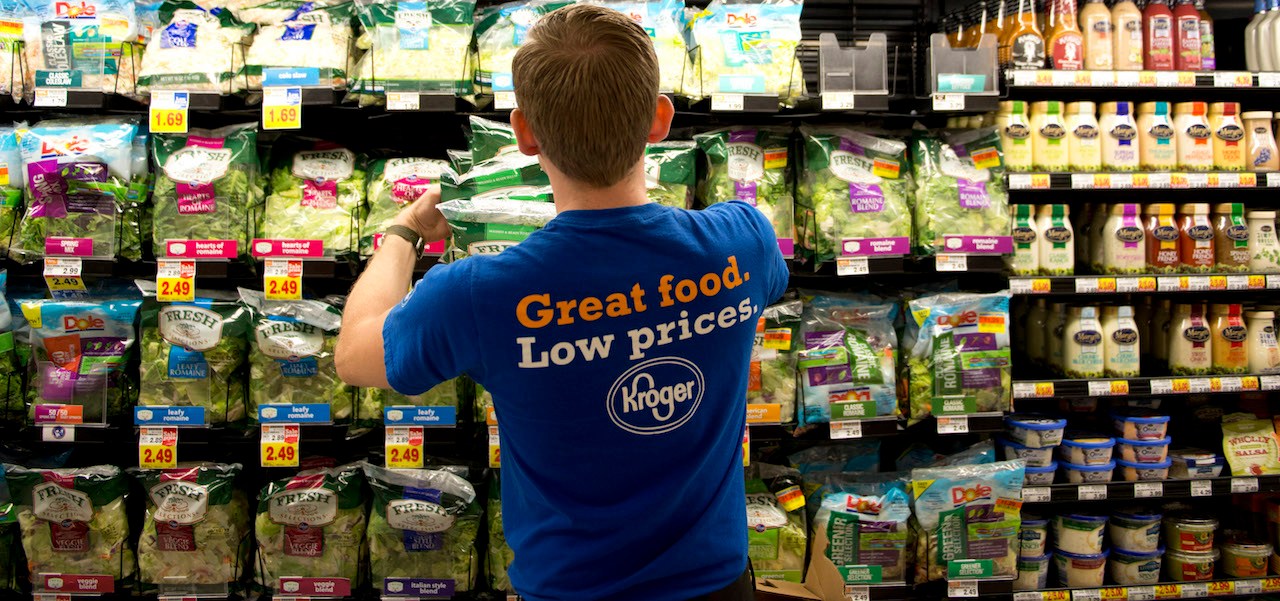 Four years after launching a retail media operation, Kroger is still trying to figure out its strategy.
The program began when Kroger purchased the data analytics company Dunnhumby USA from Tesco in 2015 and rebranded it as 84.51. Now, it seeks to sell media space on its online presence — which includes Kroger.com, as well as the other stores it owns like Fred Meyer and Ralph's — as well as through buys outside the company's owned sites. The company has also been building out tech-enabled smart shelving — with a Microsoft partnership — that could be used by brands for shopper personalization.
The biggest competitors in the space are Amazon, of course; its advertising business brought in $3 billion in the second-quarter, a 37% year-over-year increase. Other retailers like Target, which rebranded its advertising business as Roundel earlier this year, are also building out more robust media businesses; its pitch is to offer brands more personalized offerings for both on-site and in-store advertising.
The national grocer — which boasts over 443,000 employees — for the last few years has been trying to improve its digital game — as part of its overall Restock Kroger business revitalization program. 84.51 offers the tech, along with its own platform, called Precision Marketing.
But buyers and brands say it's still in the very early stages. While Kroger is continuing to invest in its program, many people in the brand marketing space still see it as a venture with which to experiment, and not yet allocate a new permanent budget.
Retailer websites are important marketing channels. In a fall Modern Retail research survey, 55% of respondents said retailer websites are important to their overall marketing expenditure.
The big bet with Kroger's marketing programs is that online grocery is going to pick up rapidly — and much of this has to do with a growing product search space. Data from eMarketer says that retail advertisers spent $13.19 billion on search in 2019 — and that's expected to hit $16.65 billion by 2020. Amazon is driving this boom, as more people are turning to Amazon to buy things online, but that has cracked the space wide open for other retailers to build out more robust media businesses.
Growth will almost certainly come — which is why Kroger is making the investments now — but the small space is crowded. In 2018, Kroger said that Precision Marketing's revenue grew 150% year-over-year. In its most recent earnings report, the company's only mention of the platform was that it "increased engagement to over 300 consumer packaged goods companies."
Kroger, with both 84.51 and Precision, has been trying to be a leader in the space, but hasn't yet made a real dent. "I haven't seen anything that makes me think they are a standout," said Jason Goldberg chief commerce strategy officer at Publicis. While the grocer has been making inroads to create offerings that better monetize on its customers, the big problem is that Kroger has yet to prove that it has the digital traffic to court the big marketing bucks.
Perhaps Kroger's biggest flaw isn't its platform itself, but the timing. "It's very likely they were too early," said Goldberg. When the company first announced its new advertising tools, brands likely didn't understand why they would invest in such a platform. If a brand were to launch a campaign with Precision, it most likely would have come at the expense of some other part of the in-store budget. "It would have been a zero-sum game," said Goldberg.
Slowly but surely, Amazon has been changing the conversation. And retailers have been trying to figure out how they can add their businesses to the mix. According to Amy Worcestor Lanzi, North American lead at Publicis Media's commerce practice, the big stores building out their media offerings are figuring to the holes they can fill. "They are very focused on the heritage of Kroger, in terms of their loyalty data," she said. The company has years and years of individual shopper information and is now trying to translate that into advertising fodder for brands. "It gives you a really robust view of the shopper," she said.
As a result, Lanzi and her CPG clients have been working with Kroger, but still with a "test and see" lens. What's changed over the last year for brands isn't necessarily that Kroger has become a permanent mainstay in their ad spend, but that big retailers' media offerings — like Kroger's, Walmart's and Target's — are here to stay and are only going to become more prominent.
At the same time, the system isn't perfect. All of these new retailer marketing platforms have yet to create systems that are truly real-time. Overall measurement remains a hazy problem. "We need to showcase how this is working for clients," said Lanzi. Companies like Kroger are investing more in their platforms but aren't yet perfect.
David Tiltman, head of content at Warc, echoed this sentiment. "For the smaller platforms a lot will ride on the quality of the ad offering – how easy it is to buy, and how well can the data and metrics be aligned with what they get from other platforms," he wrote to Modern Retail in an email. Still, things are moving quickly. "We know that Amazon's ad business will keep growing next year, and in principle that should benefit Kroger and Walmart as brands become more used to dealing with e-commerce sites as advertisers," Tiltman went on.
While Kroger's timing may have been a little early, if it continues to persist sunnier days may come. "They're off to the races," said Lanzi. "By this time next year we are going to have a different story."