Why Mountain Dew is entering the alcohol space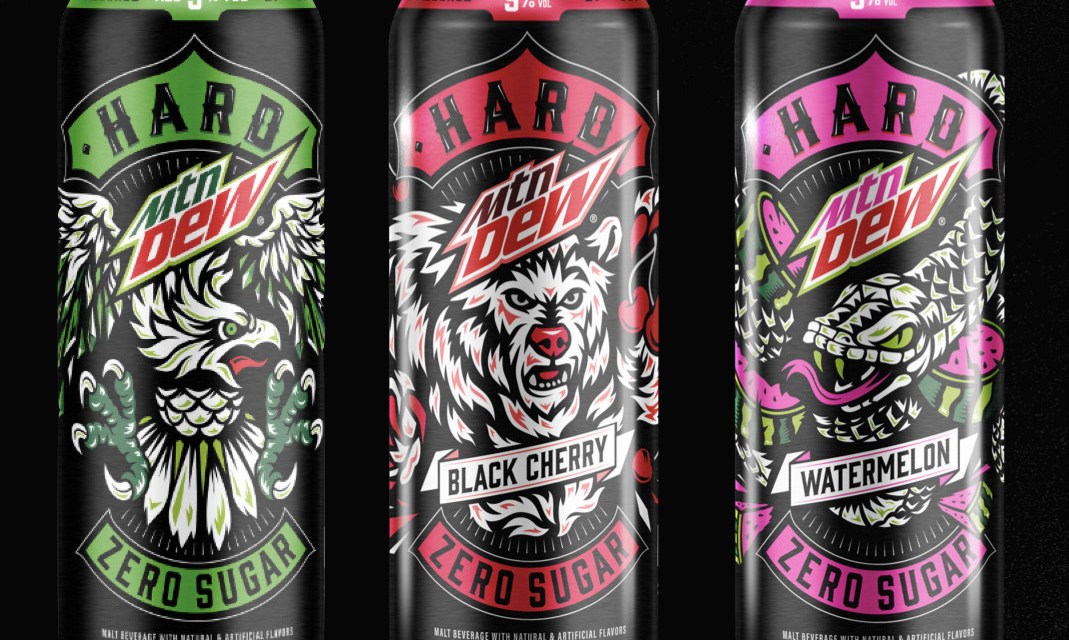 Image via The Boston Beer Company/PepsiCo.
This week, the Boston Beer Company and PepsiCo announced a partnership to create Hard Mtn Dew, an alcoholic version of the soda brand.
The latest variation is just one of the ways Pepsi has attempted to grow Mountain Dew's base customer in the last few years. In the release announcement, PepsiCo's North America CEO Kirk Tanner, said the new product is meant "to address the changing tastes of drinkers." The product is due to hit stores in early 2022.
While Mountain Dew is known to have a dedicated cult following, the brand has its sights set on creating more drinks that cater to a wider variety of demographics. Mountain Dew's attempt at relevancy has been especially challenging amid the soda decline the past decade — which was largely due to consumers favoring less sugary beverages, like sparkling water and tonics. Mountain Dew's efforts have ranged from major celebrity endorsements — working with the likes of LeBron James and John Cena — and targeting video gamers, to fast food collaborations with companies like Taco Bell and Papa John's.
The latest collaboration builds on past ones that gave Mountain Dew a boost, said Mark Gallo, a beverage sales and distribution manager who's previously worked for Anheuser-Busch and Heineken. Now, Gallo said, Pepsi is looking to extend Mountain Dew's brand equity into the increasingly crowded alcohol RTD space. "They've already set up a new division to sell, deliver and merchandise the product, so alcohol is a game-changer for them." 
Hard Mtn Dew will contain 5% alcohol by volume, zero sugar and no caffeine, a departure from the brand's sweet formulation. In some ways, the move brings the drink full circle; the phrase "Mountain Dew" was reportedly developed by bottlers Barney and Ally Hartman as a whiskey mixer in the 1940s. The brand is the latest big CPG player to enter the alcoholic beverage category. Other examples of recent launches include Coca-Cola's Topo Chico hard seltzer. 
Getting into alcohol could be an important source of revenue for Pepsi — while Pepsi doesn't break out soda sales specifically, the company's beverage sales declined early in the pandemic when restaurants closed. Beverage revenue was up 21% year-over-year during PepsiCo's second-quarter earnings in July, due to restaurants opening back up — but it is not representative of growth that PepsiCo can bet on long-term.
Meanwhile, some of PepsiCo's other beverage segments have been losing market share as customers have been turned off by their high sugar content. Earlier this month, the parent company announced it was selling off its Naked and Tropicana juice brands due to underperformance.
On the other hand, Mountain Dew's loyal following has helped the brand remains a big part of its overall business; Mountain Dew sales account for 7% of all soft drink sales in the U.S., according to Euromonitor.
A Mountain Dew-specific strategy
In recent years, PepsiCo has invested in Mountain Dew's digital presence, including a website dedicated to recipes using the drink. Last fall, the company released an entire cookbook filled with recipes infused with the green beverage.
One of its most successful releases was via the Taco Bell collaboration to create the Baja Blast. The demand for the tropical lime variation was large enough that by 2014, Mountain Dew and Taco Bell launched a canned version at retail stores and supermarkets. This type of consumer enthusiasm shows potential interest in other Mountain Dew varieties, Gallo noted.
In more recent years, the brand has pivoted to target the gaming and streaming space. This effort included an e-commerce component, building an online community around the brand's sponsorships of gaming events.
Mountain Dew first began to market to gaming culture in 2007, when it ran campaigns referring to the soda as "game fuel." That fall, the brand also released its Game Fuel flavor, containing citrus cherry and 30% more caffeine than classic Mountain Due. These advertising efforts coincided with the release of popular video games in subsequent years, such as Halo 3, World of Warcraft and Call of Duty, among others. 
Last holiday season, Mountain Dew continued testing marketing on Twitch, the gamer-heavy streaming platform. In December, the company announced a partnership with pizza chain Papa Johns on the streaming service. The collaboration included a branded Mtn Dew x Papa John's game controller, which features a button for gamers to order on-demand pizza while playing. During that time, Mountain Dew also launched a "direct-to-gamer" online store. The shop sells Mountain Dew beverages and merchandise to gamers and fans, allowing them to earn rewards on purchases.
This cohort of young consumers is quickly becoming important for brands like Mountain Dew, making gaming platforms ideal spaces to advertise to them, e-commerce and marketing analyst Andrew Lipsman previously told Modern Retail. So much so, that canned alcohol brands like White Claw and Miller Lite are making Twitch and gamers a bigger part of their marketing strategies. 
With an alcoholic version of Mountain Dew, the brand stands to target adult consumers that may otherwise pass over the brightly-colored drink.