How Nutribullet is expanding its line of kitchen products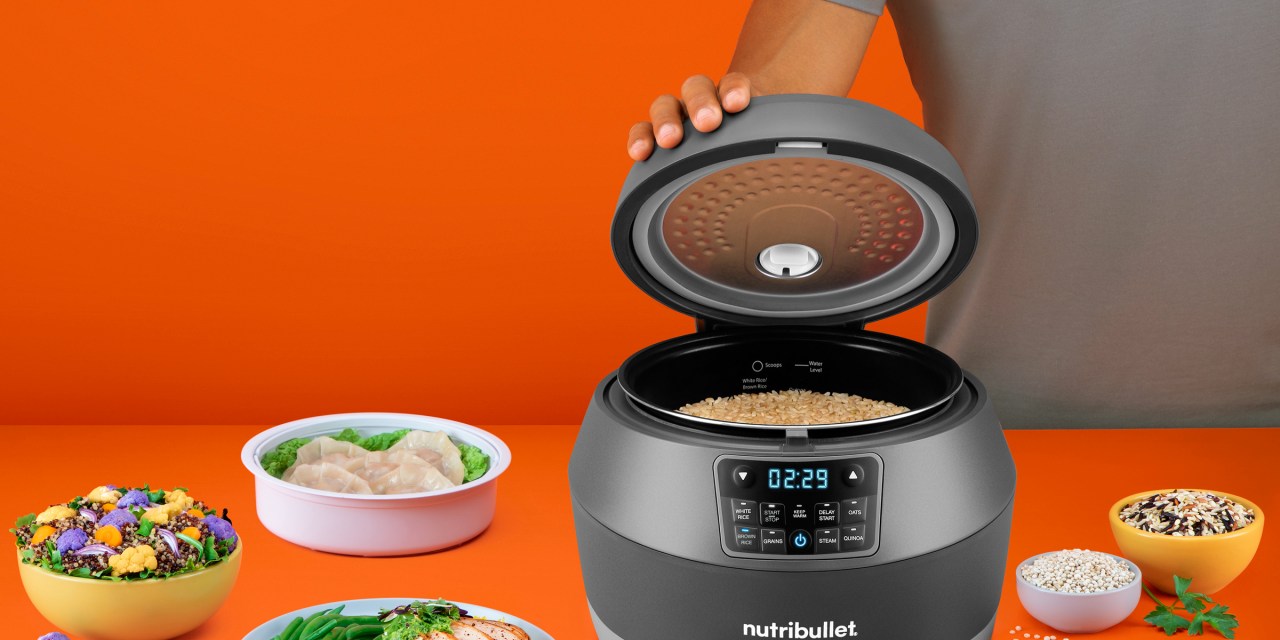 Image via Nutribullet
After years of focusing on blenders, Nutribullet is looking for more ways to get on customers' kitchen counters. 
In the past year, the company — known for its Magic Bullet personal blender — has released several cooking appliances. These include trendy items, such as air fryers, as well as Nutribullet's own variation on popular appliances like single-serve coffee machines. 
Nutribullet first began developing these appliances two years ago, said the company's brand manager, John Olson. The big question was whether consumers trust the brand outside of blending, Olson said. Since then, Nutribullet has focused on releasing convenience-driven cooking appliances that are easy to clean.
The first obvious expansion beyond blenders was to create juicers, said Olson, which are an adjacent category. Nutribullet launched its juicer line in 2020. Since then, the brand's Slow Juicer has become one of its bestselling SKUs.
"That success justified our foray into other categories," Olson said. Throughout 2021, the company debuted an air fryer in July and its new single-serve coffee maker, the Brew Choice Pod + Carafe, in September. Most recently, in October, Nutribullet released the EveryGrain Cooker, a grain cooker that doubles as a vegetable and protein steamer. 
Launching trendy kitchen appliances can be tricky, especially in a crowded market. Olson said the major theme across all its latest products is convenience and easy cleanup. He noted that many consumers have gotten into cooking new dishes during the coronavirus pandemic. Now, Nutribullet is betting on making it quicker to create these newfound recipes over and over. For example, while rice cookers have existed for decades, Olson explained that Nutribullet's EveryGrain was designed to feature custom pre-settings for various dishes — such as couscous, quinoa and farro. 
Another theme is to expand on Nutribullet's health-focused flagship appliance, the Magic Bullet blender. "More people are looking to get healthy, so growing the line to cater to our base consumer is important," Olson said.
The new products are being highlighted throughout Nutribullet's latest marketing campaign, dubbed "expanding across the kitchen." The campaign ties all the products together by highlighting everyday cooking usage, Olson said. The marketing efforts also hone in on the brand's latest tagline, "your new favorite everything by Nutribullet." 
To promote the new products, Nutribullet has been creating more content for social platforms including YouTube, Facebook and even LinkedIn, with many posts focused on appliance usage and recipe ideas. According to a Nutribullet spokesperson, within the past year the company has increased ad spend by 39%.
In addition, the brand launched its official TikTok page in August 2020, coinciding with its foray into new products. The page features original Nutribullet videos, as well as healthy recipe tutorials from influencers working with the brand. "We're focusing on talking to different audiences about how these products fit into their kitchen needs," Olson said.
Next, the company is monitoring each product's sales performance, as well as digital engagement from customers. These factors will help inform decisions on which of the new categories to continue building out. "There is a lot of potential to become an attainable luxury brand," Olson said.
Product expansion is nothing new. The strategy has been a tried and tested way for brands to reach and grow their audience, said Kayla Marci, market analyst at retail intelligence firm Edited. Category expansion has long been adopted by fashion brands foraying into more areas, such as homeware and decor, to serve millennial renters, said Marci. 
"Retailers must continuously evaluate their strategies, adapt and respond to consumer demand to remain relevant," said Marci. 
Even predating 2020, retailers were expanding into new categories to increase their audience reach and grow their market share — in turn "evolving into lifestyle brands," Marci said. However, 2020 was a big year for the trend, with 57% of brands saying they launched products in new categories, according to Modern Retail research. The pandemic saw consumers' spaces transformed into offices, classrooms and entertainment centers, which amplified the already-successful home and appliance market. 
For Nutribullet, product development is part of a continuous roadmap, Olson said. The company has plans to release more appliances in the coming year. "Our category expansion isn't ending here today."