Why restaurants are investing in WhatsApp-based ordering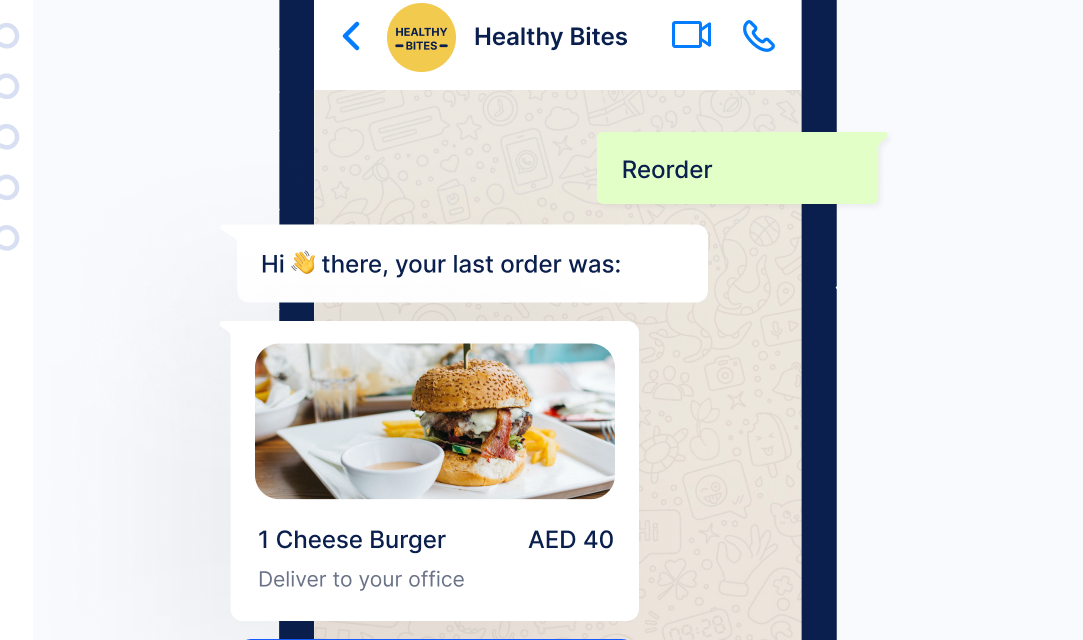 via ChatFood
Yum Brands — the company behind Pizza Hut, Taco Bell and KFC — is investing in message-based food ordering.
Earlier this week, Yum announced the acquisition of Tictuk Technologies, a software company that facilitates orders on WhatsApp and Facebook Messenger. Yum said that it already tested Tictuk in over 900 stores in the U.S. — and claimed that the tool helped increase sales overall.
The acquisition gives a major boost to what has been, until lately, a relatively quiet corner of the food world: delivery storefronts operating on messaging apps — also called conversational commerce. For now, big-name restaurants getting involved in message-based ordering are few and far between: in addition to Pizza Hut, Domino's — which lets people order on Facebook Messenger and Twitter with as little as a pizza emoji — is one of the only high-profile restaurant brands to invest significantly in social commerce. (Chipotle also has a Facebook Messenger bot.) But as WhatsApp continues to make commerce inroads — including rolling out in-app store catalogs and checkout options — more and more companies seem likely to test out message-based orders.
Chelsea Gross, an analyst at Gartner, said of the acquisition, "it makes a lot of sense to be investing in these technologies early, especially as we've seen virtual bots get a lot more sophisticated."
Major social platforms have been testing social commerce features, but other types of brands — such as apparel companies — have been better suited for social stores. Restaurants in particular have remained relatively slow adopters of the social commerce space. Instead, the food companies that have active Instagram stores, said Gross, like McDonald's and Taco Bell, are most often selling merch — like McDonald's Cactus Jack promotion with Travis Scott. Other delivery companies, like goPuff, have been selling through social media in other ways, including through a partnership with White Claw that offered late-night deliveries over Twitch live-streams.
The appeal of building a business on messaging apps, said Benjamin Mouflard, CEO of message-based delivery startup ChatFood, is that they occupy prime real estate on someone's phone. "What's beautiful with messaging apps is you come back to it 10, 20 times a day," he said. For restaurants, "if you've been creating a connection [with customers], every time they open up the app, they see you."
Mouflard has worked with nearly 10,000 restaurants, including Burger King, on functionalities across WhatsApp, Messenger, Instagram DM and other platforms. Mouflard said that the social stores, like WhatsApp, aren't built with restaurants in mind — and they're designed to be one-size-fits-all to the point where they might not do much to streamline the food ordering and delivery process. WhatsApp does create product catalogs, and it facilitates checkout options, but there's no way to automate follow-up communication with the customer, such as by creating a map that tracks where their delivery is.
A small number of companies in non-food sectors have tested conversational commerce, like the text-based marketplace Whym and the beverage company Iris Nova. Some companies, like Phem, have also done merch drops on the SMS newsletter-like service Community. But few case studies exist to highlight exactly how effective these methods are. According to Gross, "my gut is that consumer adoption is relatively low," but the technology is still new enough that data is at best anecdotal.
One appeal of conversational commerce for restaurants, Mouflard said, is that it lets them avoid third-party apps like Uber Eats and DoorDash. Not only do these delivery apps charge high commissions, he said, but they also share exceedingly little information about customers with restaurants: there's no way for restaurants to know if they're seeing a returning customer, for instance, and it's difficult to build any kind of customer loyalty system with someone whose purchases are meditated through a delivery app.
That might partly explain why Yum Brands is investing in Tictuk. Yum Brands, in a statement to Modern Retail, noted that Tictuk's conversational commerce technology "seamlessly integrates with POS and existing payment systems and works for all types of customer engagement including delivery, curbside pick-up and in-restaurant dining."
According to Gross, the acquisition may be as simple as wanting to test a new channel that Yum Brands said it has already seen positive results from. "It's most likely an acquisition play, meeting customers on a platform they aren't necessarily expecting," she said. While on the surface that might seem like a low-risk scenario, Gross added that she worried about restaurants committing themselves to too many different channels — and thus struggling to fully maintain all of them. "Over time you would want to consolidate the channels that customers want to interact with you," she said.