Why skin-care startup Topicals uses Twitter as a growth engine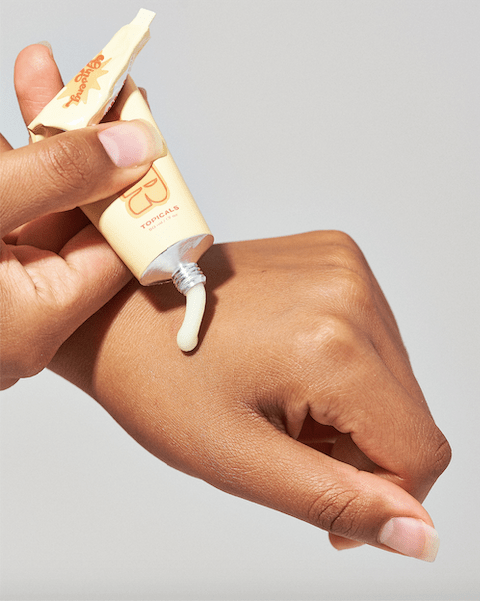 On a recent Thursday, startup skin-care brand Topicals tweeted about a subject likely not on the tip of everyone's tongues: pseudofolliculitis barbae. Also known as PFB, it's a skin condition that, according to the company's tweets, "occurs in areas where terminal hair grows." The thread described what terminal hair is (hair found on the scalp, face, legs, arms and pubic region), as well as what causes PFB (hormones).
The 15 threaded tweets went narrow and deep into the subject, garnering (as of the writing of this story) 188 likes, 49 retweets and two quote tweets. The campaign didn't use any hashtags, either. It's a perfect example of how Topicals is approaching its social media strategy which is, for the most part, on Twitter.
The social media platform, said Olamide Olowe, Topicals' CEO and co-founder, is "a place for discourse." With that in mind, over the last few months Olowe has used the company's Twitter account "to educate our customers on ingredients." The channel has become a revenue driver, too. On a day last week, Twitter accounted for 70% of Topicals' sales, said Olowe while looking at a Shopify social tracker dashboard. Overall, she went on, it drives about 50%. The Twitter account meanwhile has grown from a few thousand last June to a little over 10,200 followers.
Topicals itself is a new business. The brand, first imagined two years ago by two 23-year-old women of color, makes skin-care products that deal with common but embarrassing skin conditions, like eczema. It raised $1 million from the likes of Lerer Hippeau and Bozoma Saint John last July. When its first products launched on its website and at Nordstrom in August, the products sold out within days.
Using Twitter as a primary growth engine is an interesting decision, especially for a company in the beauty and skin-care industry. It's certainly a booming space; the NPD Group reported this month that skin care is one of the most resilient beauty categories and has in fact seen increased usage since the pandemic first began. Much of the brand content, unsurprisingly, lives on Instagram, given the social media platform's visual nature.
In Olowe's estimation, that made Twitter so much more enticing. "The ability to go viral [on Twitter] is a lot easier than Instagram," she said. For one, there are likely fewer accounts talking about the same topics. But Twitter is also more unvarnished than Instagram's pristine veneer. "You can retweet something on your page and no one cares what it looks like," she said.
True, Topicals isn't the only account talking about skin care on Twitter. It's a much-discussed subject, with many experts and rising social media stars using the platform to discuss products and routines. According to data from social listening platform Brandwatch, though skin care has been a popular topic for months (more than 14 million mentions of the topic since January 2018), it has gained increased momentum since this past April. Topicals' demographic is Generation Z — an age group more known for perusing the feeds of TikTok and Instagram than Twitter. Still, the company has seen growing engagement from its target users on Twitter, which Olowe credits to a growing desire for unvarnished dialog.
But growing a new brand using Twitter is quite unique, said DTC brand strategist Aja Singer. The main channel for a brand trying to grow reach, she explained, is Instagram as well as sometimes Pinterest. "Twitter is usually at the bottom of the list," she said.
Topicals, however, has been increasing its engagement numbers. According to Brandwatch, the company has accrued more than 18,000 mentions since this past June, with over 4,000 of happening in September alone. Brandwatch's director of communications Kellan Terry noted in an email to Modern Retail that the brand "contributes to its conversation's mention spikes and sentiment, and it's the most mentioned Twitter handle in the entire discussion. This isn't always the case, as some brands can lose control of their online audience."
Topicals' overall strategy is focused on conversation and education. Customers frequently tweet questions at the company, and the account responds with an answer. The brand also hired a head of education (whom Olowe described as a "key opinion leader in the skin-care space") that frequently leads threads about certain subjects. "On Instagram, most dialog is in the DMs," said Singer. "People comment, but the more robust conversation has been behind closed doors." Thus, a Twitter strategy creates a way to make things more public, less preened.
Olowe is quick to say that Twitter is certainly not the only channel Topicals plans on building out, just the one the company has focused on its first few months. The brand had tried Instagram in its early days, but quickly realized that Topicals' overall vibe fit Twitter better. Both TikTok and Instagram, however, are in Topicals' crosshairs. "We're figuring out that plan," said Olowe. "TikTok showed us that self-expression — especially for Gen Z — has just scratched the surface."
But for the time being, Olowe is happy with the engagement it sees on Twitter — and hopes to only grow on it. "It's about how [a social media channel] fits into the stack of how your customer behaves," she said. "We do a lot of things that make fun of beauty standards, and on Instagram, people are very serious."