Why subscription toothbrush brand Quip is expanding into Walmart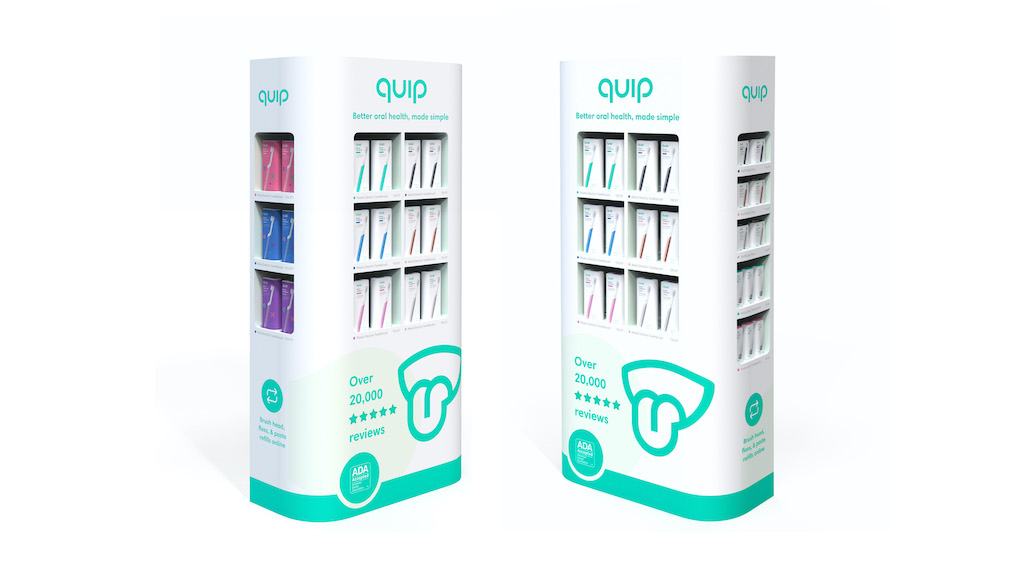 DTC toothbrush brand Quip has a new retail partner. The company's oral care offerings will begin to roll out at over 3,000 Walmart stores, along with the retailer's website.
For Quip, this is a way to get more eyeballs — and therefore customers. Since launching in 2015, Quip has sold electric toothbrushes with subscription plans, which automatically deliver customers replacement heads and batteries every three months. The company has had retail partnerships for the last two years — at stories including Target, Bed Bath and Beyond, Best Buy and Wegmans. While the brand relies on online subscriptions as a core part of its business model, these retail programs allow it to acquire new customers outside the digital consumer segment. With Walmart, Quip hopes to continue introducing its digital health hub to mainstream retail audiences.
"We know that the majority of people out there rely on big box stores for their oral care needs," Simon Enever, Quip's co-founder and CEO, told Modern Retail. Adhering to the company's long term goal — making their products accessible — means "remembering that most people shop the category at mass retail and in the offline world," he said. 
The launch will feature Quip's adult and kids' electric brushes, as well as its refillable floss string, which launched in the last few weeks. Earlier this summer, Quip launched its Smart Brush and Smart Motor, which are compatible with its existing toothbrushes. 
Meeting customers where they are by establishing brand ubiquity at national retailers "has always been a part of the plan," Enever said. The Walmart partnership, he added, has been in motion for some time. Over the years, DTC brands have underestimated store shoppers, said Enever. "In general, consumers are looking for new approaches for many products." 
And these store partnerships haven't meant fewer subscribers. Quip found that the majority of customers still use its automatic refill replenishment. "For a toothbrush, it makes sense," Enever said, especially during times like these when people try to avoid shopping in public. The pricing may example why as Quip's toothbrush head is considerably cheaper via its DTC channel than the in-store refills.
As digitally native startups continue to seek out big box retail to help them scale, they're increasingly using these launches as ways to further their brands, said Greg Alvo, CEO of subscription solutions platform Ordergroove. By reaching more customers at physical channels, "brands like Quip help improve the lifetime value of these new customers," Alvo said.
Now, the customer learns about the brand at their local Walmart, "but the relationship continues via the subscription channel," Alvo said. For Walmart, he said that the benefits of carrying new brands like Quip likely outweigh any risk of driving future sales away. 
This has been part of a bigger DTC strategy for Walmart. In recent months, Walmart has also added feminine care startup Lola to its growing portfolio of DTC brands. There's been a massive investment by Walmart in the grooming and hygiene aisle, said Enever, "shows they understand the importance of design and value to the customer." 
"Ultimately, we look at our whole business to include a direct connection with users," he said. "We see DTC and retail as two complementing ways to create those connections."