With American Dream, the American mall attempts a comeback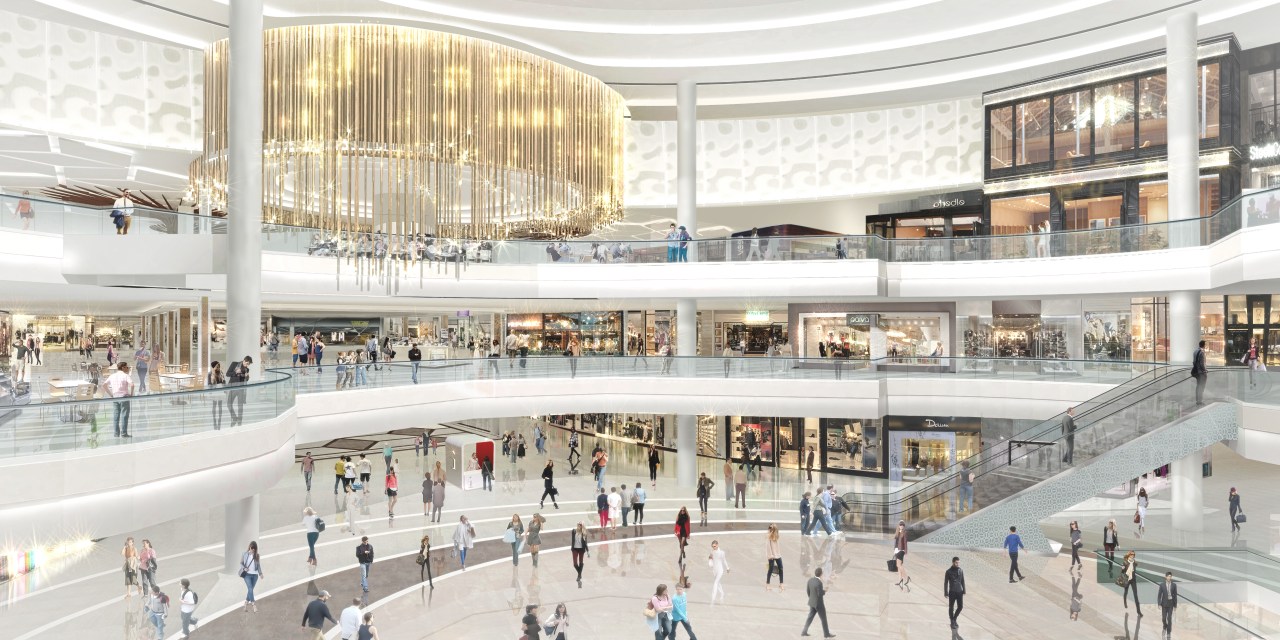 An audacious attempt to reinvent and reinvigorate the American mall is taking shape in the dreary swamplands of East Rutherford, just outside New York City.
In late October, developer Triple Five Group will open the doors to the appropriately named American Dream, a shopping center on steroids that's been 16 years in the making. This is not the prototypical American mall with a single movie theater, food court and Macy's. American Dream is more of a Dubai production. Sure, it will feature restaurants, a movie theater and fitness options. But it will also house the largest indoor theme park in the Western Hemisphere, the largest indoor waterpark in North America complete with a 1.5-acre wave pool, a 16-stories-high ski slope, an NHL-regulation ice skating rink, a trampoline park, a rock-climbing wall, an aquarium, a Legoland Discovery Center, a mirror maze, a ropes course and a 1,300-seat performing arts theater set to host movie premieres, among other attractions. If that's not enough, there's a 300-foot high Ferris wheel. This is less mall, more megacity.
"Developers in North America are 20 years behind the rest of the world in truly experiential, entertainment-based retail environments," says Don Ghermezian, CEO of Triple Five Group, which is also behind the Mall of America and West Edmonton Mall, the largest malls in the U.S. and North America, respectively. "We've known for a long time that retail isn't just about retail. Our experience has been that, when you create a nucleus of really cool entertainment and experiences, people are going to come. And when they come, they shop."
While many Amerian malls were built in the 1970s and 1980s, the world moved on from the staid American mall concept to make malls more, well, spectacular.
Sprawling, experiential malls have become the norm in Dubai and China, both of which Ghermezian has frequented and looked to for inspiration. In August 2018, plans were announced for Dubai Square, a tech-heavy mall set to feature 100 soccer fields worth of retail space — double that of Dubai Mall, currently the world's largest shopping center by area. In addition, it will house an entertainment venue, a cinema, a water park, a sports arena and a supermarket. Also underway, in Southwest China, is the Mall of China, portions of which are set to open next year. On-site will be 40,000 residential units, a hospital and a school, as well as a 92,000-square-foot Nickelodeon indoor theme park. Triple Five Group is a co-developer.
The Ghermezians aren't the only developers taking notes on the next-level malls abroad. In March, Related Companies opened the first phase of New York City's Hudson Yards, the largest private development in the U.S. spanning 28 acres. Along with retailers and restaurants, it features office and residential spaces, the Vessel interactive sculpture and the first Equinox Hotel.
As shopping moves online and staple retailers increasingly close their doors, developers have been working to revive the draw of the mall, rebranding "the M word," as one called it, as a place for discovery, a one-stop-shop, even a travel destination. In step, they're minimizing the space dedicated to retailers, in favor of elements offering fun, convenience and Instagram moments. The resounding message is that reviving the mall means changing the focus from a place to buy denim, for example, to a spot for taking a class or attending an art show that also sells jeans.
Fifty-five percent of American Dream's 3.3 million-square-foot space will be dedicated to entertainment, a large leap from the 20% at the Mall of America and West Edmonton Mall, which together see 70 million visitors a year. Ghermezian said every detail of American Dream is based on learnings from the companies' past projects, and its next, even larger project — American Dream Miami, announced in 2015 — will feature the same retail-entertainment split.
Other mall developers are starting to make retail a just-as-small piece of the pie. Stenn Parton, chief retail officer at DJM Capital Partners, which in July acquired with Gaw Capital 463,000-square-foot Los Angeles shopping center Hollywood & Highland, said the current ideal breakdown for his projects is 30% to 35% food and beverage spots, 20% to 25% health and wellness companies, and 15% to 20% service companies, like a Drybar or nail salon. The remaining balance — 20% to no more than 30% — is dedicated to retail.
"The key to being successful in this space is remaining curious and evolving with where culture is going, in order to attract innovative entrepreneurs as tenants and to keep customers coming in," said Parton. He pointed to experience-based businesses Museum of Ice Cream and Two Bit Circus as tenants he'd want now that he'd never have thought of collaborating with five years ago.
The mall frenzy is an unlikely comeback, but a reflection of the ebbs and flows of the economy in the past 20 years. In the wake of the mortgage crisis, mall stores closed, eliminating the draw of once-hot shopping centers until they closed and became condos, co-working offices and skate parks. Now, with a decade of economic expansion and low-interest rates, these capital-intensive projects are proving attractive investments for those up for the challenge of starting a new playbook.
With American Dream, Triple Five Group has been bullish on taking on forward-thinking partners. The company is privately-owned by the Ghermezian family, with "Triple" standing for the generations of Ghermezians involved — Don is among the third generation. It sealed the deal to take over the New Jersey Meadowlands development in 2011. At the time, the center, which had been in the works since 2003 under the name Xanadu, was 85% complete and at a standstill, thanks to back-to-back development companies failing to get it off the ground. After two years of planning, Triple Five Group kicked off its construction, which involved stripping the former project to the studs and starting from scratch.
Among the big ideas guiding American Dream's development were the biggest and best versions of every included brand. "We had to turn down more tenants than we accepted," says Ghermezian.
Retail tenants' leases, specifically, state that they must offer an experience unique to their other stores. They've also been encouraged to make their American Dream store a testing ground for new concepts. Among them is a Lululemon flagship featuring a cafe and yoga studio, the largest mall-based Zara in the world, encompassing 40,000 square feet over two floors, and a store by It'Sugar being dubbed the world's first candy department store.
Special attention was made to include brands that have never had a brick-and-mortar presence or their own retail, and those opening their first U.S. store, like Korean concept shop Aland. Retail platform Fourpost, owned by Mark Ghermezian, will sell an assortment of direct-to-consumer brands, and Dream Drops, the center's name for short-term pop-ups, will ensure shoppers find newness at every visit.
A luxury wing will have stores by Tiffany & Co., Dolce & Gabbana and Saint Laurent, as well as a two-story Hermes store with koi ponds and a bonsai garden at its entrance. It will also include New Jersey's first Barneys and Saks Fifth Avenue stores.
Shoppers will be able to choose from 100 eateries, including 15 full-service restaurants located in a dining terrace; the world's only Munchies food hall, created in collaboration with Vice Media; and a kosher food court. Options will range from the Hard Rock Cafe to a champagne and caviar bar, which will offer champagne delivery throughout the center through American Dream's app.
Other amenities will include a global travelers lounge, equipped with staffers speaking 37 languages, and an au pere service, allowing parents to shop and track their kids' whereabouts while a babysitter takes them to attractions.
In March, Triple Five Group announced the appointment of Ken Downing, the longtime fashion director of Neiman Marcus, as its chief creative officer, making one of his key roles out of the gate designing American Dream's six major atriums. The main event atrium holds up to 10,000 people and is set to host concerts, book signings and public appearances. In total, the center is planning to host 500 events annually. There's also a garden atrium, which is an ode to the Garden State and features live bunnies; a fashion show atrium with a 60-foot fountain; and an atrium featuring communal charging stations that are enabled for international gadgets.
Downing placed social media at the center of his work and ensured a "big box" feel was avoided, leading the implementation of wide aisles, bright finishes, exclusive artwork and plenty of natural light. He also enlisted designer Jonathan Adler and his team to create custom furnishings, including the waterpark's 31 cabanas and pieces for the luxury wing's "sitting salons."
In order to get to any of the events, atriums, parks or rides, visitors must first walk by several retail stores; the center was designed so that no parking lots are located adjacent to attractions. "You read all the time that people are spending more money on experiences and travel than clothing, but that's because nobody has combined them properly, to complement each other," says Ghermezian. "We build entertainment concepts in order to push traffic through retail. That's the whole point."
New pieces of the project will be added for years to come, including a number of hotels, set to start rolling out in 2022 and eventually expanding to 3,500 rooms. Once built, Ghermezian expects visitors will stay for an average of three days. Fifty percent will be tourists, and of those, 50 percent will be international. Plus, the center will cater to the 20 million locals within 50 miles by working with local transit to up the frequency of train stops to the area, add bus routes and offer a shuttle add-on to ferry tickets. Three helipads will also be available to facilitate smooth transportation from nearby destinations, like the Hamptons.
"The early 1950s to the 1970s is when the American mall was made iconic, because it was this gathering point — for many, it formed their junior high and high school years," says Downing. "But it lost its magic. For modern shoppers, everything they believe the quintessential shopping mall to be, we are not."