With new commerce features, Pinterest is continuing to court DTC brands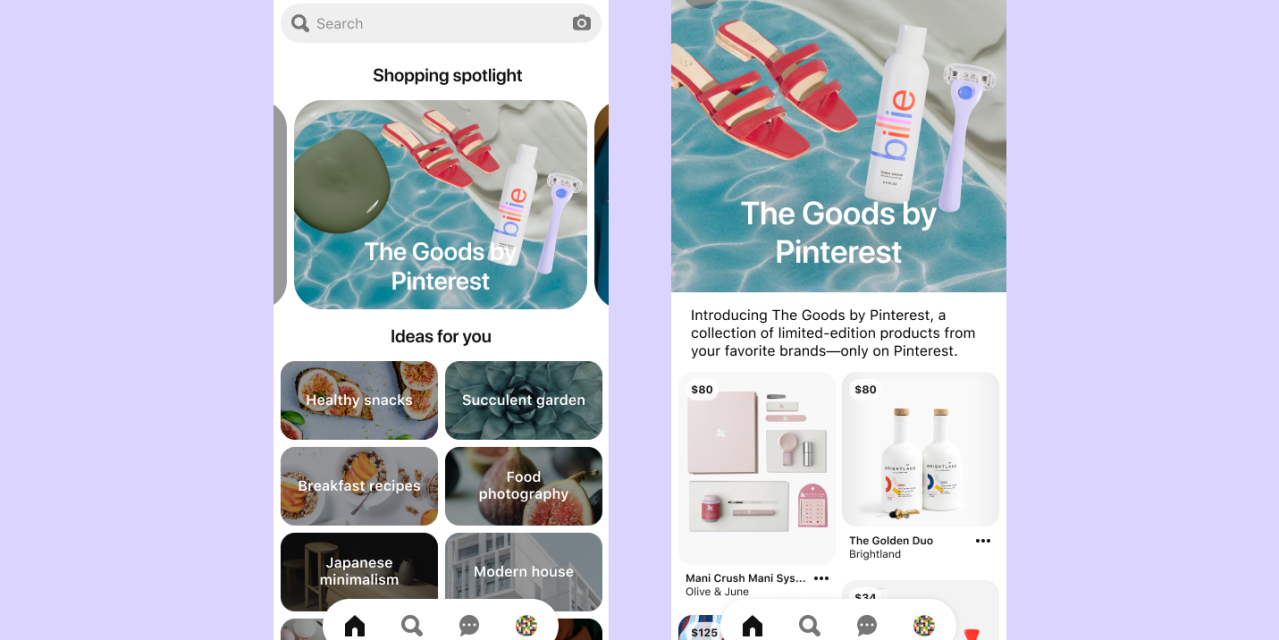 Image via Pinterest
Pinterest continues to make a play for DTC brands, particularly as brands are looking for digital advertising alternatives to Facebook and Google.
This week, the platform kicks off The Goods by Pinterest, a two-week digital shopping campaign — part of the Shopping Spotlight. The Shopping Spotlight program, which launched in May 2020, features expert recommendations by Pinterest-affiliated influencers and publishers across fashion and lifestyle. This latest event includes limited edition items by brands that include Brooklinen, Billie, Outdoor Voices, Maude and Clare Paint, among others, with the products being exclusively shoppable through Pinterest.
Over the past few years, Pinterest has tried to convince more DTC brands to advertise on the platform by launching more features that make it easier to shop on the platform. One of the newest features is Shopping List, announced yesterday, which allows Pinterest users to access all the product Pins that they previously saved in one place, according to the company. With the list, customers can find prices, reviews and shipping information in one grid, as well as see any changes, such as if some items are now on sale, in real time. Put together, these new features aim to convince brands that Pinterest users not only discover items on the platform, but also buy them on there too.
One participant in The Goods Event is shaving brand Billie, which is offering a Pinterest-exclusive shaving set at a discounted price of $17. Olive oil brand Brightland is offering The Golden Duo set, which includes the brand's best-selling Awake and Alive olive oils, along with a bottle spout, for $80. 
Éva Goicochea, CEO of sexual wellness brand Maude, said the company is participating in the event in hopes of finding a wider audience on Pinterest. "It's a chance to give the Pinterest audience a glimpse into our products and the modern intimacy category we're aiming to create," Goicochea explained Maude's contribution is a limited edition set of three massage candles.
The move is also a chance for the brand to find a wider audience. As a sexual wellness brand, Maude's opportunities to advertise on Facebook are limited, Goicochea said. Facebook's ad policies broadly state that ads must "not contain adult content," which Facebook defines as everything ranging from nudity to "activities that are overly suggestive or sexually provocative.
Pinterest, on the other hand, "has been supportive" of the brand's sex-focused content, she said.Maude's content has performed well on Pinterest during lockdowns, Goicochea said, noting that the brand's "dating through your living room" post has received its most pins to date.
Pinterest's push to get more DTC brands using its platform also comes at a time when more DTC brands are looking for alternatives to advertising heavyweights like Facebook and Google in light of the iOS 14 updates, which lets customers block brands from tracking them digitally. "Finding like minded audiences with these other brands is more important than ever, especially as changes to Facebook and iOS 14 continue to come," Goicochea said. 
The brand also started using the shoppable Pins feature –– which allows users to click and checkout without leaving the site — about six months ago, with hopes that the increased visibility will drive sales. "We hope our shoppable content and paid social on Pinterest continues to grow to match the engagement," she said.
The initiative is part of Pinterest's broader strategy to court brands, via its Verified Merchants program. More than two years ago, Pinterest launched a sales team specifically focusing on direct-to-consumer brands, and the company has also been adding merchant-focused shopping tools in the past two years. 
Dan Lurie, global head of shopping products at Pinterest, told Modern Retail that the ultimate goal is "to make everything you see on Pinterest available for purchase." The Goods by Pinterest, along with other upcoming retail-focused campaigns, are a way for the platform to build on the merchant tools released last year, which helped with curation and product browsing when stores were closed, Lurie said.
The tool builds on its May 2020 release of features, launched during the height of lockdowns. Those included "shop from a board," which shows users personalized shop tabs inspired by their activity, and "shop from search," which allows shopping for in-stock products via the search bar. At the time, Pinterest also rolled out the "shop from Pins," a tool that takes users directly to the product's page for checkout; and Shop with Lens, which lets users take photos take a picture using the Pinterest camera and run a visual search for similar in-stock home decor and fashion products.
According to recent Pinterest data, conducted by Dynata, its users are becoming increasingly purchase-focused, compared to other platforms. "On average, people on Pinterest outspend non-Pinners by 2X every month and have an 85% larger basket size," according to the study. And according to Pinterest, its users' engagement with shopping features grew over 200% year-over-year since May 2020.
"Over the years, we'd been known as a discovery channel," Lurie said. "Now we want to make shopping more actionable for our users, which will help merchants keep followers coming back."