With smaller and more curated stores, Target solidifies brick-and-mortar strategy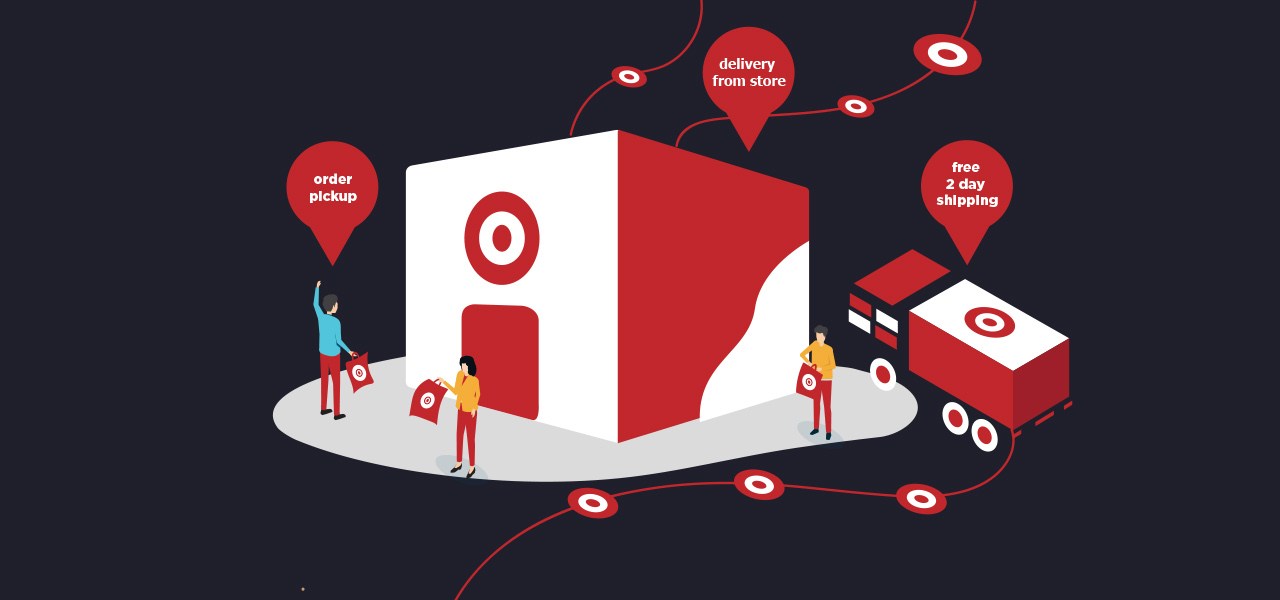 Target has opened more than 100 small-format stores — locations sometimes less than 1/3 of the size of the company's normal big box locations that feature a more localized and curated selection — over the last two years. As part of a strategic overhaul dating back two years ago, the company has been focusing on building out more curated retail experiences — as well as more efficiently updating existing locations.
The new and smaller spaces are increasingly becoming a bigger part of the company's overall brick and mortar strategy, one other retailers, like Walmart and Home Depot, have tried before. But, in tandem with its other retail innovations, the small-format spaces show how Target is trying to remain competitive and grow its physical footprint.
This move has helped Target focus on expanding to more metropolitan locations. Instead of building the big boxes the retailer is known for, it's invested in spaces a fraction of the size — some only 15,000 square feet — which featured a scaled-back assortment of the company's stock. Target says it plans on open 30 new smaller-format stores every year.
According to Target, even though much of the headlines are dominated by talk of Amazon's dominance in the e-commerce space, physical sales are a huge drive. "Even today somewhere around 90% of retail is still done in stores," said Target COO John Mulligan to CNBC last week. "The store isn't going away."
The focus on more locations with tinier footprints has helped boost business: On its most recent earnings call, Target reported traffic at stores up 2.4% and sales at stores open for more than a year up 3.4%.
For the retail giant, these stores are part of a larger experiment in optimization and localization. Each store has attempted to showcase products specifics to each locale. "Any smart retailer has to realize the world is different, said Moody's analyst Charlie O'Shea. "You've got to have more locations, be smaller, more nimble. You've got to curate." For Target, these stores have been a way to create more individual experiences. "Retailers have to fit the boxes to communities," said O'Shea. "They cannot be so rigid."
According to Magid's svp of retail, Matt Sargent, Target's continued push into smaller spaces is indicative of a cultural shift. "It actually fits really well with a larger macro-trend," he said. Consumers, he went on, are "wanting a more curated offering of products that fit their needs." Small-format stores, like the ones Target has been devising and building, allow the company to feature an array of products that more neatly complement a certain location. The retailer, for example, has been opening up a bunch of these stores in college towns, and pushing the items that university students wouldn't likely buy. "Understanding the specific nature and needs of local customers is incredibly important to get right," said Sargent.
Yet despite Target's doubling down in this part of its business, it could prove to be more difficult to scale. Edward Jones analyst Brian Yarbrough was reminded of Walmart's small-scale store attempts a few years ago. The big box retailer closed over 100 of its Walmart Express stores in 2016 as part of a strategic overhaul. According to Yarbrough, those locations were "too hard to distribute." This, he went on, could be an issue Target will have to reckon with. "It's definitely difficult from a distribution standpoint," said Yarbrough. It would have to figure out how to correctly stock these stores while keeping efficient margins.
To deal with the problem, the company has had to get creative. For example, stores in more urban locations has required different types of trucks to make deliveries possible. Similarly, given the smaller shelf-space, the company said that it has invested heavily in inventory management to be more precise and efficient when it came to sending merchandise to stores.
Part of a larger strategy
For Walmart then, the cons outweighed the pros. But with Target, these small-format stores also help bolster its online presence too, by having these locations help out with in-store fulfillment. This is another reason Target seems to be plowing ahead with this strategy. The new locations — along with the remodeling of current locations the company is undertaking — are integral parts of Target's overall e-commerce strategy.
These store are just one part of Target's big push to remain competitive with Amazon and Walmart. Beyond these new store concepts, it's been doubling down on its private labels, expanding its grocery offerings as well as forging in-store partnerships with companies like Disney. While all of these programs aren't likely to go perfectly, it shows Target's ability to look forward and take risks. "If you're a savvy retailer with a balance sheet and liquidity," said O'Shea, "you should have the ability to build a competitive multi-channel business." With Target, the company seems to be constantly experimenting any way that it can.
"The more formats — the more physical locations you can get — the better," said O'Shea.