Q&A
// May 13, 2022 ■ 4 min read
'You're stretched very thin': What led a group of Virginia Target workers to unionize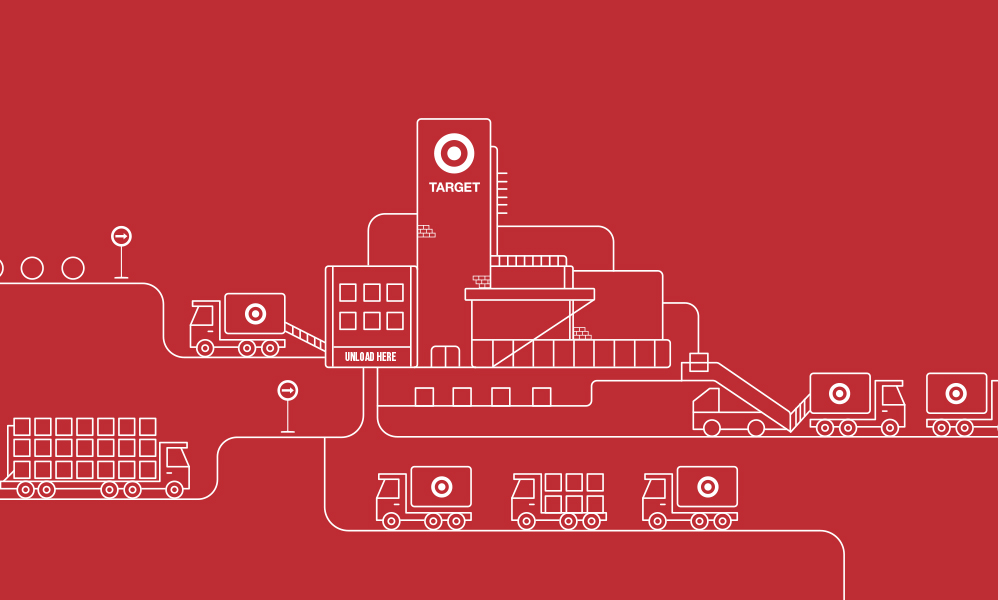 This week, a Virginia Target store joined the wave of union activity among retail workers. The workers collective, Target Workers Unite, filed the motion with the National Labor Relations Board.
The Christiansburg, Virginia location's upcoming union election is being led by Adam Ryan, one of the leaders of Target Workers Unite. Ryan's efforts to push for improved working conditions at his Christiansburg store began in 2017. During the pandemic, he and other Target workers organized a country-wide Target strike pushing the retailer to provide a $2-per-hour Covid hazard pay.
A hearing on June 1 is set to determine that the bargaining unit is an acceptable size, Ryan explained. Once that's resolved, the workers will have an election that Ryan hopes will take place sometime in June or July. He has also said that there are currently about half a dozen other Target stores planning similar union drives.
Target has maintained that its recent program rollouts have already addressed retail workers' frustrations, including a pay raise last fall.
"At Target, our team members are at the heart of our strategy and success, and we have a deep commitment to listening to our team and creating an environment of mutual trust where every team member's voice matters," a company spokesperson told Modern Retail. "We want all team members to be better off for working at Target," the statement went on to read, calling out specific benefits like "an industry-leading starting wage range of $15 to $24 per hour."
The Target unionizing effort is part of an ongoing labor organizing movement that are happening across retail and hospitality. In recent months, workers at Amazon and Starbucks have successfully unionized their respective shops and facilities.
In an interview with Modern Retail, Ryan described the working conditions that culminated in the Christiansburg store workers' decision to unionize. One of the driving factors is the difficulty of getting raises: in 2020, Target raised its minimum wage to $15 an hour, and upped that to $24 an hour in some regions, but some workers like Ryan said that since then, it's been more difficult to get raises. Another growing frustration, Ryan said, is the pressure to complete more tasks, while also providing great customer service. This interview has been lightly edited for length and clarity.
Over the years, Target workers have failed to unionize their stores. What makes this particular round different?
I think folks feel pressed into this. The veterans of our store, people who've been at the company for 10 or 20 years, feel this is the only option available to them — short of striking. I suspect Target will contend the unit size, based on how Starbucks has been responding to workers' election filings. They [Target] haven't faced a union election since around 2011. I'm not entirely sure how they'll respond, but I anticipate there will be some delay tactics. 
Can you describe recent factors that led your coworkers to support unionizing?
What mobilized them was the seniority pay issue. They feel [that it's] disrespectful that someone new is getting paid the same hourly wage as them. Those coming in with no knowledge of how the store operates is getting the $16 or so hourly rate. That's not even mentioning the issues with our schedules, not having stable hours. There has also been cutting in hours, which is typical for this time of year. It's caused some folks to leave, because they can't get by on the lack of shifts. 
Then there's the issue of raises. During the annual reviews we had this year, a lot of folks felt slighted by being offered anywhere between eight and 30 cents per hour raise. That's not even mentioning inflation and the rising cost of living, so even $16 an hour doesn't go too far these days. I think all these factors compounded drove the employees toward unionizing this time. On top of the fact that Target, despite having an open door policy, has failed to resolve these grievances. 
What's the atmosphere like at your store at the moment?
Management is staying quiet and trying to keep operating as normally as possible. But as we've shown on our website, Target has anti-union training that our management goes through. It's a sort of passive aggressive way of trying to dissuade us, while operating within the law where they're not obstructing us. 
When it comes to these conditions, how much overlap is there between your own store and other Target location workers you've been in touch with?
Workload is a big one that spans many Target stores. They [corporate] announced a modernization program years ago, when I came on. It's meant to utilize metrics as a way to push performance to get it as high as possible. We're really pushed to meet particular goals within a certain time frame at our departments. 
We're also expected to provide exceptional customer service. We're often asked to assist in other departments as we do our jobs. We've got to get freight off the truck, process online orders, work the registers when long lines build up. Wherever we're needed, we're pulled in. So generally you're stretched very thin during shifts, because you have less hours to do all this. This is an industry-wide practice — it's all about optimizing productivity while keeping costs down.