Q&A
// August 3, 2021 ■ 5 min read
'You've got to be where the customers are': Safely's Emma Grede on entering Bed Bath & Beyond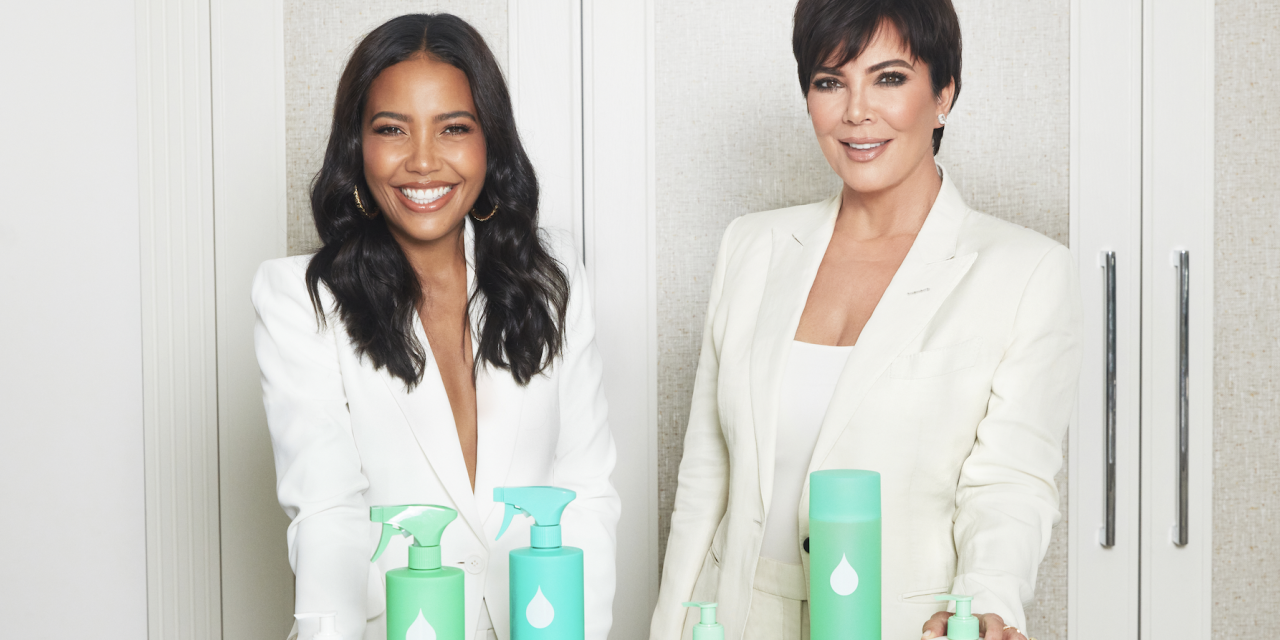 Greg Swales
Green home-cleaning brand Safely is testing out brick and mortar retail for the first time.
The brand — co-founded by businesswoman Emma Grede and reality television's most famous mom-ager, Kris Jenner — announced an in-store assortment at 750 Bed Bath & Beyond storefronts on Monday. Safely launched in March this year via a direct-to-consumer site, offering laundry detergents, surface cleaners and hand soaps in a single Jenner-approved scent. Prices range from $6 to $10 for a single product and $25 to $52 for multi-product kits.
Despite the company being less than a year old, this isn't Grede's first collaboration with the Kardashians. Grede co-founded Khloe Kardashian's Good American denim brand in 2016, and is a founding partner at Kim Kardashian's shapewear and loungewear company Skims.
Now, with this latest venture, Grede plans to grow Safely's business by partnering with a well-known national retailer. She hopes the Bed Bath & Beyond partnership will get the brand closer to a 50/50 mix between retailer and DTC sales.
Grede spoke to Modern Retail about using DTC as a testing ground, the growth of "clean" cleaning products and rising pandemic-fueled interest in the cleaning space. This interview has been edited for length and clarity.
Can you tell us a bit about your new in-store retail partnership with Bed Bath & Beyond?
The brand [currently sells primarily] direct-to-consumer, but most people in this country — and all over the world — buy their cleaning products wherever they usually do, whether it's in a grocery store [or elsewhere]. Safely is a really accessible brand; there's an accessible price point.
If you have a mission that is to bring those safe and affordable and beautiful cleaning products into every American home, then you've just got to be where the customers are at. This was a really easy decision.
How has it been moving from a direct-to-consumer model towards retailer partnerships?
We've always said that we were going to be in retail, it was more a matter of "when can we do it?" I think whenever you're launching a new brand, you really want to learn in the beginning. We wanted to understand as much as we could about our customers, their behavior [and] what they were buying — because, ultimately, then you're able to give the retailer a lot more information and also understand your own business.
I just think it was a great decision in any of the businesses that I've been involved in [to] launch direct to consumer first [and] use it as a moment to understand our customer, understand our business, before we go into retail. It worked really well with Good American, it's worked incredibly well with Skims — this was no different. Things are changing so fast in digital that it makes sense to have that understanding ahead of just going into retail.
Looking forward towards the future, what do you expect the balance between DTC and retailer partnerships to look like? Are you looking to expand further into more stores and more retailers?
All of the businesses that we are in, we tend to have predominantly direct-to-consumer [sales]. And I think that's less about how we planned the business and more about what customers find convenient. But I also think that we're serving a really huge market segment [with Safely] and, again, you want to be where customers are at.
For me, the magic is in the mix. We want customers to find us in the most convenient way possible. For some customers, it will be natural to just go on site and sign up for a subscription and do it there. But for other customers, they just want to be where they already are… I think that it would end up being, you know, more like a 50/50 mix. I'm traditionally in apparel businesses, and so we've built those businesses to be very easily direct-to-consumer. But… most people are buying their cleaning products when they're buying other similar goods.
Can you talk a bit about the clean cleaning space? Why were clean ingredients important to you and, more broadly, your consumers?
Safely was very, very clear in our mission. Our mission is, ultimately, to rid all American homes of the past toxic [ingredients in home cleaning] via plant-powered home care. Switching to plant power is the best way to remove toxins from cleaning products, but the interesting thing is not so many people know that. A lot people have an idea that if you replace harsh chemicals that you won't have a good clean. But our products are really highly concentrated, everything's derived from plants, and they're really affordable. So we're removing the barrier for anyone that's looking to switch from harsh chemical cleaners into better plant-powered products… I think that those choices should be available for everybody.
Do you think that this interest in clean ingredients is a change from the past?
[We became] more aware of the impact our consumer habits have on the environment and have on our health. That's definitely been a recent change, I would say in the last four to five years… I definitely think that consumers at large are becoming more and more aware every day, and we all want to make those better choices. But not everybody has the time or the inclination. So I think it's really great to come up with something that is super accessible and super available at a really great price point — and just take all the heavy lifting out of something that would otherwise be quite a big change [for consumers]. Oftentimes, cleaning products aren't even a choice. You buy what your mother used to buy or you buy whatever was on the shelves or what you're most used to. [We want to become] the conscious choice.
The home cleaning industry grew significantly over the pandemic. Do you think this increased interest will continue in a post-pandemic world and how do you plan to scale growth further?
I don't know, I think these things are hard habits to drop… We're washing our hands way more than we ever were. I do think it's still top of mind. As much as I'm very hopeful [for the future], the pandemic is still very much here. There's a heightened awareness of our cleaning routines and I don't think that that's going anywhere.