Brands are leveraging retail tech ecosystems to improve customer experiences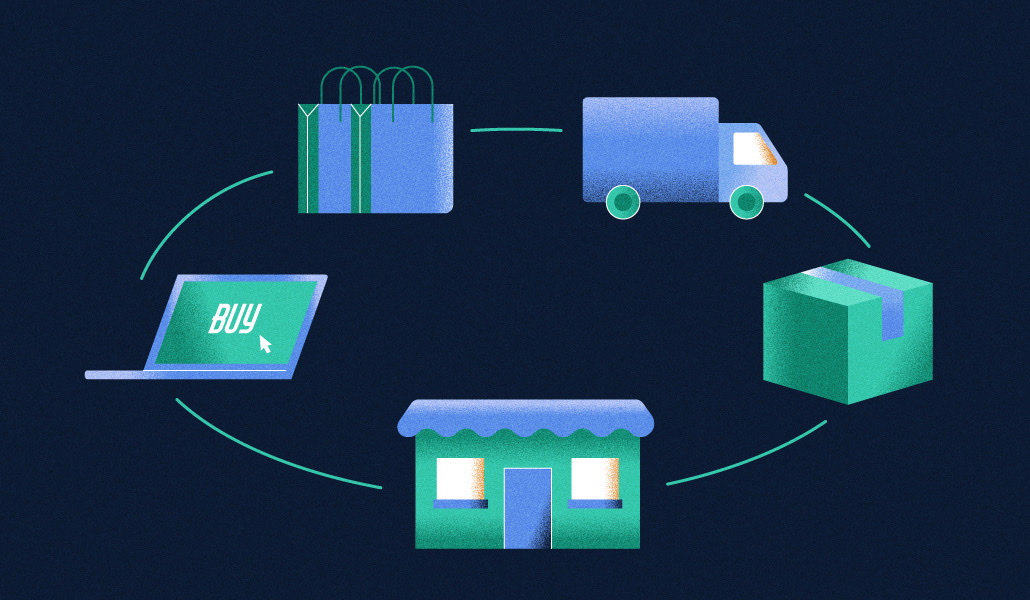 Sponsored by Flowspace
In recent years, e-commerce technology integrations have evolved from a modest number of plug-ins to a wide range of vendors — each supporting brands and retailers with tools and services critical to powering their business.
According to research from CB Insights, global retail tech funding surpassed $44 billion in 2022. As reported by Modern Retail, brands are increasing investments to improve every aspect of their e-commerce and retail operations, from websites and shopping channels to supply chain and fulfillment, customer service, marketing and beyond. Expanding into wholesale and retail selling for DTC brands also necessitates new tools and platforms.
"E-commerce brands have a unique challenge in that they have a full chain of custody to manage from the sales channel to order routing to ensuring inventory availability to shipping in order to get a purchase into the hands of the customer," said Anne Hallock, general manager of platform at Flowspace. "Brands are trying their best to fulfill a more cohesive experience for customers. You don't want to disappoint a buyer with a poor delivery experience after they have chosen to vote with their dollar."
Changes in customer expectations have challenged brands to offer a cohesive brand experience
As Hallock explained, brands are under pressure from shoppers that have higher expectations than ever — from price sensitivity to delivery experience. "What that really means is that brands need to understand the full customer journey, not just to initial purchase but what spurs them to repurchase, subscribe and stay loyal over time," she said.
In response to these customer demands, retail tech ecosystems are expanding to include everything from advertising, retail media, merchandising, CRM and digital content to optimize the end-to-end experience. Brands also need to be able to integrate new sales channels and partners and meet the requirements presented by each element of those environments.
However, if technologies don't work well together in a stack, sellers will struggle to surface the insights and efficiencies needed to grow and scale their businesses. To that end, the connectivity and interoperability of these tech offerings are of significant importance.
This isn't an abstract subject for brands; proactive teams are already investing in systems that work well together. For instance, reusable period underwear brand Thinx has tailored its tech stack — which includes Grin, Live Recover and Loop Returns, among other vendors — and improved its customer experience to attract and retain customers. Footwear brand Allbirds reportedly works with more than 17 technology partners, including Loop Returns and Dynamic Yield, to deliver memorable customer experiences.
When brands such as Thinx and Allbirds work with vendors who offer connectivity to an array of retail tech partners, teams across the organization increase the visibility of data and insights — and by extension, deliver a higher-quality customer experience from beginning to end.
"Visibility is really king," Hallock said. "It unlocks insights that allow you to make better decisions to create efficiency — not just for the business, but for the benefit of the end customer."
Integrated retail ecosystems bolster omnichannel strategies for brands
An elevated end-customer experience requires a seamless integration of sales channels, partners and technologies. Otherwise, disparate data across systems and a lack of real-time information hinder the customer experience and lead to customer churn.
According to Forrester, organizations that succeed in building adaptivity and resilience are "ecosystem-oriented" and adopt software and systems that collaborate with technologies across their tech stack.
With this big-picture, long-term mindset, merchants are investing in retail technologies that foster agility and collaboration to create a cohesive brand experience across every touchpoint. This includes omnichannel retail avenues like e-commerce, marketplaces and physical stores, as well as retail-adjacent systems like logistics, fulfillment and platforms that incorporate data for ad tech and business intelligence.
Other critical applications include technologies for electronic data interchanges (EDI), which allow companies to support retail transactions and integrations that connect a merchant's end-to-end supply chain systems — from the things customers don't experience (i.e., production and supplier management, first-mile freight) to the things they do see and care about (e.g., last-mile delivery expectations, insurance and carbon offsetting).
For many retail and e-commerce brands, success ultimately comes down to an efficient ecosystem that offers visibility to address challenges while meeting customer expectations.
"Customers really demand availability and delivery information instantly, regardless of the sales channel," Hallock said. "Real-time data becomes incredibly important when you're meeting that high shopper expectation."
Achieving a balanced retail tech stack supports brands' goals
In practice, these insights help businesses facilitate the path to purchase and optimize operations to be as efficient as possible. For example, brands can avoid targeting customers with display or social ads for items that are no longer available based on connected inventory data.
While retail tech ecosystems that support robust integrations and visibility become increasingly important, a brand's requirements from its partners and systems depend on its own goals — whether leaning into social commerce or establishing a foothold at a major retail chain.
"We really consider technologies that support the entire product lifecycle and customer journey to be the solution that both shoppers and sellers need in today's selling environment," Hallock said.
As these ecosystems grow in complexity, multiple players are working together to empower brands with the tools needed to meet and surpass customer expectations through integration and visibility.
Sponsored by Flowspace