How Roku is shifting its advertising strategy to cater to digitally-native brands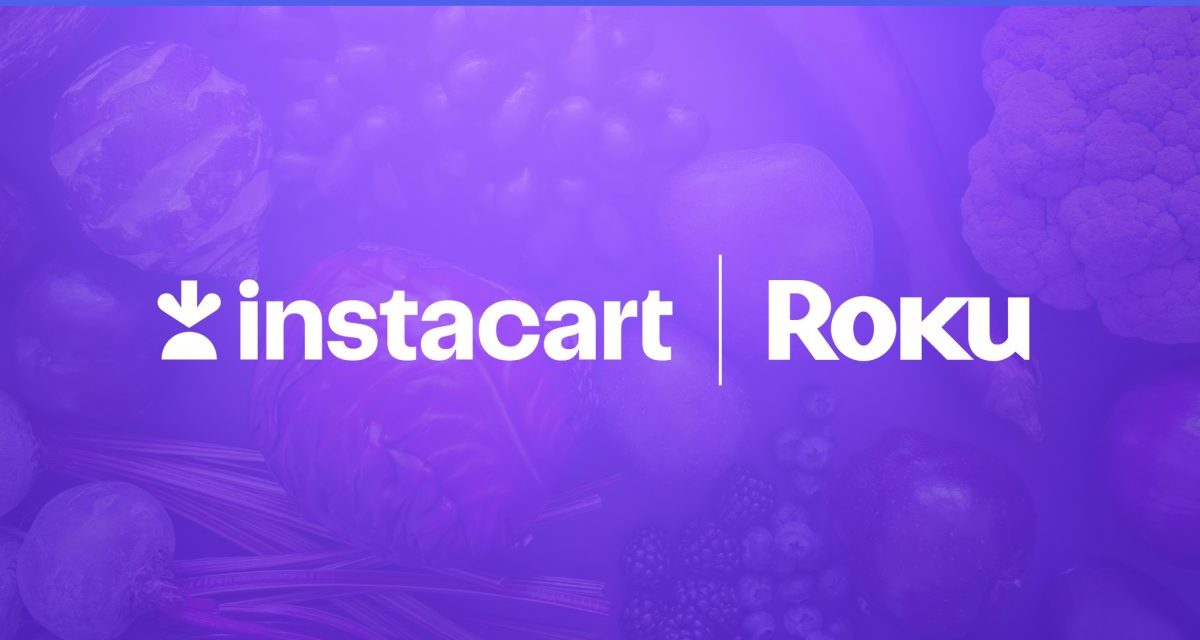 Instacart
Roku seems to want a greater slice of advertising dollars from smaller, digitally-native brands.
The company, which has historically worked on cracking big traditional TV advertising deals, has been releasing new features to better serve high growth DTC brands. This includes unique ad units like Action Ads, announced earlier this month in partnership with Shopify, which prompt users to make a purchase on Roku streaming devices either by sending users a text or by scanning a QR code. Roku is also offering a more robust set of performance metrics with closed loop measurement through its partnership with third-party platforms like Instacart. The shift comes as Roku's platform revenue, which primarily comes from the sale of digital advertising, dropped 1% in the first quarter to $635 million. Still, business appears to have rebounded as the economy has improved. For the most recent quarter Roku's platform revenue jumped 11% to $744 million.
Agency heads that buy streaming ads from Roku said the platform is a much smaller portion of their business compared to rivals like Google and Meta, which reported a 3% and 12% rise in advertising revenue to $31.5 billion and $58 billion for the most recent quarter, respectively. But they added that could easily change over the next year — especially as Roku continues to roll out new ad products catered to ad buyers trying to figure out as precisely as possible whether or not someone bought a product after viewing an ad on Roku.
"I would say their strategy seems to have shifted and they [Roku] are much more interested in collaborating with agencies and with performance brands to try to figure out how to make the media work," said Devin McGaughey, chief solutions officer for a unit of Tinuiti called Streaming+.
Roku's advertising offerings have picked up speed over the past several years. The company acquired demand-side platform Dataxu in 2019 for $150 million, and launched an ad manager in 2021.
McGaughey added that historically, Roku has been mostly focused on "these big national advertising deals." But, this is starting change as "there's just a harder environment for brand spend and for national spend, said McGaughey. One of his clients, Thumbtack, a platform for home management, is advertising on Roku. Tinuiti also has clients in the health care category and beverage makers that serve ads on Roku.
In its latest earnings, Roku said brand advertising on the Roku platform remained pressured year-on-year in vertcals like technology and media and entertainment. But, that was offset by increasing spend from categories like CPG and health and wellness.
In turn, Roku has tried to target more of these brands with new offerings, like its partnership with Instacart, announced in April. Essentially, the partnership allows brands to determine whether or not someone bought a product on Instacart after viewing an ad on Roku. "This is a full-funnel marketing offer, which is so unusual for TV and makes Roku so distinct," Roku president Charlie Collier said during the company's first quarter earnings call in April.
According to an Intelligence Insider report, nearly half (48%) of Roku viewers have paused an ad to shop online, citing Roku data. Intelligence Insider estimated that the viewership number would be 69.7 million U.S. consumers.
"I think Roku has real potential because they control so much of the market and have a better ability to close the loop on the data side better than the ad exchanges like MNTN and Tatari," said Taylor Holiday, chief executive of marketing agency Common Thread Collective. "The Shopify integration is just another declaration of their intention to bring value to direct response advertisers," added Holiday.
In the past, Roku would offer metrics like guaranteed CPMs and focus on how many ads were delivered to how many households and those kind of impressions. But over the last year, its pitch has shifted to offering brands more targeting abilities, said McGaughey. In addition, he said metrics like cost-per-order and cost-per-install are available to measure campaigns and that there's a lot of interesting retargeting opportunities around audiences and tapping into brand CRM systems.
"Measurement has gotten better," added McGaughey. "They're starting to focus more on performance KPIs, and not just the delivery KPIs. And then, there are all these products that are geared towards different types of advertisers." He cited shoppable TV ads as one example.
With this, agencies are beginning to feel an overall change in perception. "We started to see just a more inviting tone and collaborative nature kind of over the last year or so," McGaughey said.
Brad Geving, senior vice president of media at Tatari, also noted that from mid- to late-summer of last year, there has been a dramatic shift in terms of engagement of ads on Roku. "The parameters for buying with Roku have opened up, the pricing is more favorable," Geving said. "We're able to now make it more palatable for clients to try." Tatari serves ads on Roku on behalf of brands.
Still, Geving noted that for Tatari, Roku has "not garnered much of our annual investment — but I think there's an opportunity there for them to do that."
McGaughey agreed. "Roku has been a smaller portion of our business, but I could easily see a doubling or tripling over the next year as they continue to roll out these products. There's a lot of opportunity for growth for us."