Shopify is making Shop Pay available to enterprise retailers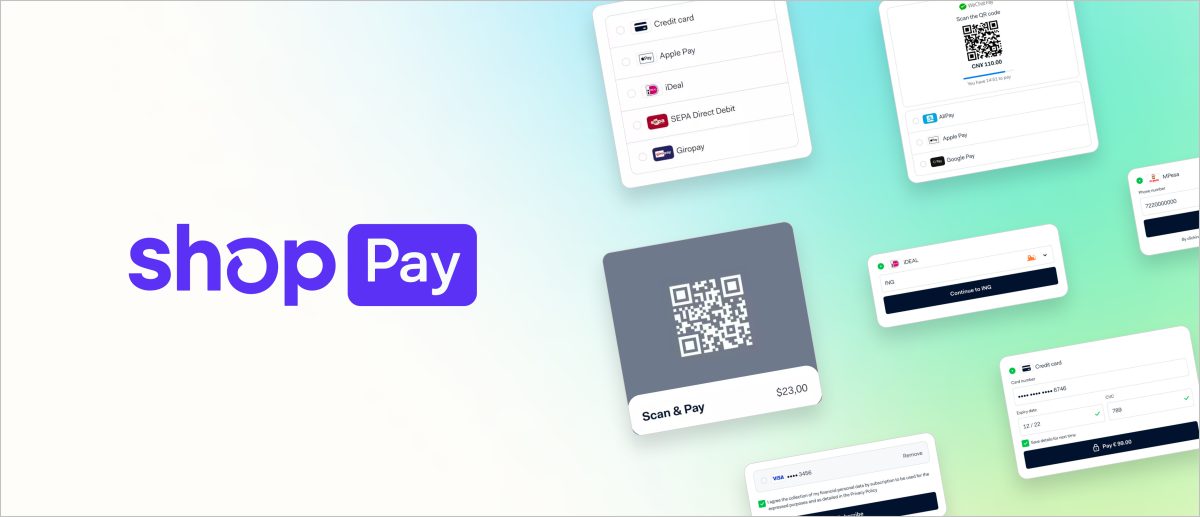 Shopify
Enterprise retailers that don't use Shopify storefronts will now be able to use its popular payment feature Shop Pay to complete transactions.
On Wednesday, the tech giant announced that enterprise retailers not on Shopify will have access to Shop Pay, its digital wallet that allows people to save their payment information with Shopify, and is used by more than 100 million shoppers worldwide. Enterprise retailers can only use Shop Pay through its Commerce Components stack, which Shopify unveiled in January. Previously, large B-to-B merchants could not integrate Shop Pay as a standalone component.
Wednesday's announcement is essentially an extension of what Shopify unveiled in January; the company is trying to win over larger enterprise retailers in its quest to better compete with rivals like Salesforce and Commerce Cloud. Shopify has historically catered to small digitally-native startups and the company said its goal now is to offer larger merchants a very low lift way to use Shop Pay. However, expanding the availability of Shop Pay could require more engineering support. The company said it has been testing live versions of Shop Pay on multiple e-commerce platforms, outside of Shopify, since late last year.
Shopify COO and vp of Product Kaz Nejatian said that, historically, what has stopped some of the largest merchants from using Shop Pay is the fact that they don't want to move their full stack to Shopify. "The number one ask I get from CEOs of large retailers is — can I please have Shop Pay? The answer is now, yes," Nejatian said.
Nejatian said the move to expand Shop Pay comes as demand from many large merchants is rising on Shopify. Brands including Ted Baker, Tim Horton's and Zulily joined Shopify's Commerce Components in the first quarter. "The demand has been so overwhelming for Commerce Components that our sales team is getting bigger to meet the demand," said Nejatian, though he didn't say specifically how much the sales team was growing by.
More broadly, the move reinforces the importance of payments for Shopify. "Payments has always been at the forefront at Shopify, because that's where they make the majority of their revenue," said Mark William Lewis, founder of the e-commerce development agency Netalico Commerce. "They clearly want people to be able to use Shop Pay without using the rest of Shopify. If they can process the transaction, then they can get that transaction fees," added Lewis.
Shopify first launched Shop Pay in 2017 and, over the years, has slowly started to grow it by adding more features, and pursuing more partnerships. For example, in 2020 Shopify partnered with Affirm to add a buy now, pay later functionality to Shop Pay. But the first company that technically got Shop Pay off of Shopify was Meta, Nejatian said, when the company used Shop Pay to power in-app checkout for Facebook and Instagram.
Shopify's pitch to larger enterprise retailers as it tries to convince them to use Shop Pay is its ability to improve conversion. Shopify has been doing more marketing around this, putting out studies that it helped commissioned about how much Shop Pay increases conversions.
"In a world in which cost of customer acquisition is going up, down funnel conversion is the game, it's the only thing that matters. Down funnel conversion for a buyer that has landed on your storefront," said Nejatian.
According to Humayun Rashid, founder and CEO of New York-based e-commerce agency Nessa Shopify, making Shop Pay available to bigger merchants also ultimately gives Shopify a way to grow its gross merchandise volume more quickly.
"If you are targeting large enterprise brands that are doing $50 million to $100 million plus annually, the transaction volume is massive. There's a huge potential for uplift in revenue for Shopify in the long term, because it increases their addressable market and how many merchants use their checkout solution and it increases their overall transaction volume as well. I think that's a huge upside," Rashid said.
Rashid added that for an enterprise retailer that has an omnichannel strategy, the company would have needed to lean on its digital team internally or hire a big agency to migrate over to Shopify. But making Shop Pay available to merchants that aren't on Shopify makes it much easier to test and learn.
"I think it's a smart strategy because you're allowing enterprises to try out Shopify's high conversion rate checkout and uplift their revenue potential," Rashid said. Instead of "making that huge, upfront commitment."
Lewis was more tempered in his outlook of the wider rollout of Shop Pay, stating that "it feels more like a reminder," after Shopify already announced in January that it would start allowing enterprise retailers to pick and choose which features of Shopify they wanted to use through Commerce Components. "They're trying to make a point to advertise this to the world."
Lewis added that the company wants to reach out to CIOs and CTOs of large companies, who may have considered Shopify in the past, but couldn't fit it in, to point to another way they can integrate Shopify.
Along the same lines, Shopify also said that it will partner with global enterprise payments platform Adyen to pursue enterprise clients and enhance its existing integration to accelerate enterprise connectivity and features overseas.
This enhanced partnership with Adyen will make it easier for enterprise merchants on Shopify to accept a wide variety of payments in markets around the world, including credit cards, wallets like Apple Pay and Google Pay and international payment methods like iDEAL in the Netherlands and Cartes Bancaires in France. This integration is expected to roll out later this year, Shopify said in a press release.
"You can now use Adyen and Shopify because we've made the integrations such that Adyen works really well on Shopify checkout. It should feel very native to merchants that prefer Adyen," added Nejatian.
But, Rashid cautioned that making Shop Pay available to more merchants could require more technical support. "They're gonna need to scale their engineering to essentially support a lot of these large retailers that are relying on their checkout," Rashid said.
Ultimately, Nejatian said, "one of the things we're trying to do this year is make it such that an enterprise retailer can choose whatever stack they want."