Research Briefing: Marketers warm up to podcast ad targeting capabilities, while brand safety is less of a concern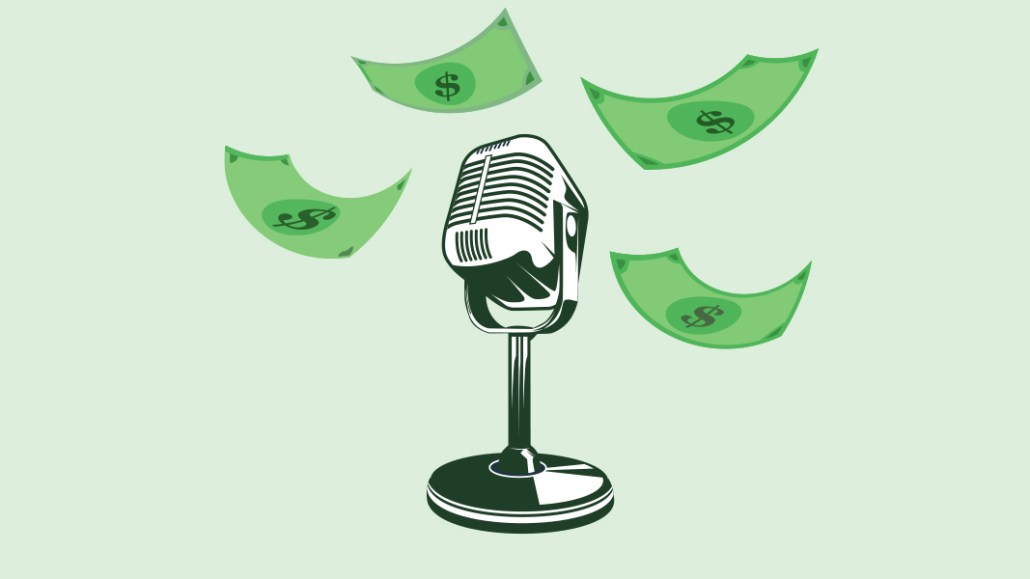 Welcome to the Modern Retail+ Research Briefing, your weekly curation of retail, technology and marketing research insights. Modern Retail+ members have full access to the research below.
In this edition, we share focal points from Modern Retail's recently released report on the current state of podcast ad spending and strategies.
Interested in sharing your perspectives on the future of retail, technology and marketing?

Apply to join the Modern Retail research panel.
80% of marketers are comfortable with brand safety in podcasting
A large proportion of brands and agencies seem to be satisfied with podcast ad targeting, and the majority of advertisers (80%) are comfortable with the average level of brand safety in podcasting as well. That is according to a recently released Modern Retail+ Research report on podcast advertising, produced in partnership with Sounds Profitable.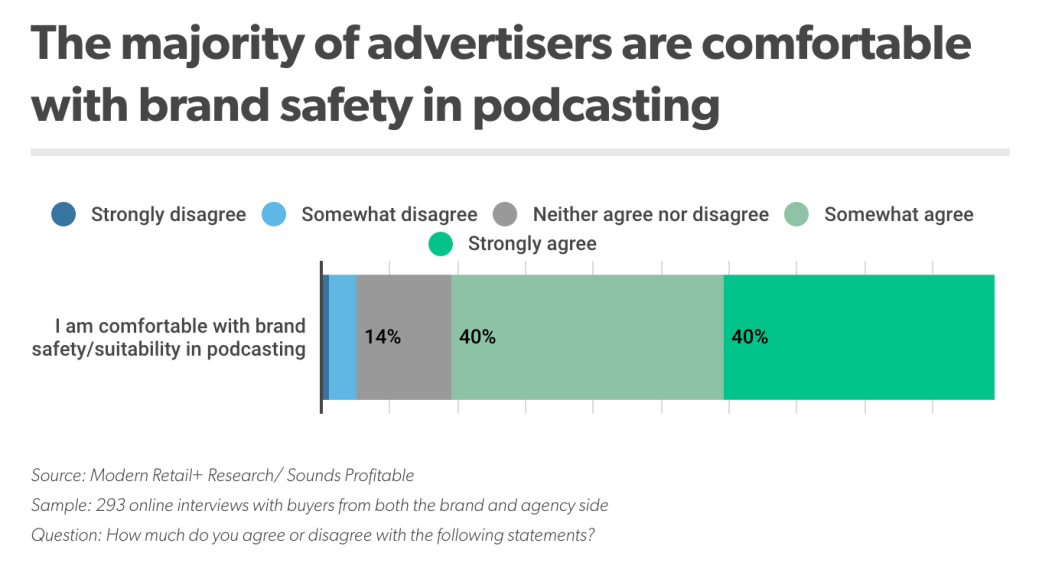 But the current status quo might not last long. The podcast landscape is yet again in flux, with a proliferation of generative AI in podcasting, alongside a rise in programmatic ad serving methods, boosting the potential to target and personalize ads — even as the unpredictability of some of those generative technologies could court privacy and brand safety concerns down the line.
From tools that create ads using AI-generated voices to sharper contextual targeting, agencies are exploring new solutions, including audio management platforms like Sounder, for their podcast ad campaigns. The result is more ad format options that rely on AI to produce audio ads and personalized campaigns using custom generative AI voices. The jury is out on whether using AI to generate ad content brings with it more potential to erode confidence in brand safety even as it expands scale and precision.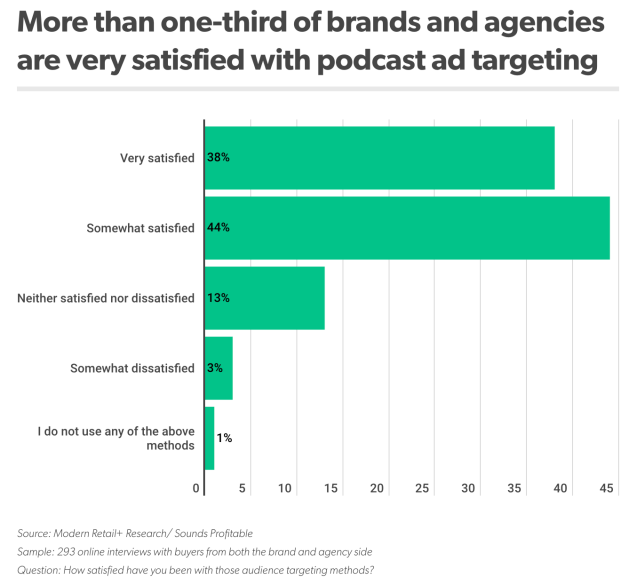 Key findings:
Eighty percent of survey respondents said they agree with the statement, "I am comfortable with brand safety and suitability in podcasting." Of those, 40% strongly agreed, while another 40% only somewhat agreed.

More than one-third (38%) of survey respondents said that they were very satisfied with audience targeting capabilities in podcasting, and 44% said they were somewhat satisfied. However, other reporting from Modern Retail's sibling publication Digiday shows there's still room for improvement, especially among more seasoned buyers who might have more sophisticated audience demands.
Research Rewind: James Allen uses ChatGPT for site search, while other AI helps retailers offer customer service
Online jeweler James Allen is using ChatGPT to help customers sift through over 200,000 diamonds on its site. In July, James Allen launched a ChatGPT plugin to make engagement ring shopping easier. The tool, which is available via ChatGPT's website and has been marketed to customers via a variety of channels, considers some of the user's design preferences, budget and current trends, among other elements, before giving out three recommendations. For retailers with a vast amount of SKUs, ChatGPT's advanced search capabilities can be particularly useful to surface relevant products.
ChatGPT is just one form of artificial intelligence (AI) retailers have been using more of recently. Marketers have also increased their use of natural language processing (NLP) applications — primarily in the form of chatbots — up from 31% of marketer respondents in 2017 to 44% in 2022. That's according to a Modern Retail+ Research survey of 388 industry professionals.

Marketers use chatbots more than other types of NLP because of chatbots' practical applications for customer service such as answering pre-programmed questions and for collecting consumer data like email addresses and product preferences.
Over the same time period, marketers kept their prioritization of data-driven personalization steady. Sixty-eight percent of marketer respondents said data-driven personalization was a top priority in 2022 versus 67% in 2017. Marketers use data-driven personalization to target ads and recommend products.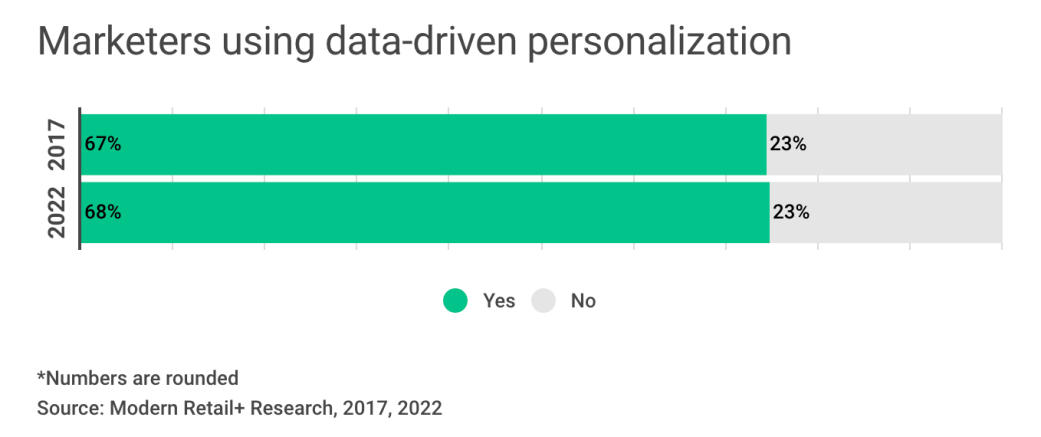 Key findings:
Marketer use of chatbots increased when in-person shopping paused during the pandemic. But the majority (55%) of marketers who don't currently invest in NLP said it was not relevant to their business, and only 36% plan on investing in the future.

Survey respondents said the majority (64%) of their company's creative or product assortment is hyper-personalized toward an individual user, while 36% is tailored contextually based on information from the page a shopper is viewing.
See research from all Digiday Media Brands:
Modern Retail+ Research
Digiday+ Research
Glossy+ Research