Overstock CEO says people didn't associate its brand with 'quality' as it takes over Bed Bath & Beyond name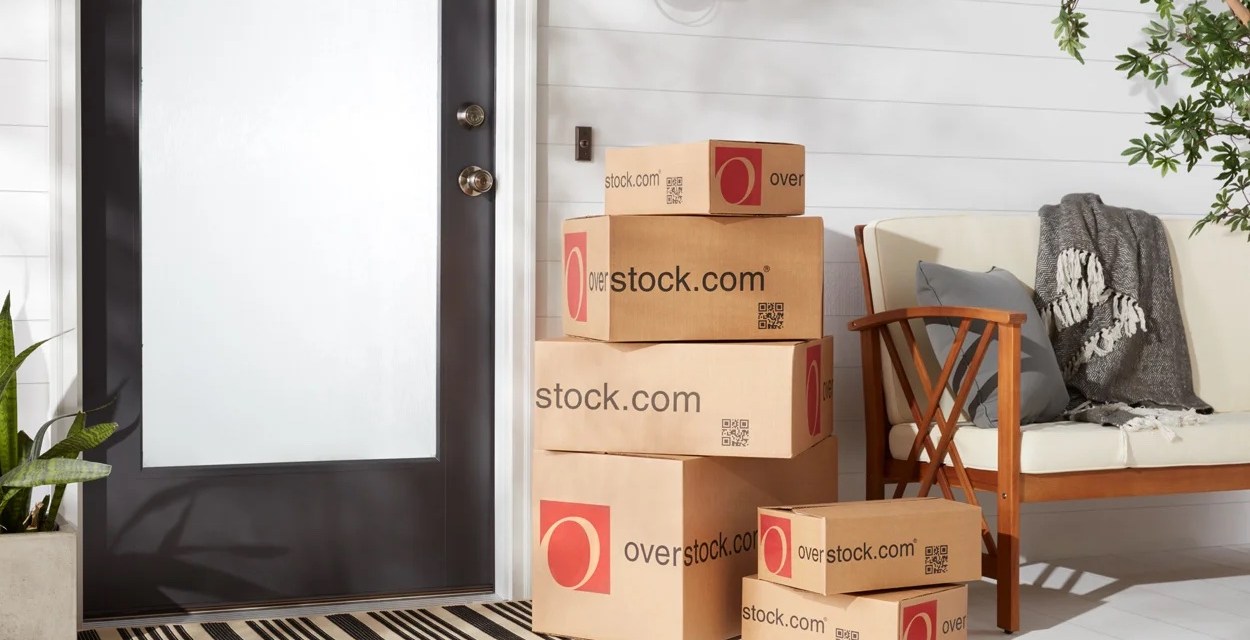 Image via Overstock
Say goodbye to Overstock.com and hello (once again) to Bed Bath & Beyond.com.
Overstock emerged as the winning  bidder for Bed Bath & Beyond's digital assets and intellectual property, spending $21.5 million. Overstock submitted the stalking horse bid on June 13, and it was approved by a judge on Tuesday. On Thursday, Overstock CEO Jonathan Johnson outlined on a call with analysts what the company plans to do with the iconic home goods retailer's digital assets. Namely: that it plans to eventually sunset the Overstock name, and operate online solely under the Bed Bath & Beyond name. That's because Johnson believes the Bed Bath & Beyond name is more well-known and desirable than the Overstock name, and will help the company become more of an authority in home goods.
"I can't count how many times I've been asked about the Overstock name," Johnson, who took over as Overstock CEO in 2019, said. "Almost always with the question: why don't you change the company's name?"
As Johnson noted, people associated the name "Overstock" with being a liquidator, something that the company hasn't done in 20 years. And that presented a few problems: Some people thought that Overstock didn't sell high quality, new and trendy products. Or, people who were enticed to buy from Overstock expressly because they thought the company was a liquidator were disappointed when they couldn't find deep discounts. And some suppliers were similarly spooked about the idea of selling their products to a company that was associated with liquidation.
"In short, our Overstock name created a headwind with many customers and suppliers who did not associate our brand with quality home products," Johnson said.
Johnson had already been on a mission to revamp Overstock's brand image since he took over as CEO. For example, he unveiled a mandate for the company to exit all non-home goods categories.  "We expected our transition to 100% home would aid in increasing our brand association with home." But, he added "that has proved more difficult than we thought."
Enter Bed Bath & Beyond. Overstock acquired Bed Bath & Beyond's intellectual property. That essentially is made up of four categories: customer and loyalty data, U.S. and Canada website and mobile apps, vendor and SKU data, and trademarks and private brand data. Overstock did not, however acquire Bed Bath & Beyond's stores and physical assets.
As of Thursday morning, the company had relaunched the Bed Bath & Beyond website in Canada. It also plans to rebrand its Club O loyalty program under the more universal moniker "Welcome Rewards." Sometime between August and September, Overstock will relaunch the Bed Bath & Beyond website in the U.S. And by the fourth quarter of this year, Overstock will look to sunset the "Overstock" name on its websites and mobile apps, and instead operate under one brand name: Bed Bath & Beyond.
"We will also evaluate opportunities for future growth including a registry business, trade and B-to-B sales and explore alternatives around private label offerings under the various Bed Bath & Beyond brands," Johnson said.
Already, Johnson argued that Overstock was seeing benefits from acquiring the Bed Bath & Beyond name. "We added more than 100,000 new SKUs in the single week when the news broke that we were selected as the stalking horse better in the bankruptcy proceeding." That indicated, to Johnson, that suppliers were already finding the new company more favorable.
Neil Saunders, managing director at Global Data Retail, described Overstock's purchase of Bed Bath & Beyond as "a reasonable acquisition. I think they got it for a good price, I think they have acquired a good brand name that still has traction." But, he said "the complexity is just in coming up with a streamlined brand and proposition that satisfies both existing Overstock customers and Bed Bath & Beyond customers." That is, designing a website, selecting merchandise, and setting prices that appeal to both sets of customers.
On Thursday's call, one analyst wondered if some of the negative experiences customers had with Bed Bath & Beyond in its final days — like out of stocks and cancelled orders — had hurt the brand name too much. Johnson insisted that the "Bed Bath & Beyond brand is still strong," and that Overstock commissioned third-party surveys indicating so.
"My experience is that mismanagement can kill companies, but doesn't kill brands," Johnson said. "There are a lot of brands that have gone through bankruptcy that remain strong and iconic today."