Walmart continues to grow organic assortment with help from emerging brands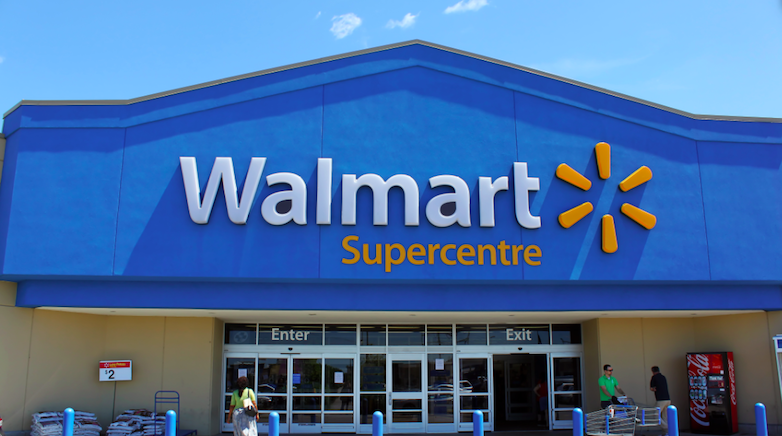 Long viewed as the go-to retailer for cheap, mass market products, Walmart has been steadily carrying more products from emerging brands that focus on organic and natural products.
The strategy goes back to the early 2000s, when the company began carrying organic produce and groceries to appeal to higher-income shoppers. But since then, the organic movement has grown beyond groceries. Now, in recent years, Walmart has started carrying more emerging brands, in more categories, that make organic, sustainable or clean ingredients a selling point.
For example, Walmart has become a popular retail partner of eco-friendly and organic DTC brands, in categories such as feminine care and sexual health. Other categories ripe for refreshing with natural and sustainable products include baby care, household cleaning, and home and garden — all of which Walmart has been modernizing with the help of emerging brands.
Growing its assortment of organic and clean products helps Walmart appeal to demographics like millennial parents and Gen Z, who are increasingly prioritizing buying products sustainably-produced with clean formulas — even if comfort and value are still the biggest selling points. In a Mintel survey earlier this year of 1,451 adults who had bought children's clothing the past 18 months said that sustainable fabrics was one of their most sought-after features.
For example, in order to court young parents, earlier this year DTC babywear brand Monica + Andy launched an exclusive line for Walmart called M+A. Sustainable diaper startup Pura also made its Walmart debut, joining other natural kids products by brands like Hello Bello and Ready. Set. Food!
Guy Fennell, co-founder and CEO of Pura, told Modern Retail that as a new brand in the U.S., Walmart was interested in being the first retailer to carry Pura products to cater to young parents that care about sustainability. Pura is U.K. based, and has been in talks with Walmart since shortly after launching in 2020. In June, Pura launched in 1,000 Walmart stores and on the retailer's website, selling its sustainably-made diapers and baby wipes.
"There is a real shift happening in the eco and sustainability space, with Gen Z and millennials really caring about the planet," Fennell said. Moreover, Pura also already had indirect experience with Walmart — selling at U.K. supermarket chain Asda, previously owned by Walmart. Fennell said it also helped that the company tried and proved the concept already in the U.K., where sustainability standards are currently stricter for products produced there compared to stateside.
Pura products are without fragrance, lotion, latex, parabens, phthalates or chlorine bleaching. Fennell added that Walmart was also drawn to Pura's EU EcoLabel accreditation; The products are made in a carbon-neutral U.K. factory from biodegradable plant-based material. The diapers are also packaged in paper, Fennell explained, a first for Walmart in this category. "We're also a B-Corp, that was really really important to Walmart as well," he said.
Pura products are also set at an affordable price point, which Fennell said was intentional for big-box distribution. Pura wipes start at $2.89 while the diapers start at $9.97 for the smallest size. "When going up against the leading brands, we're right on the money," Fennell said, noting that this is an important factor for converting the Walmart customer.
Indeed, Walmart is investing heavily in modernizing its baby and kids offerings.
On the grocery side, organic kids food maker Ready. Set. Food! recently launched an exclusive peanut butter strawberry organic baby oatmeal with Walmart. The collaboration came about a year after the startup launched its bottle mix-ins at the retailer in March 2022.
Daniel Zakowski, co-founder and CEO of Ready. Set. Food!, said that as a brand, "we understand Walmart's commitment to offering unique and exclusive products to cater to its diverse customer base." The brand's original oatmeal and stage 1 & 2 mix-ins have been certified by the Clean Label Project. "All of our products are organic, unsweetened, and have no added sugar whenever possible," Zakowski added.
With the new collaboration, Zakowski said the startup wanted to introduce a better-for-you product that was new to the baby oatmeal category and caters to Walmart's diverse customer base. He declined to disclose specific sales figures, but said that, thus far, "the sales performance has exceeded our initial expectations, and the positive customer feedback has been overwhelming."
But it's not just personal care and groceries that are getting the clean ingredients makeover.
Walmart is increasingly focusing on sustainability in the home and garden department, bringing in organic products to its stores from startups like Safely and Grove Collaborative. Meanwhile, startups like Arber, Sunday and Back to the Roots recently entered Walmart's garden center.
Organic gardening company Back to the Roots, founded in 2009, started selling at Walmart in 2019 and expanded to over 10,000 locations this past spring. The brand is known for its regenerative plant grow kits, aimed at new gardeners. More recently, the company added products like raised garden beds, soil, and organic fruit, vegetable and flower seeds.
Nikhil Arora, co-founder and co-CEO of Back to the Roots, said Walmart was interested in the company's vision of creating organic and regenerative gardening products. "Walmart is looking for brands that first and foremost deliver incredible value to customers — that means a great price and great quality," Arora explained. "And they need vendors that can deliver that value at scale — Walmart is the largest physical retailer in the world for a reason."
Arora also pointed to Walmart's vendor-focused sustainability initiatives, such as Project Gigaton, which was announced in 2017. The project outlines the retailer's emissions goals, protecting pollinators and natural spaces, as well as reducing the use of virgin plastic.
Bryan Gildenberg, founder of Confluencer Commerce, said that over the past few years Walmart has had a clear mission "to become more organic and more 'ESG-centric,'" referring to sustainability standards set by environmental, social, and corporate governance.
"The second piece is carrying more organic and natural products from newer brands that appeal to younger shoppers – including the next generation of moms," Gildenberg said. "These two goals tend to overlap."
In the baby and kids category, for example, Gildenberg said Walmart has been actively reinventing this department for the past few years with the help of emerging companies. One example is Kristen Bell and Dax Shepard's baby products brand Hello Bello, which launched exclusively at Walmart in 2019. "A lot of categories are going through the organic and sustainability transformations," Gildenberg said.
Pura's Fennell said that launching at Walmart is a big feat, requiring major investments in production, trans-Atlantic logistics and marketing. However, this was done to set a foundation for the brand's expansion into other retailers in 2024. "As a brand, you have to tick off a lot of boxes to appeal to Walmart and its customers," Fennell said.