A bold new world: 5 big changes the retail industry faces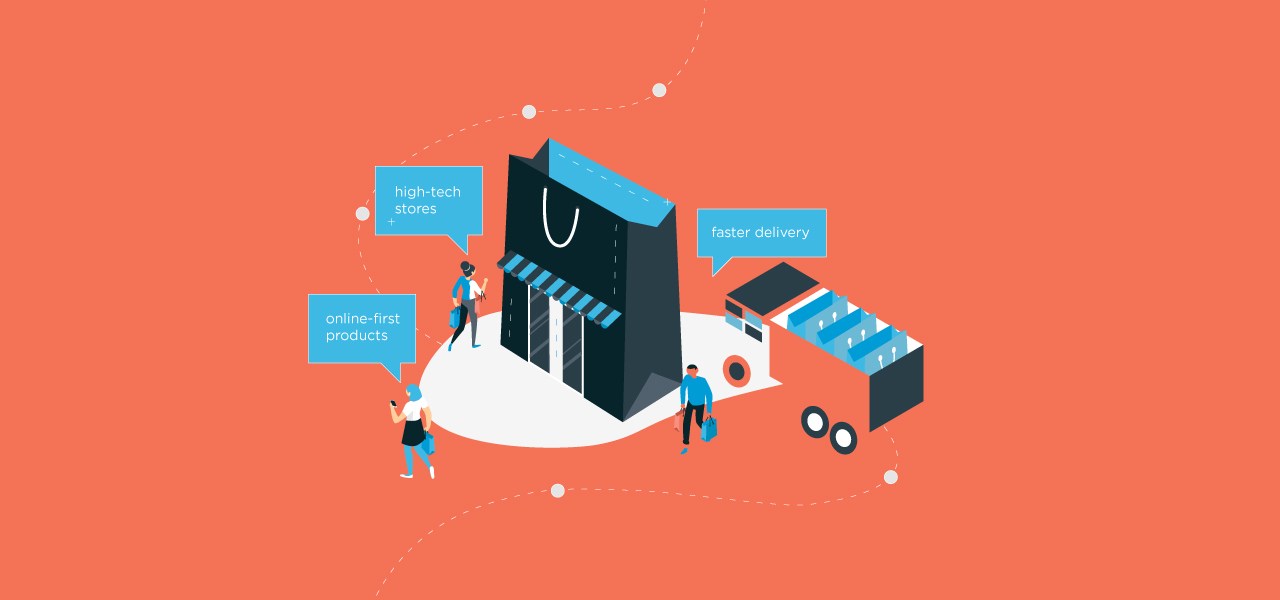 This is part of a special package from Digiday Media about what comes next, looking to the other side of the current crisis to explore the lasting changes that are coming about.
The future of retail accelerated by leaps and bounds over a couple of weeks. People were forced to stay home and change the way they shop. As a result, retailers have had to adapt in unprecedented ways. Here are five big changes that retails are adopting to deal with this era we're all living in.
Everyone's all in on e-commerce
Almost as soon as the pandemic began and shelter-in-place orders were announced, the retail online reckoning began. The strong recommendation to stay home meant that customers were bound to their gadgets for the majority of their quarantine necessities. From groceries to loungewear, every brand found itself in need of a robust online store. The shuttered retailers who got caught without e-commerce offerings, such as off-price chain TJ Maxx, found themselves with virtually no sales coming in. Online shopping was so dominant, even pandemic "essential" chains found themselves competing for shoppers who prefer not to step foot into their stores; Walmart reported its U.S. e-commerce business grew by 74% last quarter, while Target's year-over-year online sales surged by 141%.
Looking forward, the reliance on foot traffic for in-store shopping remains questionable for the rest of 2020. With brands slowly reopening — and relying on more omnichannel offerings like curbside pickup — both large and independent retailers are now grappling with how to optimize their operations and online stores. From virtual try-ons to instant customer service chat assistance, customers are set to have the most advanced e-commerce experience in the coming years.
The 800-pound gorilla continues to grow
Even with negative perception of its employees' treatment, Amazon can't seem to be tamed. As if the e-commerce giant needed yet another boost, it became an even bigger winner throughout the pandemic. Its first quarter earnings report in April showed net sales grew 26% year-over-year, hitting $75.5 billion. Despite having to scale back Prime fulfillment to "essential" items — as well as pushing back Prime Day — the many of the company's sellers still found plenty of growth as online shoppers became reliant on them for everyday items. 
According to a June 2020 analysis by Feedvisor, an AI solutions platform for Amazon sellers, sales of essential and nonessential product categories have shown a sustained increase of 9% from March through May. Furthermore, before the pandemic, only 2% of grocery sellers' sales were made on the platform. However, sales in the Grocery and Gourmet categories were up by 36% in May as compared to February 2020. Amazon's earnings did reflect the re-investment in coronavirus-related costs, but there is no doubt its dominance in the online shopping space will continue to overshadow other retailers.
Fast delivery — or else
In obtaining their food, toiletries or even alcohol, for the past few months Americans relied on delivery services more than ever. Online grocery orders saw "high double and triple digit" increases in two months flat, according to Curt Avallone, chief business officer of grocery micro-fulfillment platform Takeoff Technologies. Services like Amazon Fresh and Instacart pushed brick and mortar retailers to up their game, with delivery and pickup gaining popularity among many shoppers. Not to mention, the increase in at-home socializing helped usher in an era in the alcohol segment, prompting large brands to increase their e-commerce presence. 
The pressure to pack and ship items to millions of socially distanced customers proved a challenge for many retailers, with some getting creative with their fulfillment. For instance, same-day delivery methods like Postmates are beginning to gain traction among brands with brick and mortar presence. While it's unclear how long the delivery wave will linger, Avallone expects some of these new habits to stick for years to come as customers have now gotten a taste of delivery's convenience and ease.
A shifting DTC playbook
Many direct-to-consumer brands found themselves in the middle of so-called unprecedented situations when coronavirus hit. With many DNVBs having invested in physical retail in the past five or so years, the sudden reliance on e-commerce had brands like Glossier and Everlane getting back to their roots. Within a month of closing all its stores in March, athleisure brand Vuori's e-commerce sales went up by 350% year-over-year. Rebekah Kondrat, partner at retail consultancy Loose Threads, who previously worked at DTC startups like Warby Parker and Outdoor Voices, predicts it will take a vaccine or treatment for brands to return to lofty brick and mortar plans. 
Furthermore, the days of seemingly endless venture capital are behind as investors grapple with shifting consumer habits and an uncertain market due to millions of jobs lost in recent months. Even with some activity returning, Brooklyn Bridge Ventures founder Charlie O'Donnell says it's hard to close a round given the market's future is still uncertain. "The pandemic has potentially exposed some weaknesses," he said, referring to countless overfunded and underperforming consumer brands in recent years, such as Casper and Outdoor Voices.
All these factors are contributing to the shattering of the coveted DTC exit, with many founders having to pivot their strategies on the fly. For some, like Iris Nova and Lola, a partnership with a big box retailer like Walmart is more appealing than ever. Others, like sleepwear startup Lunya and Naked Retail, scaling back and conserving cash flow is the name of the game. While an instant path to profitability and bootstrapping were already on their way to becoming the standard model, the pandemic helped cement their gold status.
A payments revolution
For years, U.S. based shoppers preferred credit card swipes, or lately chip-inserting, over tap-and-go payments. It took a pandemic, but germophobia helped bring contactless payments to the forefront of retail point-of-sale. With cash use discouraged and credit card hand exchanges not feeling any safer, fintech providers like Square saw more client demand for integration with digital wallets like Apple Pay and Google Pay. In its Q1 earnings, Square said sellers' "card-not-present gross payment volume achieved positive year-over-year growth," as they adapted to pandemic store operations in mid-March. Its POS contactless technology, which used to account for about a third of gross payment volume, moved to "well over 50%" since April, with expectation for more merchant signups as brick and mortar stores reopen.
Even as the initial virus outbreak wades and retailers open, the public's anti-touch opinion seems to be strong. According to a survey by the International Council of Shopping Centers, administered from July 3 to July 5, more than half of respondents agreed when asked if they've "cut back or completely stopped using cash" and having switched to contactless payments due to Covid-19. This change of heart may be for sanitary precautions, but like many other global markets, industry giants like Alibaba and Shopify are betting on long term conversion now that consumers have embraced the ease-of-use of touchless payments.