Amazon Briefing: The growing customer data war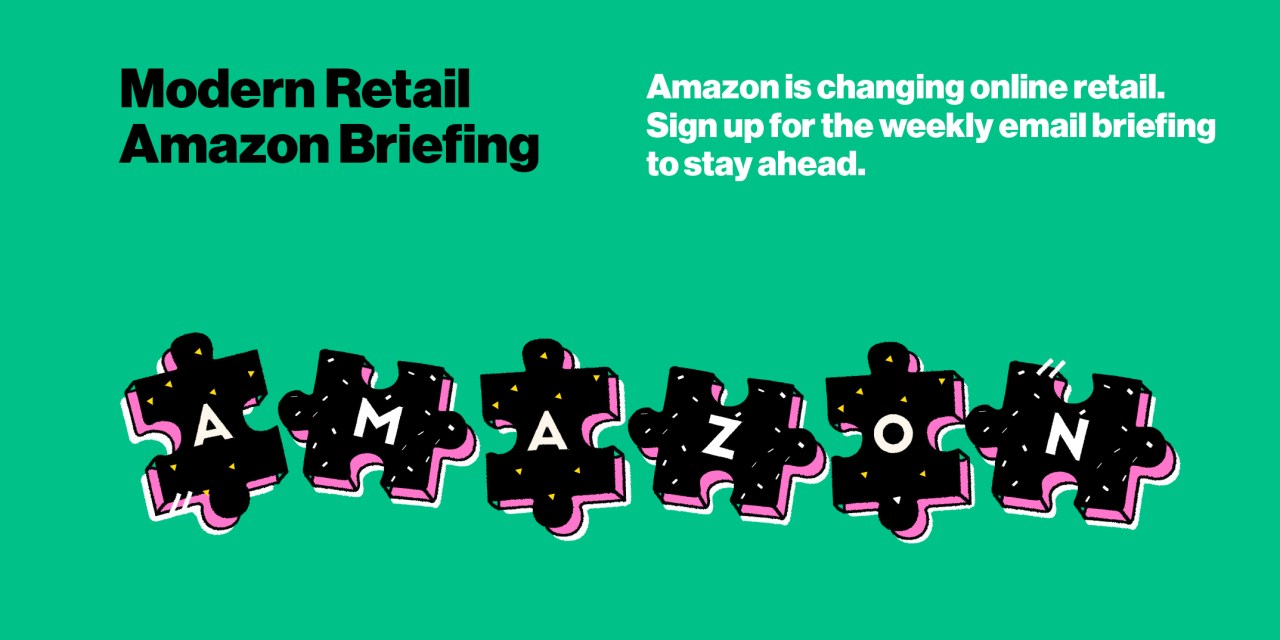 This is the latest installment of the Amazon Briefing, a weekly Modern Retail+ column about the ever-changing Amazon ecosystem. More from the series →
This is the latest installment of the Amazon Briefing, a weekly Modern Retail column about the ever-changing Amazon ecosystem. To receive it in your inbox every week, sign up here. 
For any third-party seller on Amazon, customer information is a black box. When a brand converts a sale on their own website, they have access to the demographics and email addresses of their shoppers. Yet for years, Amazon has only offered to sellers a customer's username and street address. The rest of the information that Amazon amasses, Amazon keeps to itself.
The amount of data that Amazon shares with its sellers is shrinking. Amazon used to provide every seller who chooses to use Amazon for fulfillment — which the vast majority do — with the Amazon-Fulfilled Shipments Report, which gives out the names and addresses of buyers for tax reasons. Previously, all sellers that fulfill through Amazon could download the report, whether or not they needed it for taxes. But starting in April, sellers will not be able to access the names and addresses of their customers unless they explicitly need that information.
On its own, it's a very minor change. But Amazon's move is just an extension of a growing, if not uncommon, source of tension between marketplaces and their sellers: third-party sellers account for around half of sales on Amazon, yet these merchants don't receive data that would allow them to communicate with the customers in the process. This latest change is just the icing on the cake for sellers that use reports like these to glean a rough portrait of their customer base.
"I get the outrage," Joe Cicman, an e-commerce analyst at Forrester. "But there has never been an agreement by Amazon that the marketplace seller owns the customer."
Amazon is not unique in its restrictions on customer data. Major marketplaces like Wayfair and Walmart also offer their sellers very little information. To some extent, data is part of an inevitable — if frustrating — tradeoff that comes with being a third-party seller on any online marketplace. Because marketplaces say they are the ones driving the customers, "I don't know of one of those marketplaces that grants full use of customer data to their sellers," said Cicman. The difference, though, is that Amazon has tried to get brands to sell exclusively on Amazon — which makes foregoing any data especially painful.  
The lack of data has long been a sore subject for Amazon sellers. Yet the company used to offer enough information that a seller might be able to sketch out a general outline of who is buying from them. Mailing addresses for shipments, for instance, can go a long way in the aggregate. "You'll know if you're shipping a lot of stuff to Nebraska, and you can see regionally what all your hot zones are," said Cicman. (Amazon has always discouraged the use of Amazon-Fulfilled Shipments data for anything other than taxes, noting in the report that it should only be for tax purposes.)
Lori Fields, director of e-commerce at the marketplace consultancy Jay Street Partners, said that the main issue for sellers is email addresses. Amazon sellers have never been able to see the email addresses of their customers, but Fields said she thinks that should change. If contact information were more accessible, "I think that it can only benefit the relationship and make for a more engaged relationship between seller and consumer," she said.
To get information from customers, sellers have long attempted their own experiments. Some place inserts into the boxes of their Amazon shipments, encouraging customers to visit their websites, sign up for a newsletter or otherwise engage with the brand. That can go a long way in helping sellers build out even a starting portrait of who their customers are. Other tactics, said Cicman, include Amazon sellers tying their products to specific apps or warranties that require customer signup: for instance, he said, "if you go and buy a bathroom scale that has bluetooth in it, you will register for that warranty and sign up."
Fields said she has experimented with adding stickers or QR codes to products, which could send customers directly to a seller's personal website. But "it's more reactive rather than proactive because the onus is on the customer to follow up," she said. And she said only a small sliver of customers seem to respond: "I don't think it's a usual behavior."
Customer data has become an especially touchy subject in the third-party seller universe because of accusations that Amazon has used data from the marketplace in order to build competing products. Essentially, as reporting in the Wall Street Journal has alleged, Amazon is taking some of that data and turning it against sellers.
That's why, as tensions around Amazon Basics heighten, even small cutbacks Amazon makes to its data-sharing processes can sting.
On the topic of Amazon Basics…
Since 2017, Peter Dering has been selling the Everyday Sling, a camera bag he produces through his company Peak Design. Though Peak Design sells on multiple channels, Dering said Amazon makes up 20% of its overall revenue.
Then, in December 2020, Dering learned about a nearly identical camera bag being sold through Amazon's in-house brand, Amazon Basics. Not only did the two products look identical, but they also used the same name: Everyday Sling. And while Dering's product retailed at $99.95, Amazon's was going for just $32.99.
So Dering decided to make a video. The result is a satirical clip, featuring Amazon employees in Googly eyes, that accuses the company of ripping off Peak Design's camera bag.
Dering — along with companies like Allbirds — is one of a growing cohort of sellers speaking out about Amazon Basics. He told me that he wanted to add to the national conversation, but "from the word go, the mission was really to ridicule, not to whine."
He wasn't afraid of creating a video like this, because "I think that Amazon is actually less nefarious than we all feel right now," he said. Plus, any sort of retaliation against Dering would only look bad on Amazon. "I don't think there's someone kind of turning the evil dial at Amazon, and they're so under the microscope right now that I think they need to tread very carefully," he said.
Just hours after the video premiered, Dering scored one victory. Amazon decided to change the name of its bag to the "Amazon Basics Camera Bag," instead of the Everyday Sling. And many of Peak Design's fans began leaving negative reviews on the Amazon Basics product, which got reviews on that listing temporarily suspended.
Still, he hopes this move will produce a net positive. "All we want is a better relationship with a big selling partner," he said.
Check-in: TikTok x Amazon
Consider this Exhibit Z of the coming TikTok-ification of Amazon: One of the top-searched terms on Amazon last month was "Tik Tok leggings," in reference to the pants that went viral on the app. This just highlights that, more and more, product discovery is moving to TikTok.
Speaking of which: After first trialing a shoppable livestream on TikTok in December, Walmart is launching another one.
Maybe it's no wonder that Amazon Prime Video is also now trying out a TikTok-only show in France.
What we covered:
An Amazon-backed food delivery company, Deliveroo, is going public in the UK in the near future — and Amazon's minority stake reveals the e-commerce company's continued fascination with the restaurant delivery space.
Berlin Brands Group, a German-based e-commerce company, is the latest company promising to acquire small businesses on Amazon and roll them up into a larger portfolio. But unlike many of its peers, BBG has a decades-long record of launching products.
It's not just livestreaming: Walmart is adding shoppable cooking videos to select parts of its website, part of a potentially larger push by both Amazon and Walmart into shoppable, video-based product discovery.