'An arms race': Retailers are running into limitations as they turn stores into fulfillment centers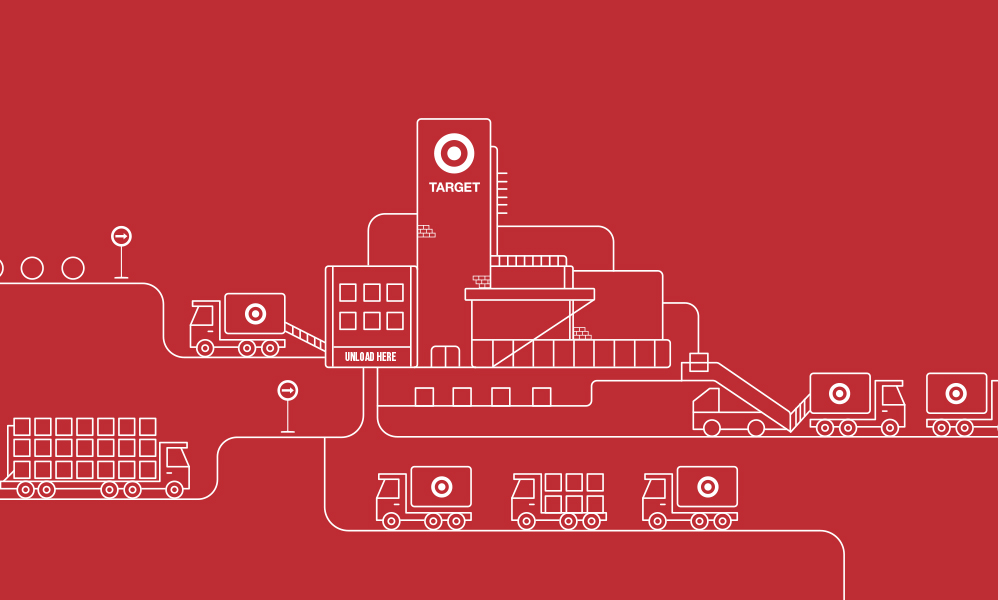 Big-box retailers like Target and Walmart increasingly want their stores to double as fulfillment centers, and are remodeling stores and working with more last-mile delivery services in order to do so. They see their existing store footprints as one of the biggest advantages they have over Amazon, which has had to build more than 100 fulfillment centers in order to enable next-day delivery on millions of products for Amazon Prime members.
Target said in May during its first quarter earnings call that 80% of digital orders that quarter were fulfilled in stores, a move that CEO Brian Cornell said has helped Target improve shipping speed and reduce costs.
Earlier this week, Walmart CEO Doug McMillon expressed his interest in using stores to Walmart's competitive online advantages. "Stores have some advantages and we're trying to make the most of those," he said at Fortune's Brainstorm Tech conference on Monday.
But, there are limitations on just how much heavy lifting the store can do when it comes to fulfilling online orders.
Volume is one issue. E-commerce fulfillment centers can carry thousands more products than even the largest big-box stores. And using stores as fulfillment centers still comes with additional costs — retailers have to retrain or hire additional staff in order to be able to simultaneously help customers in-store and fulfill online orders. They also have to create space to ship and pack orders that could be dedicated to displaying more product.
"It's not one of those things where you can snap your fingers and make it happen," Andrew Lipsman, e-commerce analyst for eMarketer said.
In order to make stores work as fulfillment centers, retailers have to train customers to buy products from them in the method that's easiest to fulfill, and in the most cost-effective way possible. For both Walmart and Target, that's in-store pickup. Target also acquired delivery platform Shipt in 2017 in order to fulfill same-day delivery orders. Meanwhile, Walmart has been rolling out in-store grocery pickup to more of its stores first instead of grocery delivery — by year end, 3,100 Walmart stores will allow for grocery pickup, versus 1,600 that will allow for grocery delivery, in the hopes that more customers will catch the bug for pickup rather than delivery.
And, they also have to have patience, as it can take years in order to establish an efficient in-store fulfillment network.
"When we first launched order pickup in 2013, we were literally working from a folding table setup in the backroom. It took us a number of years and lots of technology and process improvements to go from scrappy to smooth," said John Mulligan, Target's chief operating officer during an investor presentation in March.
For Walmart's part, McMillon has said said that stores have proven more efficient places to be pick and fulfill orders for fresh and perishable food before they go bad. He said at Fortune Brainstorm tech that 60% of Walmart stores now have the ability to fulfill online orders for groceries.
But internally, tensions have reportedly risen over how much the company should spend building dedicated e-commerce fulfillment centers vs. prepping stores for delivery. Recode reported earlier this month that the head of Walmart's U.S. e-commerce division, Marc Lore believes that Walmart needs to spend "billions" on such centers in order to be able to get closer to matching Amazon's product selection. Currently, Walmart has about 20 dedicated e-commerce fulfillment centers and more than 4,700 stores in the U.S.
Meanwhile, others on Walmart's leadership team believe that rather than trying to match Amazon's product selection, which the company will never be able to do, they should invest more in online grocery pickup and delivery, which can leverage Walmart's existing store network to fulfill orders.
By using stores to fulfill online orders, Target has said that it's been able to get products to customers quicker, since many of their stores are located in suburban or urban areas. It's a strategy that the retailer's dug its heels in on.
"We continue to hear questions about the long-term viability of keeping our stores at the center of fulfillment. Our answer is emphatic — we are confident that this is the best long-term solution for Target," Cornell said.
But, both of these companies run the risk of losing business as competition is no longer coming just from Amazon, but other platforms that are willing to bite the bullet and invest in costly fulfillment centers.
Shopify, for example, announced at its Shopify Unite conference in June that it is spending over $1 billion to build its own fulfillment center network. Shopify said its fulfillment network, when built, will be able to hold merchants' inventory and handle shipping and delivery to customers within two days. Particularly as Target and Walmart both seek to build out their own marketplaces they have to figure out what the right balance is when it comes to investing in in-store fulfillment operations versus building new warehouses to support a marketplace that can offer more products available for online purchase.
"A lot of the same independent sellers that might be working with Amazon and Walmart will be able to do some of their own fulfillment through their websites with Shopify's fulfillment network," said Bill Duffy, associate director of research for Gartner L2. 
Retailers also may have to be willing to scale back their ambitions on just how many different types of products they want to make available for customers to order online. For example, when Target announced that it was building a third-party marketplace, called Target+ in November, the company emphasized in a press release that it wanted to build a "curated" assortment, as "we know guests count on Target to find products they'll love without wading through endless options."
"There's an arms race for fulfillment, and it's getting very expensive," Duffy said.