As brands consider opening pop-ups, New York City loses its luster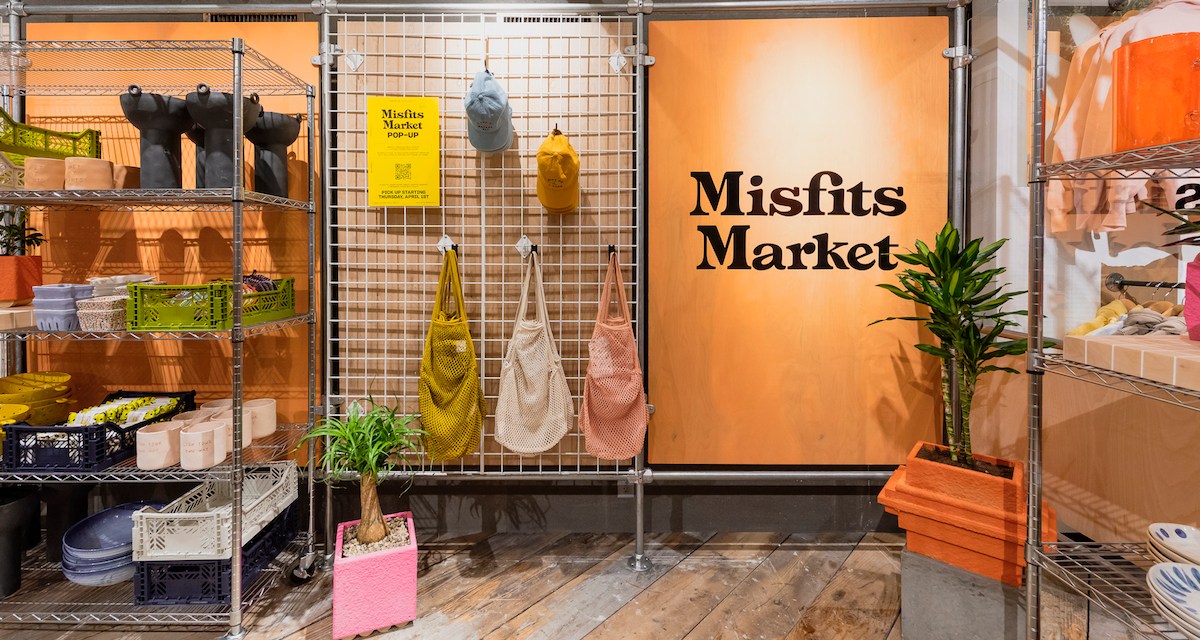 E-commerce brands are getting ready to test the waters of physical retail again — but not necessarily on the streets of Soho that they used to flock to before.
The increase in vaccinations over the spring has coincided with an uptick in pop-ups from e-commerce companies like Misfits Market and Cuts Clothing. The interest in pop-ups is being spurred by a combination of factors, including the fact that rent is still low in many places right now, and some traditional brick-and-mortar retailers are looking to digitally-native brands to drum up excitement amongst their shoppers.
However, not everyone is ready to open a pop-up quite yet. The companies that are interested in doing pop-ups as soon as this summer are ones in categories that have done well over the past year, like food or home goods. And pop-ups designed to draw huge crowds are still out of the question in many places that still have capacity restrictions at retail stores. As such, some brands — particularly those in apparel — are waiting until later in the year to do pop-ups.
Melissa Gonzalez, CEO of experiential retail firm the Lionesque Group, characterized the conversation she was having with brands around pop-ups as "not a matter of if, but when."
"We are definitely focused on summer right now, but we are already starting to be asked to put together budgets and timelines for a couple of other clients for fall," she said.
Gonzalez said that in years' past, New York City and Los Angeles have historically been the two most popular destinations for pop-ups. But this summer, she said she's seeing more interest from companies in doing pop-ups in the Hamptons, as well as suburban Boston and Philadelphia. Rebekah Kondrat, founder of consultancy Kondrat Retail, also pointed to Austin, Connecticut, and Aspen, Colorado as places that she's seeing an increased interest in brands doing pop-ups, though she said "New York will come back."
"Yes, you are starting to feel a little bit of transition of work from home people going back into the office, but I don't think there's confidence that that's really going to go into effect before fall," Gonzalez said.
The uncertainty about where people will be spending their time come summer is leading some companies to hold off on pop-ups until the fall, which is also closer to the all-important holiday season.
"The other thing people are weighing is when will it be appropriate to do an event that draws crowds," said Gonzalez. As such, the type of pop-up where companies, say, partner with an influencer hoping to a large crowd on opening day is still out of the question, Gonzalez said.
While companies are still trying to figure out just how much time customers will be spending in stores in a post-pandemic world, they are gravitating towards pop-ups that don't require a ton of investment to pull off. Cuts Clothing, which sells high-end men's basics like t-shirts, recently did a pop-up with Periodic, a space that Lionesque Group manages in Seattle, running from the beginning of February to the end of March.
Steven Borrelli, founder of Cuts Clothing, said that for him the biggest draw was the fact that Periodic was a turnkey space, meaning that Cuts didn't have to design or build out a store at all.
"They handled the lease, the staff, the training of the staff…all we had to do was send them product," he said.
It was the first pop-up that Cuts, founded in 2016, has done according to Borrelli. Cuts doesn't have any permanent stores, so all of its sales come from online. Going forward, Borrelli said that the vast majority of sales will come from online, but that the company is looking at doing more pop-ups, mostly during the fourth quarter, in part to ease demand on its distribution centers during a busy shipping season.
Borrelli said that Cuts wanted to do a pop-up now while rent costs were still low, and there was less competition for pop-ups, though he declined to say how much it cost Cuts to do the pop-up at Periodic.
Other e-commerce brands have found that now is an opportune time to do pop-ups while traditional brick-and-mortar retailers are looking for new ways to reach customers. Misfit Markets, a service through which consumers can order boxes of so-called "ugly produce," and get it delivered to their homes, is currently partnering with Urban Outfitters on its first-ever pop-up in Williamsburg.
At the space, which runs through the end of April, New York area shoppers can order boxes of produce to be picked up at an Urban Outfitters-managed pop-up space, while also shop a limited assortment of Misfits Market-branded merch and Urban Outfitters home goods, like produce bags.
It's the first pop-up that Misfits Market has done, according to the company's vice president of marketing Holly Eagleson, but it's the "third phase" of a partnership Misfits Market struck with Urban Outfitters during the pandemic. Last year, Misfits Market and Urban Outfitters opened community fridges in Philadelphia, where both companies are headquartered. Then in February, the two hosted a virtual cooking class.
Eagleson said the two companies planned to do the pop-up in April to coincide with Earth Day, and figured that more people would be outside as the weather got nicer, but that the event dovetailing with vaccinations was a nice bonus.
Going forward, Eagleson said that Misfits Market wants to do more pop-ups, but where the company does them will be driven by what states or cities the company wants to increase brand awareness in — currently, Misfits Market's service is available in 37 states, but the company hopes to be nationwide by the end of the year.
"What makes sense for us is where are people congregating — is it music festivals, is it food festivals, that sort of thing, and then in terms of actual retail, wherever there's great foot traffic is attractive to us," she said.
This speaks to what makes pop-ups still difficult for some brands to commit to right now — though vaccinations are increasing, there's still a lot of unknowns about where people will be most eager to spend their time post-pandemic.
"People are trying to be strategic about where is my customer spending the most time," said Gonzalez.