As competition heats up, Instacart is on the move to diversify beyond delivery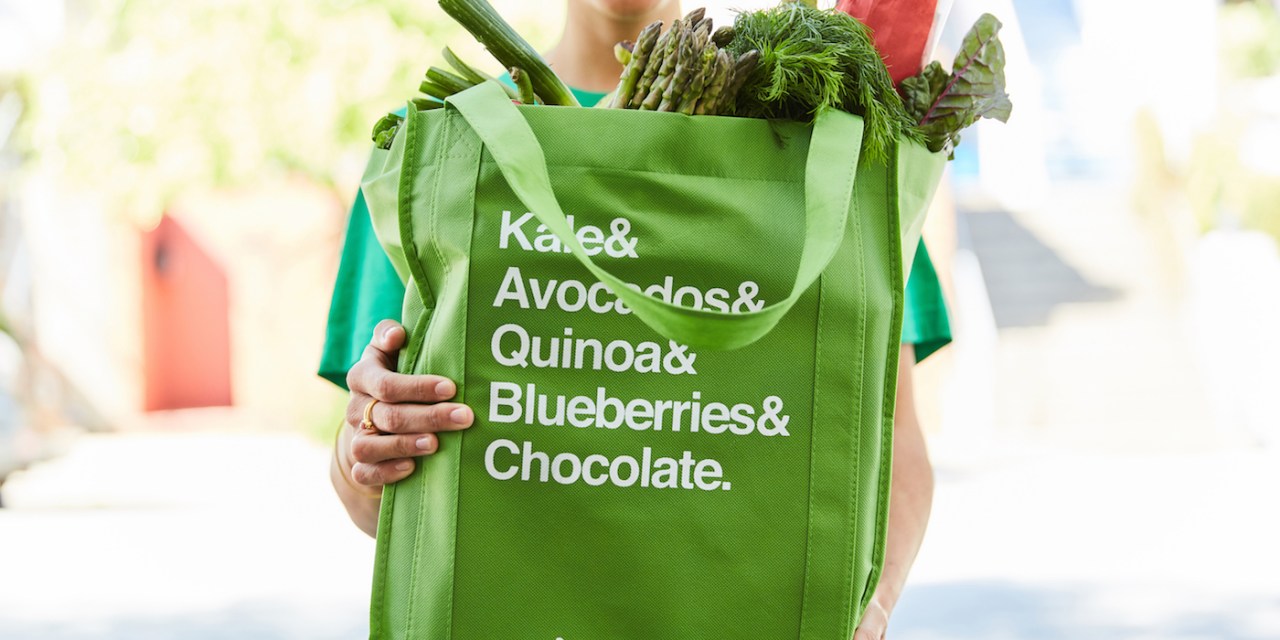 Image via Instacart
Instacart is attempting to be more than just a platform that delivers groceries from point A to point B. 
The company recently introduced Instacart Platform, a suite of services and technology for retailers, which includes data tools, e-commerce development and in-store technology like smart carts. It follows a series of updates; Instacart moved deeper into advertising in January when it introduced new marketing capabilities for other brands, such as CPG brand pages that act as digital storefronts.
Instacart has grown to be one of the top delivery platforms during the pandemic, reportedly swinging to a profit for the first time to around $10 million in April 2020, and doing $1.5 billion in revenue in 2020. At one point last year, Instacart even reportedly mulled over an initial public offering. However, Instacart cut its valuation by nearly 40% last month in its latest funding round, and competition in the delivery space continues to heat up. In a bid to stand out from competitors, Instacart has been making inroads in categories outside of its primary delivery business. 
"Instacart was in this place where they were evaluated based on a 2020 growth, from the pandemic," said Celia Van Wickel, senior director of digital commerce for Kantar. "They still are growing, but it's changing. And so, what's changing is that they have been very reliant on a core set of major retailers and they still are today, but they are needing to pivot and shift into other categories and services to maintain that competitive edge." 
Instacart is charting a new path
Instacart was launched in 2012 with the idea of making grocery shopping easier wherever customers may be. The company has teamed up with a number of grocery stores — including The Giant Company, Walmart and Kroger — and in recent years expanded to delivering non-grocery items as well. Instacart partnered with Walgreens to deliver over-the-counter medications and other goods found in the drugstore as well as Best Buy to deliver a selection of electronics and tech products.
Overall, Instacart has over 750 national, regional and local retail partners, according to the company's website. Instacart has leaned on these partnerships for growth, which helped the company drive high levels of adoption. 
Under the leadership of new CEO Fidji Simo, who assumed the role in August last year, the company has hired several employees in Facebook's product team, signaling Instacart's possible shift towards becoming a social app, a place where users would habitually log into to discover food content and then shop for groceries.
Its newly announced marketing capabilities build off of the company's previous plans to expand into advertising consumer products. In May 2020, the company released a self-service ad platform and saw 500% advertiser growth that year.
Instacart's sales grew 330% year-over-year from 2019 to 2020, according to a recent report from 1010data. During the first six months of 2020, 1010 data said Instacart had even surpassed Walmart to hold the top spot in market share for total online grocery sales. From 2020 to 2021, however, its sales growth slowed to just 15%. 
Like many high-flying companies during the pandemic, Instacart's dramatic rate of growth is beginning to normalize, said Andrew Lipsman, principal analyst for retail and e-commerce at eMarketer. He added that the company's valuation cut is a mere reflection of the overall market conditions.
"It's just the reality of the market rationalizing," he said. "I understand anytime that there is a decrease in valuation, especially for a company that hasn't gone public yet, that's [going to have] a negative headline. I just look at that as a reality right now."
Still, Instacart's overall reliance on its primary business model remains a challenge as some pre-pandemic shopping habits re-emerge, experts said. Matt Moorut, director analyst at Gartner, said that some consumers who've relied on Instacart as a contactless method of grocery shopping are now returning to stores. Additionally, higher interest rates may be squeezing the amount of money consumers are willing to spend during grocery trips.
"It's no surprise that we're seeing them starting to pivot and look at different types of business models that can provide a level of differentiation from their competitors," Moorut said. "Hopefully for them [it'll provide] a sustainable business model that's not quite as neatly balanced on the edge of a knife at all times."
Competition heats up in grocery delivery
Though Instacart still commands a large portion of the online grocery delivery market, its share is expected to drop as retailers team up with other delivery firms, according to Insider Intelligence. In the grocery delivery intermediary market, Insider Intelligence expects Instacart's share to decrease to 68.2% in 2023 from 84.2% in 2020.
Already, the competitiveness of the industry can be seen in play. Though large retail chains like Walgreens and Albertsons both work with Instacart, they also work with Uber Eats and Door Dash.
Ultra-fast delivery startups like Jokr and Gorillas, that promise to deliver groceries as fast as 15 minutes are also pushing traditional delivery firms to offer the same type of services. Instacart said it enabled 15-minute grocery delivery for Publix, beginning in Atlanta and Miami. Doordash also introduced 10-15 minutes grocery deliveries in December starting with DashMart in New York City.
"The dynamics of the market that they are in sort of necessitates a race to the bottom in terms of cheaper prices, less availability issues, quicker delivery as well that really do just cut down on the margins that they can make," Moorut said. "Ultimately, there is still a lot of competition because of the fact that the revenue is potentially pretty large."
Retailers are also growing less reliant on delivery platforms as they build out their own delivery capabilities. Kroger has been on the move to expand its own national fulfillment network. In February, it opened a customer fulfillment center in a city south of Atlanta, Georgia.    
To stay ahead of the competition, Instacart is not only offering more services to more retail partners, but it's also trying to make its app a go-to destination for shoppers. The company launched shoppable recipes last month via integrations on TikTok, Tasty and others. It also unveiled a rebrand last month to reflect its evolved brand identity.
Still, experts said they don't expect the level of competition to go down anytime soon — making it a challenging path ahead for Instacart. 
"Instacart I don't believe is going anywhere in 2022," Kantar's Van Wickel said. "But I think this is going to be a year of understanding the viability of their business model and I think that's going to be a case of all these players."