As livestreamed shopping videos take off in China, Western brands look for a way in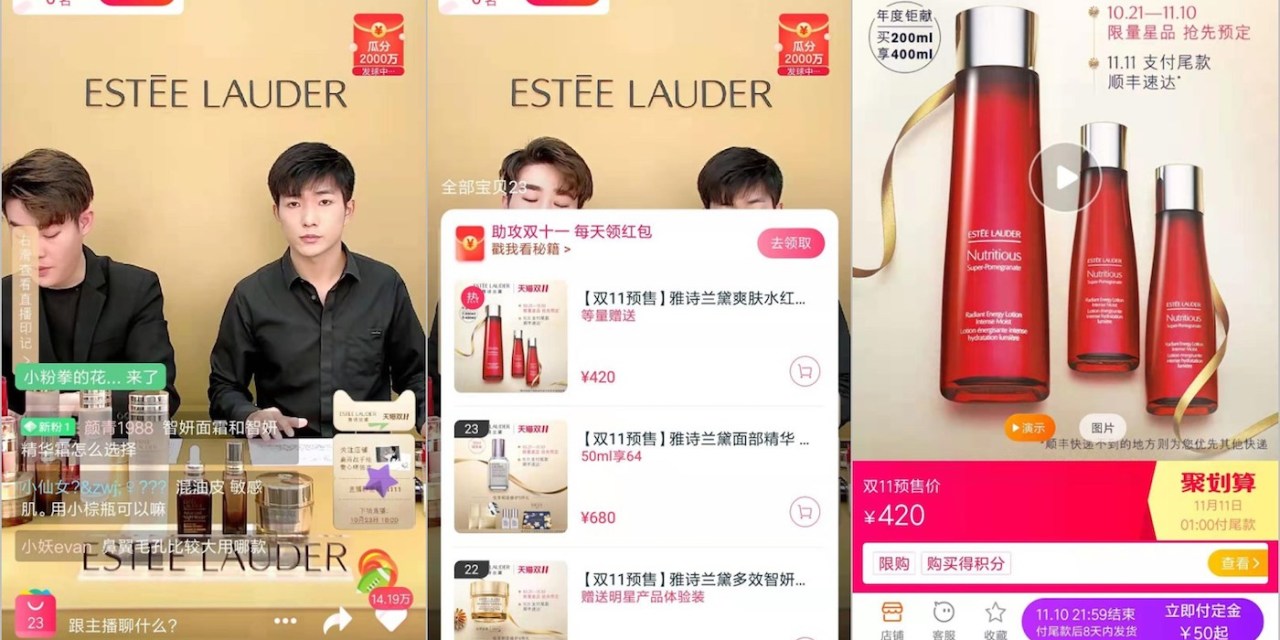 As livestreaming shopping videos have become increasingly popular in China, they've also become critically important to brands' strategies for the biggest shopping holiday in the country, Alibaba's Singles Day.
This year, Alibaba kicked off Singles Day with a livestream between Kim Kardashian West and Chinese livestreamer Viya Huang to promote her fragrance line, KKW, to Chinese consumers. Overall, the number of merchants who incorporated livestreaming into their Singles Day campaign was up 200% compared to last year, according to Alibaba.
There's a number of key differences between online shopping in the U.S. and in China — namely, that most e-commerce transactions in China take place on just a few platforms, owned by Alibaba or its main competitor, JD.com. But the rise of livestreaming shopping in China may offer some clues as to how the trend may take off in the U.S., particularly as apps like TikTok, which is owned by China's ByteDance, become more popular in the U.S.
"Livestreaming has been quickly gaining momentum in the past two years in general, particularly for e-commerce," said Xiaofeng Wang, a senior analyst with Forrester Research. She said that while some brands ran livestreams on Singles Day last year, it was on a "small scale" compared to this year.
Alibaba first added livestreaming to its Tmall and Taobao sites around 2016, but analysts say that livestreaming has also taken off as it has gotten cheaper for Chinese consumers to stream video, and more Chinese consumers have gotten access to smartphones. China is estimated to have more than 800 million internet users, the most in the world.
Additionally, more Chinese cities now have access to 5G networks, the newest generation of a cellular network that is estimated to offer download speeds 20 times faster than 4G, the next available network.
That ensures there's less lag time when streaming videos, which is critically important to shopping videos in particular. The most popular types of livestream shopping videos are ones where an influencer demos a number of different products and viewers can ask them questions in real-time, according to Ker Zheng, marketing and partnerships manager at Azoya Group, which helps U.S. brands enter the Chinese e-commerce market.
Most brands have focused their livestreaming efforts on Tmall, where their brand pages live, or Taobao, where influencers have built their followers. But other popular platforms for livestreaming shopping videos include Duoyin, the Chinese version of TikTok, and Mogu, which is marketed as a digital fashion magazine for young women.
Popular livestreamers include Huang, who in addition to her campaign on Singles Day with Kardashian West also recently did a livestream in partnership with Starbucks China, as well Austin Li, who is known for beauty demos.
As U.S. brands look to do more livestreaming, there's a crop of startups looking to assist them. ShopShops, which is backed by Forerunner Ventures and Union Square Ventures, specifically hosts livestreams to showcase products from U.S. brands to Chinese consumers. ShopShops has targeted some startups like Stadium Goods and Everlane, who may not yet have the capacity to open a China office. ShopShops has a network of trained hosts, and facilitates the delivery of items to China, in exchange for a 20% commission on sales.
Zhang said that the Western brands he's seen experiment the most with livestreaming on Tmall or Taobao are fashion and beauty brands, and particularly the larger ones who have dedicated China offices. L'Oreal this year hosted a full 24-hour livestream for Singles Day for the first time. Estée Lauder, meanwhile hosted daily livestreaming campaigns as early as two weeks before Singles Day, where viewers could put down pre-sale deposits for limited-edition items that would go live on Singles Day. As a result, Estée Lauder says it brought in $143 million worth of pre-sales.
Rocky Chi, head of planning for Emerging Communications, which helps U.K. brands enter the Chinese market, said that a wellness brand her company works with was recently approached by Taobao to participate in a livestream that showcased products from British brands. She predicts that most brands will first experiment with this type of livestream, as they still figure out which influencers are right to partner with.
"For them to put together a whole livestreaming campaign on their own — I don't think a lot of U.K. brands are ready for that," Chi said.