As Nike's sales fall in China, the retailer braces for impact to its US business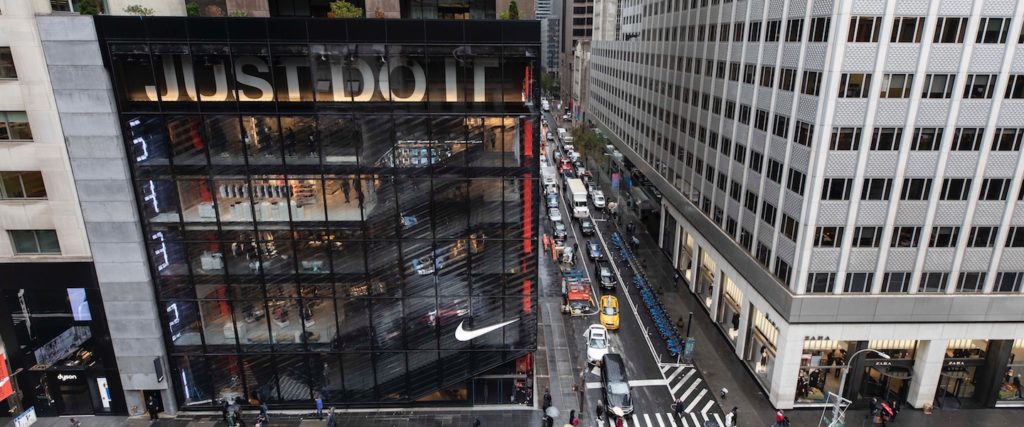 Nike took a hit to its China business during the third quarter thanks to the coronavirus outbreak there. Now, the company will look at what the outbreak, which is ramping up in the U.S., will do to its retail business, even as the company hopes that its growing DTC business and loyalty programs may mitigate the worst of the impact.
During its third-quarter earnings on Tuesday, the company reported that overall, sales were up 5% year-over-year, coming in at $10.1 billion during the quarter. The company's profit during the quarter was $847 million, down 23% year-over-year. Nike attributed the decline in profit to a $400 million non-cash, one-time charge in order to  transition its Nike Brand businesses in Brazil, Argentina, Chile and Uruguay to strategic distributor partnerships. as well as impacts to its China business during the coronavirus."
Nike's third quarter ended on February 29, before the coronavirus outbreak accelerated in the U.S., but during the worst of the outbreak in China. In total, Nike reported that net sales in China were down 4% during the quarter. Nike had previously reported 22 consecutive quarters of double digit sales growth in China. During the peak of the coronavirus outbreak in February in China, 75% of the stores Nike sold in in the country (which includes both its own stores as well of those of wholesale partners) were closed or operating with reduced hours.
The company touted in its press release though even with the coronavirus outbreak, that digital sales in China were up more than 30% during the third quarter. "As we start to see recovery in China, no one is better equipped than Nike to navigate the current climate," president and CEO John Donahoe said in a statement. He added during the earnings call that Nike plans to take its playbook from China and apply it to other geographies, and that the company is projecting sales in China will be flat during the fourth quarter, compared to the fourth quarter of 2019.
Nike temporarily closed its retail stores in the U.S. on March 16. While that may cause more shoppers to just buy directly from its website, shoppers in China buy far more products online than those shoppers in the U.S. According to a forecast from eMarketer, 63% of all online retail sales are projected to take place in China by 2022, while 15% of e-commerce sales are expected to come from the U.S. .As such, retailers might not see shoppers in the U.S. behave the same way Chinese shoppers did during the coronavirus outbreak.
Nike is in a better position than other U.S. apparel retailers, given that its store sales and earnings have both steadily continued to rise over the past year, while department stores are lucky to report a same-store sales increase of 0.5%. It doesn't have any debt, and hasn't been forced to close a large number of its stores in recent years. It's also steadily decreased its reliance on wholesale partners, as part of its Nike Direct initiative, which called for Nike to increase its share of sales that came from its stores and website.
That means that Nike has the infrastructure and marketing capabilities to encourage customers to drive more online orders, while its stores and those of wholesale partners like Foot Locker remained close due to the coronavirus outbreak. As part of its Nike Direct initiative, Nike has been encouraging consumers to download more of its own apps. That includes its main shopping app Nike+, which allows members to reserve product in-store among other features, its SNKRS app which highlights limited edition product drops, and training apps like Nike Run Club and Nike Training Club.
During the earnings call, Donahoe said that high download and engagement rates for Nike Run Club and Training Club in China "translated into strong engagement with our Nike commerce app." So, the company will also be encouraging shoppers in the U.S. and Europe  to download both of these apps, and is making its Nike Training Club premium workouts available for free until further notice.
But Nike still has a few big challenges ahead. One, many of its clothes and apparel are designed for team sports like basketball, which shoppers may be less in the market for as more customers stay inside. It also has to figure out what to do with inventory designed specifically for the Tokyo Olympics, which the International Olympic Committee announced last week it was postponing.
Nike had already unveiled the uniforms it had designed for the United States' Olympic athletes in February, which were made of recycled polyester and ground up shoe parts. It had also released an accompanying sustainability "Move to Zero" collection for shoppers.
There is a chance for Nike to still salvage that collection, said Jessica Ramirez, retail research analyst at Jane Hali & Associates, by marketing it towards eco-conscious shoppers. But it will be more difficult for the company to move that inventory without the visibility of the Olympics.
In an attempt to drive some sales amidst store closures, Nike also announced a 25% off sale sitewide.
"Usually they just have a sales section on some items or colorways that have gone out of fashion," said Ramirez. "The [25% off] discount wasn't necessarily an alarming amount."