As Singles Day continues to grow, the U.S. livestream shopping wars heat up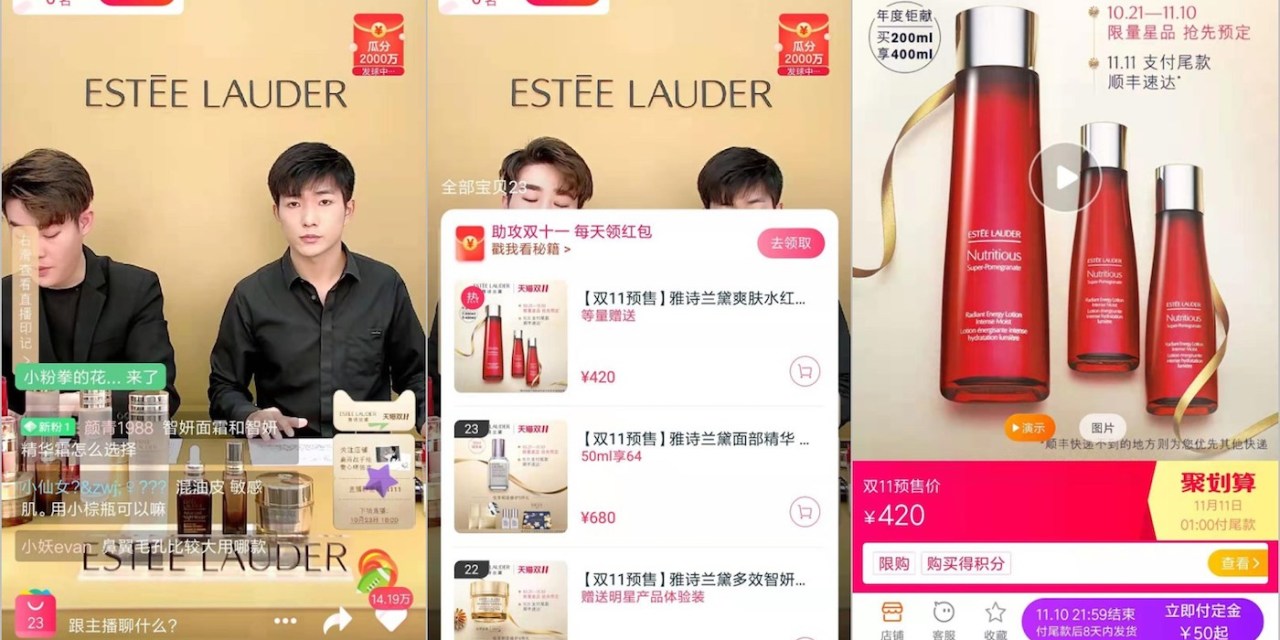 This week, during Alibaba's Singles Day, livestreaming is expected to play a huge role in China's biggest shopping event. But in the U.S., livestream shopping has yet to become mainstream.
According to Coresight Research, livestream shopping generated an estimated $63 billion in sales in China in 2019, compared to less than $1 billion in the U.S. During Singles Day this year, 400 company executives and 300 celebrities will host livestream shopping sessions during the event, according to Alibaba. In China, the leader in livestream shopping is Alibaba, which alongside JD.com and Pinduodo accounted for 80.3% of e-commerce sales in the country last year.
Now, a number of big tech companies and startups are trying to replicate China's livestreaming success in the U.S. Amazon, for example, has launched a livestream on its home page a few years ago. As more users turn to Instagram, YouTube and TikTok to discover new products, these companies are also adding new features to allow customers to buy products from videos more easily. Additionally, there's also a crop of startups including Foot Locker-backed Ntwrk, Popshop Live and CommentSold trying to create new livestream shopping platforms for startups and small businesses to use. But all of these companies face the same challenges: they not only have to build the technology to allow brands to livestream successfully, they also have to attract a large enough audience to convince the brands that it's worth it.
Amie Song, a senior specialist at Gartner who sits on the research firm's Asia Pacific advisory team, attributed the success of livestream shopping in China to "a multi-year effort" on behalf of Alibaba's Tmall platform. She said that one thing Tmall has done particularly well is made livestreaming as visible as possible on the platform, by including buttons on the Tmall homepage, on brand pages, and even on product pages to watch a replay of a livestream featuring that particular item. Additionally, she said Tmall has also done a better job in recent years of giving top influencers (more commonly known as Key Opinion Leaders, or KOLs in China) more data about how their videos are performing, as well as more tools to help them film better videos, like building professional studios for them.
"The whole ecosystem is quite key for this type of commerce to truly take off," Song said.
No clear winner yet in the U.S.
While QVC has been the dominant shopping network in the U.S., it hasn't really invested in livestream shopping. The network did launch a mobile app last year, though app mostly allows users to livestream videos developed for TV.
Amazon has been the most obvious choice to eventually become a leader in livestream shopping, given that it's the closest equivalent to Alibaba in the U.S. Amazon launched, then cancelled, a fashion-focused livestream show called Style Code Live in 2016. It launched its most recent attempt at livestreaming, called Amazon Live in 2019, in which brands can pay to have their products featured on the livestream. While Amazon Live got top billing on Amazon's home page during Prime Day last year, Song said that she thinks Amazon Live is too hard for users to find. It's not usually featured on the home page of Amazon's app or website. Amazon has not disclosed in the past how much revenue Amazon Live has brought in.
Additionally, since Amazon doesn't have a social media component, the company doesn't have a large group of influencers it can turn to to promote Amazon Live to their followers. The company has taken steps to rectify this recently, recruiting mircro-influencers to host livestreams.
Unlike Amazon, social media platforms like YouTube and Instagram are the go-to sites for influencers who could introduce livestreaming to large swaths of users. But first, they have to make it easier for users to buy products on their apps and websites. Instagram sought to do this by introducing Instagram Checkout last year, through which users can buy products without leaving the Instagram app. By adding a new dedicated shopping tab, and announcing it will roll out new customizable online storefronts for brands and retailers, Instagram has also tried to make shopping more visible. Meanwhile, YouTube has added more shoppable ad formats, and tested adding more product recommendation features below videos.
Neither platform, however, has gone so far as adding shoppable links to videos that allow users to buy without leaving their respective platforms, or creating a dedicated hub for livestream shopping videos. Both features would be key to getting users to think of YouTube or Instagram as the go-to place for livestream shopping. Additionally, it remains to be seen just how much the newest potential challenger to these platforms, TikTok invests in social commerce. Particularly if Walmart takes a stake in a new TikTok-owning entity, as was previously announced, though the status of that deal is unclear.
Meanwhile, there's been a new crop of startups in the past year or two that have sought to create their own livestreaming platforms, sensing that brands and retailers are clamoring for another place online to showcase their products to customers. There's Ntwrk, an app that raised $10 million from investors including Foot Locker last year, as well as Popshop Live, which announced earlier this summer that it had raised a $3 million round of funding.
The biggest challenges these startups face, however is that they both have to build a new platform, as well as a new audience. Unlike Amazon, YouTube and Instagram, they don't have tens of millions of existing users. Ntwrk's trajectory presents one potential path forward for these types of apps. The app has tried to build its audience base by hosting limited edition-drops featuring products from well-known brands like Adidas, Guess and Vans, or featuring product collaborations from popular influencers like Rooster Teeth.
Once they build out better livestream shopping capabilities, the other challenge that all of these platforms are going to have to contend with is to convince shoppers that turning into livestream product promotions is worth their time. To that end, Song said that one trend she is noticing more in China is that brands and KOLs are starting to experiment with different types of livestream shows. Historically, they've stuck to a QVC-like format during which a celebrity or livestreamer will talk for a pre-determined amount of time about a product, and answer questions about it in real-time.
Now, she said she's seeing more brands KOLs like Austin Li, known as the "King of Lipstick" in China, host more gameshow-type livestreams, in which viewers answer questions in hopes of getting a discount or receiving free product.
Turner Novak, a general partner at early-stage venture capital firm Gelt, said that in order for livestream shopping to take off in the U.S., the format needs to be more engaging.
"Especially for generations that are a lot older, you are competing against TV" he said. "[Livestream shopping] has to be good, it has to be better than Netflix."