After successful tests, Bonobos looks to expand 'try before you buy' to more stores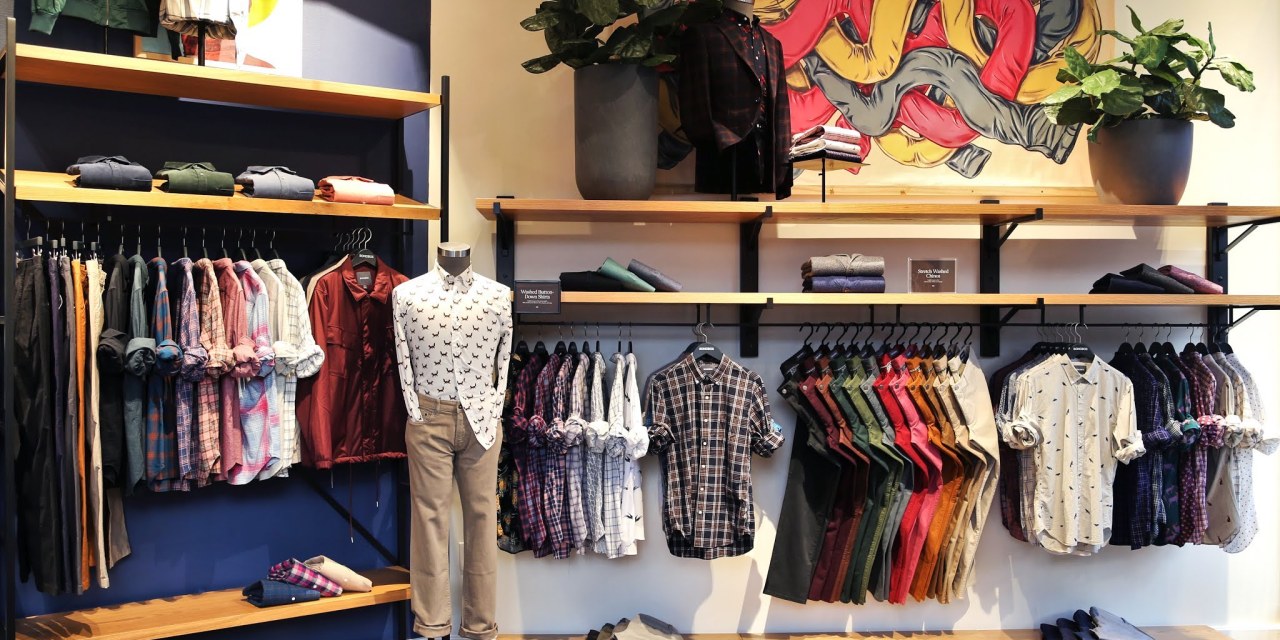 Bonobos has been quietly piloting a "try before you buy" service in three of its Boston-area guideshops and is looking at expanding the service to the West Coast. Tests in the pilot have been successful as a way for the company to get existing customers to continue coming to stores.
A Bonobos spokeswoman said that of those who are using the service, about 35% are new customers and 65% are repeat customers, and that they have a higher average order value and conversion rate than those who don't use the service.
Bonobos originally started testing the service in August to better cater to the habits of new Bonobos customers: It found that the majority of customers in urban areas were actually ordering clothing directly to be delivered directly to the companies' guideshops. If they wanted a pair of Chino pants in navy, they weren't content with trying on red Chinos in-store: They wanted to be able to try on the exact size and style of an item they wanted.
When Bonobos opened its first physical retail space in 2012, it made headlines for not selling any product in its stores, which it calls "guideshops." Instead, shoppers would make an appointment to be fitted for pants, a blazer, or a dress shirt, and then Bonobos would send the items the customer ultimately decided to purchase to their house. Now, under new CEO Micky Onvural, Bonobos is looking at how it can cater its guideshop model to shoppers with different habits, specifically by letting some customers now walk out of the store with product in-hand.
Boston-area Bonobos customers have the option of picking up to 12 items to be delivered to the Bonobos guideshop, and specify the exact style and size they want. If they decide to buy any of those products, they can purchase them in-store and bring them home that day. If it doesn't fit, then they don't have to deal with the hassle of sending it back to Bonobos.
It's a natural evolution of the Bonobos model as the company has started to extend into more product categories. Last year, it released its first plus-sized men's line, and has expanded into other product categories like swimwear and golf attire. And, with the company now more than 10 years old, repeat customers who are already familiar with the fit of Bonobos products need less help from guides and less time to make up their minds about whether or not they like a product.
"Stores are operational for a reason. People want to buy products and walk out with them or exchange a product for another and leave the store with it," Richie Siegel, founder and lead analyst at Loose Threads, said. "Shopping is not always a planned activity and the guideshop model limits these use cases."
Onvural, who became CEO in September, told Digiday in February that one of her priorities as CEO was how to make the brand more accessible. Last year, Bonobos also experimented with reaching younger customers by bringing an RV with Bonobos attire to college campuses, promoting it as a place for students to get free headshots and tips about how to dress for a job interview.
As one of the earliest online-only menswear brands, Bonobos now has a physical retail network of more than 60 guideshops. Its playbook of keeping as little inventory in the store as possible has now been co-opted by bigger brands like Nordstrom. The department store chain started testing smaller-format Nordstrom Local stores in Los Angeles last year carried no inventory but did offer services like tailoring and online-order pickup. And, with customers being increasingly trained by mass retailers like Target and Bonobos' now-parent company, Walmart, to have the option to pick up items they order online in-store,  it's only fitting that Bonobos is following suit.
Masse wants to be the Quora of product reviews
Two former Jet.com managers are betting that customers are sick of sifting through a barrage of Amazon reviews, and are trying to build a Quora-like site for product reviews.
Masse publicly launched in November with $3.5 million in seed funding led by San Francisco-based VC firm Maveron, and now has 25,000 users. Co-founders Elizabeth Shaffer and Lizzy Brockhoff say that one of the most common sentiments they heard from customers during their time at Jet was that they are growing increasingly wary of online reviews. They think that five-star reviews are too good to be true and are increasingly wary of companies using social influencers to promote their products, as they're not always sure how influencers are compensated by a brand, or if they've even ever used the product before.
"With the rise of e-commerce, there are so many products that are available online, but there's very little curation overall," Shaffer said, adding that the consumers she and Brockhoff spoke to found it hard to "cut through the noise."
Shaffer and Brockhoff have created what they call the Quora of product reviews — an app where users can pose questions like "what's your favorite everyday lip color?" or "what's a clean beauty product that you always come back to?" and then the rest of the community answers with recommended products.
Masse has a catalog of more than 3 million products, and makes money by taking an affiliate fee from the retailer when a user purchases a product they found via a Masse recommendation. Shaffer said that — given Masse's purported value proposition of being a place for authentic reviews — it's not looking at advertising as a potential revenue stream.
To keep Masse free of sponsored posts, when a user joins Masse, they are asked to accept a set of community guidelines where, among other criteria, they pledge not to accept money to recommend products. Masse also employs a community moderator to make sure everyone is following the rules. But, the smaller the platform, the easier to spot potential rule-breakers. To prove its staying power, Masse will have to prove that it can keep reviewers honest as the platform becomes larger. Just ask Amazon, and its various attempts over the years to cut down on fake reviewers.
What we've covered: 
Quibi's quest for more daily programming: The billion-dollar video startup has met with executives from publishers including Insider Inc., Group Nine Media, and Refinery29.
One year in, IGTV is still a testing ground: Brands are waiting to invest more in IGTV until they get more data and analytics.
—
Sign up for the Modern Retail Briefing to get retail news, analysis and insight delivered to your inbox every morning.