Brands and retailers are giving their fitting rooms a high-tech upgrade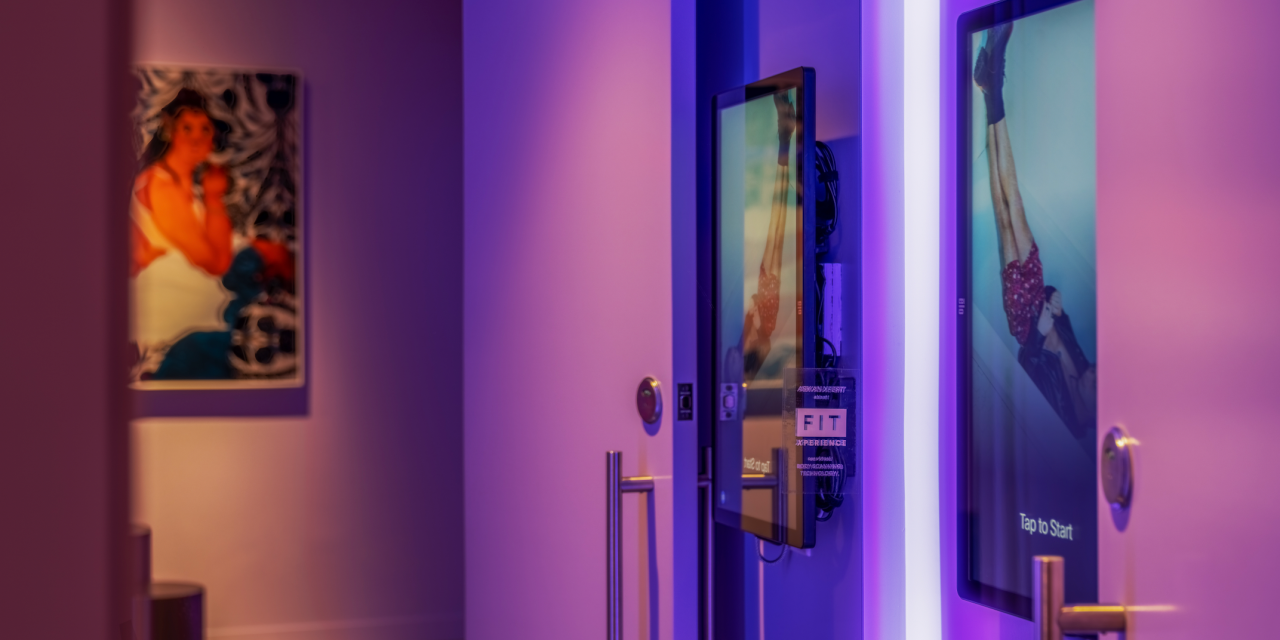 Savage X Fenty
Apparel brands and retailers are investing in high-tech fitting rooms in their brick-and-mortar stores.
2021 was the year of the virtual fitting room: Walmart, Shopify, Amazon and Snap all invested in augmented or virtual reality tech to help customers visualize what clothes might look like on, as the pandemic kept them at home. Now in 2022 companies ranging from Savage X Fenty to Amazon are betting on a return to in-person shopping, and upgrading their brick-and-mortar fitting rooms in turn.
Late last month, the Rihanna-backed Savage X Fenty announced it would be partnering with Fit:Match for its brick-and-mortar store in Las Vegas, as well as for the rest of its stores throughout 2022. Fit:Match uses Lidar technology, which helps create a 3D scan of something (or someone) based on the amount of time it takes light to reflect back off that item. For Fit:Match, this technology allows the company to scan shoppers' bodies, find their bust and band measurements and suggest which bra sizes to try on.
"We use that data to inform the brand as to what size [someone] is, in what style," Fit:Mach founder and CEO Haniff Brown said. The company's app allows consumers to store their fitting data after visiting a Savage X Fenty store and then repurchase online later.
Even in person, bras are a notoriously hard item to fit. While the old adage that "80% of women are wearing the wrong bra size" has been debunked, there are many different combinations of band and cup sizes for customers to choose from.
"It's a very hard task for shoppers," Brown said. "[Savage X Fenty's] vision of where retail should be — around inclusivity and tech-driven experience — really blended well with our capabilities."
Fit:Match technology is also used by leggings brand Fabletics. Brown explained categories like denim and lingerie — where fit can be frustrating — are particularly useful spaces for new technology like Lidar.
Larger companies are also seeking to give the fitting room an upgrade. Late last month, Amazon announced it would be launching its first apparel store to open "later this yea, which will feature high-tech fitting rooms.
The store signaled yet another push into the apparel space for Amazon. Over the past few years, Amazon has invested in a suite of online discovery tools like StyleSnap, where users can take photos of a fashion item they like in real life and be served with a similar style at Amazon. The retailer has also invested in luxury fashion, by launching a gated section on-site featuring clothing from designers like Oscar De La Renta and Missoni. Still, these features have been centered online, whereas Amazon Style will integrate technology offline.
In the stores' fitting rooms, consumers will be able to use touchscreens to rate items they like, receive suggestions of other items based on those ratings, and then order those styles to their fitting rooms in minutes. "Customers can continue shopping from their fitting room without having to leave," said the company in a press release about the new store format.
While Amazon's new store is likely to spur other interest from brands in launching their own high-tech fitting rooms, some brands are still in the experimentation mode.
Last week, bra brand Soma Intimates launched its first pop-up, dubbed "The Soma Innovation Lab," in New York's Soho neighborhood. While Soma has both permanent stores and store-within-stores at parent company Chico's, many Somas are in shopping malls in smaller cities or suburbs. The pop-up allowed the brand to test a different — more modern — store concept in a new geography while promoting a new bra style with new patented padding technology, Bodify.
While the popup ran for just one weekend, it included digital screens showing how bras fit on people with different body shapes and sizes and a "test-tube" wall in which consumers could submit data on their common fit issues for Soma to integrate into future styles. In-store, associates would measure customers via Soma's unique system that incorporates breast tissue density (as well as traditional band and cup sizes).
"All of our bras are embedded with innovation or technology that is answering and solving some challenge that women have with bras," Chico's FAS svp of marketing Kimberly Grabel said. "We love this idea that we are a bra innovation lab, so how do we bring that to life in a [physical] space?"
Offline investments support online fitting
While many of these high-tech investments are designed to drive in-store sales, they also connect back to brands' e-commerce efforts
Fit:Match, for example, has primarily focused its efforts in-store thus far, but the company plans to add a new consumer-facing integration to its app in the second half of the year that allows shoppers to use their iPhone to complete a scan at home.
"The best retailers understand that… innovation needs to sit across all channels, not just your e-commerce piece and also not only on the store side," Brown said. "It's all about removing friction from the shopping process."
Amazon, meanwhile, will save customers in-store picks to customers accounts for later shopping online and allow customers to order online styles to store to try on and return if they don't like the fit.
Chelsea Gross, a director industry analyst at Gartner, previously told Modern Retail that many of stores' latest brick and mortar updates have been focused on the integration between online and offline shopping. However, while retailers and brands may be eager to implement new technology, Gross warned that customer adoption may be slower.
"You have to make sure that consumer adoption and familiarity with some of these technologies are there and not to pour money into a new digital experience that's not thoroughly tested or won't get the adoption or eyeballs that it deserves," Gross said.