'The next generation of entrepreneurs': Shopify is betting on creators to fuel its next phase of growth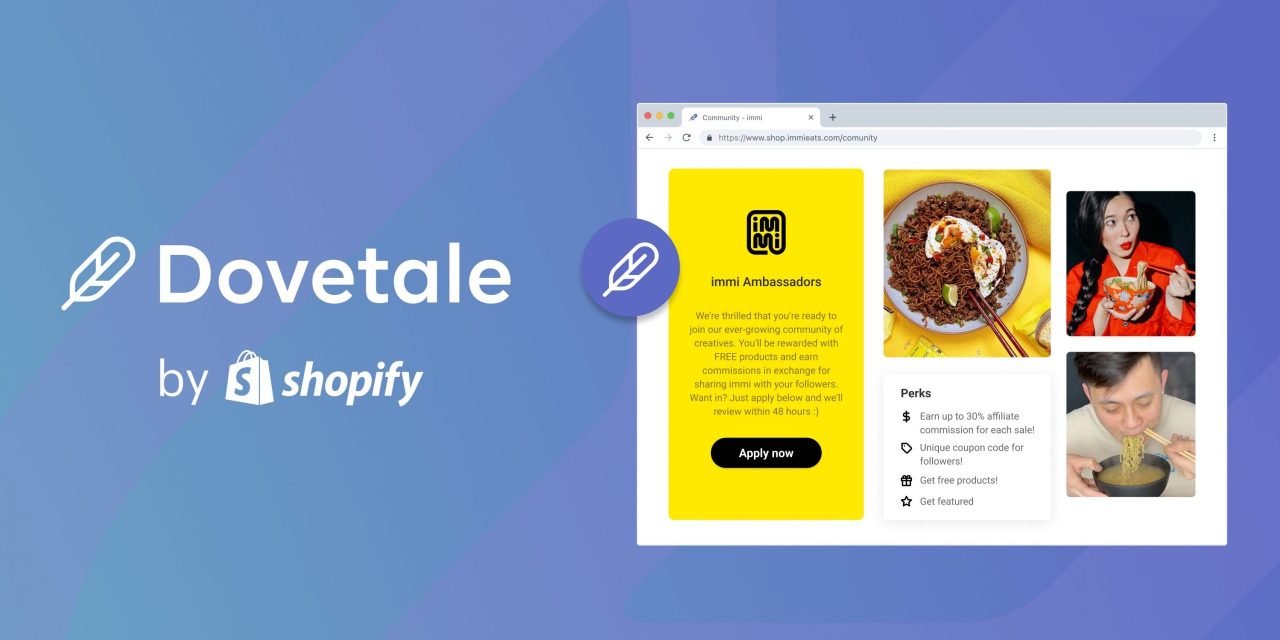 This article is part of a cross-brand Digiday Media series that examines how the creator economy has evolved amid the Covid-19 pandemic. Explore the full series here.
Shopify's Commerce+ event, an annual event meant to showcase the company's enterprise plus offering, is full of the buzzword-filled talks one might expect from a business-to-business conference. Sessions on "meeting customers where they are" and "building community" abound. But last October's event showcased two higher-profile speakers who ran outside of the typical e-commerce circles: musician Pharrell Williams and NBA star Jimmy Butler, both of whom appeared virtually to extoll the virtues of building an e-commerce brand on Shopify.
"We just always want a direct connection [with the customer]," Williams — who founded his own skincare brand Humanrace in 2020 — said in a conversation with Shopify president Harley Finkelstein.
The event was an early harbinger of just how much attention and resources Shopify is increasingly giving creators. Shopify launched in 2006 and over the course of a decade became an e-commerce juggernaut, thanks in part to the wave of direct-to-consumer brands in the early 2010s that were able to acquire tens of thousands of customers through cheap Facebook ads. Back then, the company simply provided the technological back-end to make selling online relatively easy. Now, Shopify is building out a full-fledged suite of services aimed squarely at influencers — whether that's a professional athlete or a TikTok chef — to jumpstart its next wave of growth.
Today, Shopify is announcing one of its biggest investments in the creator space to date. It has acquired Dovetale, a software startup that helps brands manage their influencer marketing programs (Shopify declined to disclose the price of the acquisition). As part of the acquisition, Shopify will make Dovetale free for all of its merchants. But Shopify has been quietly building out its creator ambitions for the past year and a half, since hiring former Yeezy GM Jon Wexler to become the vice president of Shopify's creator and influencer program. 
In order to market itself as the go-to e-commerce platform for the creator economy, Shopify is taking a multi-pronged approach, building out a variety of tools to help influencers depending on what stage they are at. Dovetale is geared toward helping the influencers who aren't yet ready to launch their own brands, but want to promote products from other companies; Last month, Shopify also launched a link-in-bio tool called Linkpop, designed for influencers who want to promote multiple lines of business; Then, for the biggest celebrities, Shopify's 10-person creator program team will help manage and fund the entire creation of their business, from designing the website to helping them find a manufacturer, working with celebrities like Butler, Pharrell and record executive Steven Victor. 
Shopify positions these moves as opportunistic ones, citing the increased interest from creators in not just promoting other people's products, but creating their own. In order to heavily incentivize adoption of these tools, the company is making some of these tools — like Dovetale and Linkpop — free to encourage adoption.
But Shopify's moves in the creator space also serve as a hedge against the shifting tides in e-commerce. It's becoming harder for DTC brands to acquire new customers, thanks to Apple and Google's recent privacy focused updates. Facebook notably said it was projecting $10 billion in lost revenue this year as a result of Apple's rollout of iOS 14, which made it more difficult for companies like Facebook to track user behavior across websites. 
Updates like these aren't only a threat to Facebook's business, but also a threat to Shopify's business, as the merchants that used Shopify have long relied on Facebook ads to grow their business. Encouraging existing Shopify merchants to work more closely with influencers may help them mitigate their customer acquisition challenges. And, by encouraging influencers to launch their own e-commerce sites, Shopify gets a new cohort of customers. 
"We really see creators as the next generation of entrepreneurs," Amir Kabbara, director of product at Shopify said. "It is a top priority for us to really help these creators enter commerce and start monetizing."
The rise of the creator economy
The phenomenon of people with large internet followings launching their own e-commerce businesses is nothing new. Predating its creator initiative, Shopify has powered the websites of a number of celebrity-driven brands, with Kylie Cosmetics being one of its most notable success stories. 
But within the past few years, there's been a mindset shift, according to Ronak Trivedi, the co-founder and CEO of a startup called Pietra that helps influencers launch their own product lines. There's been enough success stories from the top 1% of celebrities — George Clooney's Casamigos selling to Diageo for $1 billion, and Coty taking a majority stake in Kylie Cosmetics — that influencers with smaller followings are increasingly taking their own stabs at launching a business.
Whereas previously, a star with a large following on YouTube or Instagram might launch a merch line or a limited capsule collection with an apparel brand in order to diversify their revenue streams, "they really want to feel like they are building a business with an authentic product," Trivedi said. 
There are other factors at play too. Some influencers have gotten burnt out by the pace of content creation in recent years, or are sick of only promoting products from other companies' brands, and are looking for a new way to monetize their following. 
Lia Haberman, UCLA professor who studies influencer marketing, echoed Trivedi's sentiments in an email to Modern Retail, stating that "a lot of the influencers I've worked with do want more ownership over the work they're doing."
Still, before launching their own brand, the first step for most influencers — to determine just how many of their followers might be interested in buying products they recommend — is to work with existing companies to promote their items. And that's where Shopify's acquisition of Dovetale comes in. 
Dovetale helps brands manage their affiliate and influencer marketing program, a process that previously might have been done on an excel spreadsheet. Dovetale allows brands to manage and accept new applications for influencer partners, send products and discount codes to them, and keep track of how many sales they rake in. 
"We want to create tools for creators to enter commerce and eventually become merchants and own their business," Shopify's Kabbara said. But as he puts it, tools like Dovetale help them test the waters first. "It's one of the core pieces in the portfolio to help creators through this journey from creating content [every week] to kind of becoming a full-on merchant."

The acquisition of Dovetale also helps fulfill a second purpose for Shopify: helping its existing merchants acquire new customers. Kabbara said that part of what he believes is driving increased interest in influencer marketing from brands is the fact that it's getting harder for them to acquire new customers.
While Shopify doesn't break out exactly how many of the more than 1 million businesses that use its services are direct-to-consumer brands, many of the most notable DTC brands that do north of $100 million in revenue — Casper, Allbirds and Gymshark to name a few — use Shopify. And DTC brands, in particular, have been hit hard by Apple's iOS 14 update, which limited what type of activity apps like Facebook, Pinterest and Snapchat can track across websites. That led some brands to cut their Facebook ad spend — which previously made up more than half of their marketing budget — in half.
The idea is that, by investing in influencer marketing, brands aren't as subject to the whims of Facebook's ad platform — even though the influencers themselves are also heavily reliant on social platforms. By turning to influencers to promote their product, brands can reach a new pool of customers in a more authentic way, as fans of that influencer may more inherently trust a brand if it is recommended by that particular influencer.
Influencer marketing, however, comes with its own set of challenges for brands, namely finding the right influencers to work with. 
"Some influencers right now – they may look like they have a big audience but if you pay them upfront, like $5,000 per post, you don't realize until after the fact that maybe their audience actually isn't engaged and they don't actually generate any sales for you," Kevin Lee, co-founder of protein-packed ramen brand Immi told Modern Retail. 
Lee said that his company started using Dovetale last year, and thus far has generated six figures in revenue through the tool. Immi operates an affiliate program through Dovetale – gifting influencers free products and then giving them a cut of future sales generated by the influencer – which helps partially mitigate the risk of picking the wrong influencer. 
Immi primarily works with keto-friendly influencers through Dovetale, with one of its most notable partners being Tinger Hseih, who has 137,000 followers on Instagram. 
Going forward, Lee said that affiliate marketing will continue to be an important marketing channel for Immi. Though it can take a while for brands to build out a network of influencers, and brands "don't get massive amounts of money right away like you do spending on [Facebook]," Lee said that it's a more reliable channel. 
"[Influencers] are pretty much evangelists for the brand because they truly love the product," Lee said.  
Pivoting from content creator to entrepreneur 
Eventually, however, influencers may want to move from being an evangelist for other people's brands, to being the face of their own. The challenge is, as Pietra's Trivedi puts it, these influencers still spend the vast majority of their time creating content. They don't have time to go out and source a network of suppliers, and may have never previously managed a team of employees. 
That's led to an onslaught of different vendors launching new services to try and make it easier for influencers to launch a full-fledged e-commerce business. These include startups like Pietra, which has built up its own fulfillment network, as well as a marketplace of 500 different suppliers that influencers can work with to source their manufacturers and packaging vendors from. Established influencer marketing startups like Linktree are also increasingly launching more commerce-specific features, such as an integration with commerce platform Spring. And finally, established talent agencies like United Talent Agency are launching their own in-house brand incubators to help some of the biggest influencers like Emma Chamberlain launch their own brands.
Shopify also goes after this market in a few ways. For some of the most notable celebrities, Shopify will actually fund the creation of the business themselves. Shopify's creator program team — led by Wexler — works on this, and for now consists of 10 employees, many of whom previously worked in other departments like marketing or merchant success for Shopify. 
Anthony Kentris, senior marketing lead for Shopify's creators program, said the team is most focused on working with "cultural icons." Jimmy Butler — a forward for the Miami Heat, and now the founder of a direct-to-consumer coffee brand called Bigface — is one such celebrity the creator team has worked with. 
Butler has said he was inspired to launch Bigface after selling $20 coffee cups to other players in the so-called "bubble" that NBA teams were playing and practicing in during the coronavirus pandemic, where the coffee options were lacking. 
"We helped him with branding and packaging, we helped him and lined him up with the actual coffee roasters he ended up using, and of course, we designed and built his website," Kentris said. Shopify has also worked with Butler to test out new features. For example, Bigface launched an NFT store in the fall, where a $250 purchase got customers access to limited-edition product, as well as an access card for future events, early notifications for future product drops and more.
When the Shopify team first met with Butler, Kentris said it was "very clear that he had this ambition and this authentic want of being an entrepreneur. We just helped him do it."
Right now, the number of creators that the team is working with is small, given the teams bandwidth; Kentris said the creators program has around 20 projects in the pipeline. 
"We want to create genuine partnerships, we want to genuinely help them so that they're able to speak to their audience about what we're doing at Shopify, and how important entrepreneurship is in the world," Kentris said. 
But the key challenge many influencers face, Trivedi says is not just in launching a brand, but successfully growing it and having a solid business model behind it.
"I think the biggest challenge with the business we see… is that the best ones scale past their audience," he said. At that point, Trivedi says, a celebrity typically has to come up with an actual PR and marketing strategy that will help them grow, rather than just posting to their socials once a week. They also have to devise a retail distribution plan, not just gifting products to their friends.
How big of a role creators play in Shopify's future depends upon just how many of their brands are able to scale successfully. When asked how Shopify planned to help influencers grow their businesses, Kabbara pointed first and foremost to the existing Shopify app store. This has long been the center of Shopify's strategy to help all of its merchants scale, by pointing them to third-party apps that can help them with say, their email marketing or loyalty program. 
Still, Kabbara acknowledges that the biggest challenge influencers face in building out their businesses is that, first and foremost, their main job is posting online — and not running an e-commerce business. What Shopify is banking on, is an eventual priority shift.
"We want to help creators go from someone who is creating content to someone who is a merchant," he said.