Cheatsheet: How Poshmark and ThredUp are charting growth plans for 2021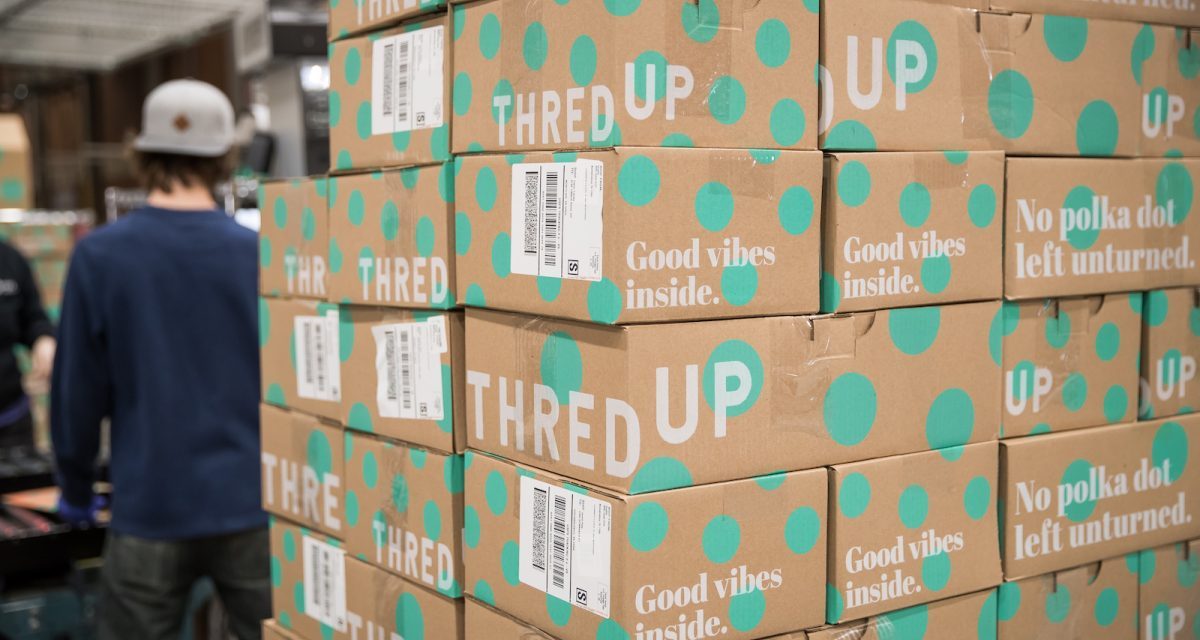 ThredUp
The resale market is set to get a whole lot more competitive in 2021.
Two resale apps, Poshmark and ThredUp, have gone public within the past three months, and as a publicly-traded companies, now face more pressure to maintain revenue growth.
There are a few tactics that these startups are testing out to increase their market share, as executives have shared in recent media interviews. Poshmark has its sites set on expanding to more countries, and into more categories. ThredUp, meanwhile is taking more of a business-to-business approach, aiming to become the resale partner of choice for more retailers.
The biggest challenge standing in the way of these companies' expansion plans, analysts say, is in ensuring that people keep wanting to sell products through their sites. People now have more apps than ever to chose from if they want to sell an old handbag or a new pair of sneakers secondhand. And as such, convincing sellers to stay loyal has become a more complex endeavor.
"Resale is a very competitive market right now," said Jessica Ramirez, retail research analyst at Jane Hali & Associates.
Where things stand
Some resale apps experienced a record amount of interest in 2020, with people spending more time on the apps due to stay-at-home orders, though demand for some particular products like workwear and formal apparel went down. As a result, resale apps ended up with mixed results in 2020 compared to 2019.
Poshmark, for example reported that during the first nine months of 2020, revenue grew 28% year-over-year compared to the first nine months of 2019, and it managed to report a profit for the first time after cutting back on spending. Meanwhile, ThredUp still increased revenue by a sizable amount, but revenue growth slowed in 2020 compared to 2019. The company's revenue was up 14% between 2020 and 2019, compared to 26% growth between 2018 and 2019.
It's also worth noting that Poshmark and ThredUp have slightly different business models — Poshmark sellers send items directly to buyers, while ThredUp buys items from sellers, stores them at its warehouses, and then sends them to buyers. ThredUp has also started managing the resale sites for more retailers in order to boost its credibility in the space, and create a new line of revenue. ThredUp currently manages the resale operations for 21 brands and retailers, including Walmart and Madewell.
Diverging growth strategies
In Poshmark's first earnings call as a publicly-traded company in March, CEO Manish Chandra outlined four key areas of growth the company planned to investing in: user engagement, expanding internationally, expanding into new categories, and seller services.
Chandra said in March that he sees increasing user engagement as being "fundamental to the retention of our user cohorts and GMV growth," Chandra said in March. In order to increase user engagement, Poshmark is trying to make the experience through its app more akin to browsing social media, by adding a stories feature and allowing sellers to post videos, in addition to product photos, on its listings. For sellers, Poshmark added a "drops feature" which allows them to better gauge interest from buyers about who is interested in a product before they sell it.
Poshmark has also been quickly making headway on its expansion plans. The company announced plans to expand to Australia in February, while also announced that same month that it would start allowing people to sell pet care products through the app.
Meanwhile, in a series of interviews shortly after ThredUp went public on the Nasdaq last week, the company's CEO James Reinhart said that the company didn't have any immediate plans to expand into new categories. "We think the women's market is by far the biggest opportunity," Reinhart told Retail Brew. And unlike Poshmark, ThredUp currently only operates in the U.S.
ThredUp managed to grow its customer base more quickly than its revenue last year — the company's number of active customers increased 24% between 2019 and 2020. Reinhart told Business Insider that he sees increasing supply as the quickest way to attract more customers. "As we add more supply, that really attracts buyers," said Reinhart. ThredUp also said in its S-1 that it has built in-house marketing software to help it better determine what types of marketing investments are most cost-effective in helping it attract new buyers.
Both Poshmark and ThredUp said in their respective S-1s that they cut their marketing spending at the beginning of the coronavirus pandemic in 2020 in order to conserve cash. Chandra said that Poshmark has ramped up marketing since then, in particular investing more in top-of-funnel marketing strategies like television and working with influencers in the lead up to the holidays. Meanwhile, ThredUp did not call out specific marketing channels it plans to invest more in in its S-1, but instead said that its focused on investing in its marketing software to better "predict the quality of this potential buyer and the expected lifetime value and payback on marketing over time."
The hurdles ahead
Ramirez said that that she thinks resale apps like ThredUp and Poshmark have more room to expand internationally, particularly in Europe and Asia. They've been slow to expand internationally compared to a site like Depop, which launched in London 2011 — at the same time as Poshmark, and two years after ThredUp launched. Depop is currently live in six countries including the United States.
But she said the bigger challenge facing services like ThredUp and Poshmark is in continuing to attract sellers, especially when they have more options than ever when deciding where to buy or sell products online secondhand.
"What really tends to be the differentiator and why people might go to one more than the other is how much commission are they taking from the seller, and what sort of services does it offer a seller, like is the lead time for the payback much quicker," she said.
ThredUp sellers get paid anywhere from 5-80% of the listing price; the percentage paid out goes up as the price of the item goes up. Meanwhile, Poshmark charges sellers a flat fee of $2.95 for any items under $15, while charging a 20% fee for any item priced over $15.
Added Ramirez: "if the seller is having a good experience…it is going to be more positive because you will have more inventory flow through there."